Dave O'Guinn '92 is Vice Provost for Student Affairs & Dean of Students at IU
May 15, 2018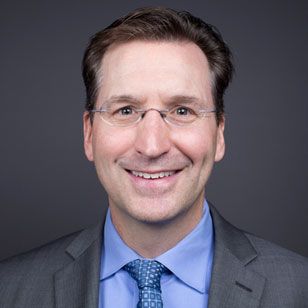 M. Davis "Dave" O'Guinn, a 1992 graduate of DePauw University, has been appointed vice provost for student affairs and dean of students at Indiana University - Bloomington. O'Guinn has been serving as IU's chief litigation counsel.
A political science major at DePauw, O'Guinn says, ""I am humbled by the tremendous responsibility to care for our students and to take on this legacy. When I was an undergrad and a student leader at DePauw, each of my deans and mentors attended IU for graduate school, which was the primary reason I went to graduate school at IU."
O'Guinn holds a master's degree in higher education and student affairs from the IU School of Education in Bloomington, and his juris doctorate, magna cum laude, from Notre Dame Law School.
While earning his master's degree, O'Guinn worked at both the Indiana Memorial Union and the IU Career Development Center. He served as assistant director of the Student Center and student activities at Quinnipiac College, where he was a member of the Multicultural Awareness Committee and the Student Affairs Research and Retention Committee, followed by a position as director of student activities and Greek life at Centre College in Kentucky. During law school, he was special assistant to the director of Notre Dame's Student Union and an assistant rector in the residence halls.
O'Guinn joined IU as an associate general counsel in 2007, becoming chief litigation counsel in 2014. Among his many areas of primary focus are student and faculty affairs, employment, and athletics. Before joining IU, O'Guinn was a senior associate in the labor and employment department at Dinsmore & Shohl in Cincinnati.
Since 2008, he has taught in IU's School of Education, developing and teaching both the "College Student and the Law" master's course and "Legal Aspects of Higher Education" doctoral course. O'Guinn also teaches an undergraduate course every year in IU's School of Public and Environmental Affairs for aspiring human resources professionals.
"I learn as much from our students as they learn from me," O'Guinn said. "I'm looking forward to developing and further strengthening my relationships across campus and leading the division with integrity and a strong passion for our students."
Read more here, or at Inside Indiana Business.com.
Back