The Countdown Continues Toward Sunday's 179th Commencement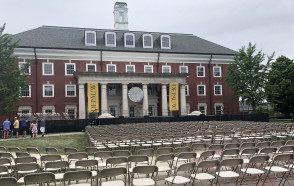 May 18, 2018
Key Links: Webcast; Greencastle Weather Information; Order a Commencement DVD
The stages are literally set for Sunday's 179th Annual Commencement at DePauw University. The question 46 hours before the ceremony begins is, which one will be utilized?
The outdoor setup in Holton Memorial Quadrangle is ready for Sunday's 10:30 a.m. program, but the weather forecast continues to suggest that conditions may not be ideal. It has improved from earlier in the week, when it called for an 80% chance of rain Sunday. The outlook is now (as of 12:30 p.m. Friday) for scattered thunderstorms Saturday, but a potentially dry and partly cloudy Sunday morning, with more rain arriving Sunday afternoon. The high will be 87 degrees.
In the event of inclement weather, the proceedings will be moved indoors to the Lilly Physical Education and Recreation Center's Neal Fieldhouse, where a second commencement stage stands ready.
As the forecast may continue to change, you're invited to click here for the latest updates.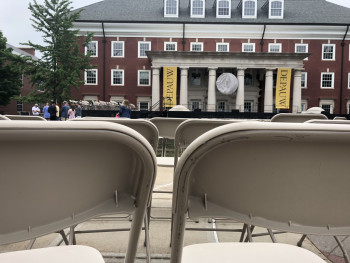 Approximately 475 seniors will be awarded degrees at the ceremony, which will be webcast live via this link. Civil rights legend, presidential adviser and attorney Vernon E. Jordan Jr., a 1957 graduate of DePauw, will deliver the primary address to the Class of 2018. Honorary doctorates will be presented to community leaders Jinsie Scott Bingham '56 and Dorothy Chapman Brown and Holocaust survivor and forgiveness advocate Eva Mozes Kor. Learn more here.
Graduates, parents and their friends are invited to order a commemorative DVD of this year's commencement. The disc will include the complete program as well as a photo gallery and a variety of bonus material, including recent campus highlights. Learn more about the DVD, which can be pre-ordered using this online order form, in this previous story. (at left: front cover of 2017 DVD)
For more information on DePauw's 179th annual commencement, click here.
Back