473 Receive Bachelor's Degrees at DePauw's 179th Annual Commencement
May 20, 2018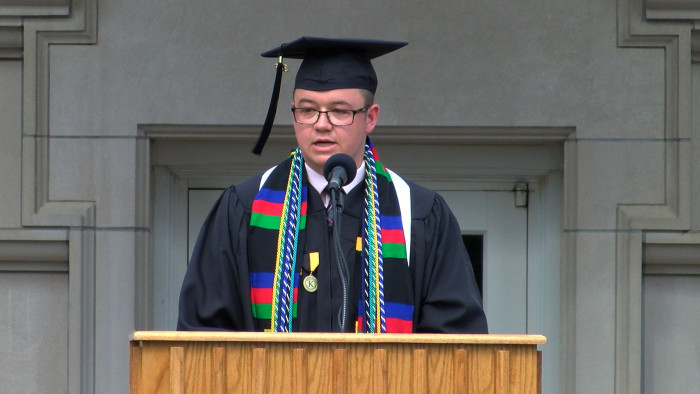 Key Links: Order a Commencement DVD; Photo Gallery
"Remember, one of the greatest gifts you can give yourself, right here, right now, in this single, solitary, monumental moment in your life -- is to decide, without apology, to commit to the journey, and not to the outcome," Peter T. Gorman told his classmates at DePauw University's 179th Annual Commencement this morning.
Per tradition, as winner of the Walker Cup, Gorman had an opportunity to speak at the graduation ceremony. The Walker Cup is presented to the senior who has contributed the most to the University community during their four years on campus.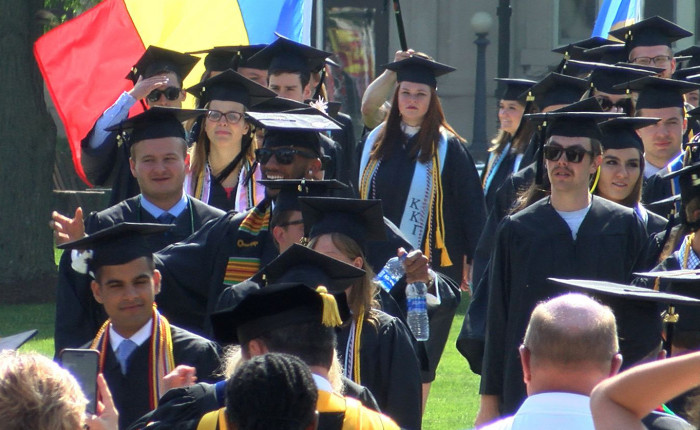 A total of 473 undergraduates were awarded degrees during the program, which took place in Holton Memorial Quadrangle. The weather forecast had been threatening the possibility of rain, and while there was a brief shower during the awarding of degrees, the ceremonies were completed outdoors. In fact, the sun was shining on Roy O. West Library as the proceedings wrapped up.
A global health major, Gorman was a Civic Fellow, the president and co-founder of DePauw First, vice president of diversity and inclusion for the Interfraternity Council, president of the DePauw chapter of Timmy Global Health, and a coordinator for DePauw Community Service, among other activities. He has plans to work toward a master's degree in public health and eventually attend medical school.
"Each graduating class leaves behind a legacy for which they are remembered," Gorman told his classmates. "I see our class as a beacon. A beacon is an intentionally conspicuous device designed to attract attention to a specific location. It may serve as a warning or as celebration.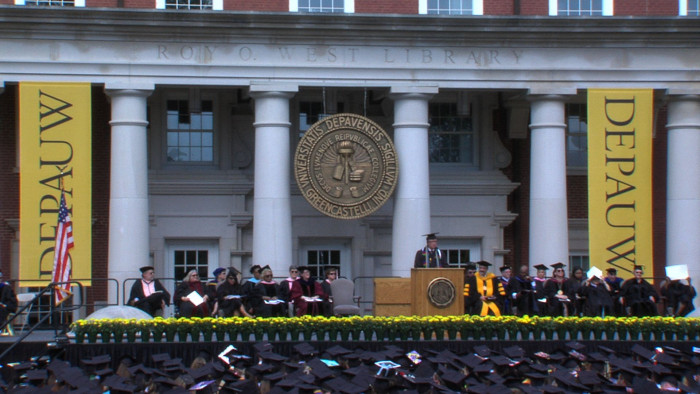 May DePauw Class of 2018 be remembered as the class who honored, respected and stood up for the civil rights of all students who grace this campus and bravely challenged systems when necessary. May DePauw Class of 2018 be remembered as the class that stood up for what is just, right and fair. May DePauw Class of 2018 be remembered as the class that embraces differences and works together to effect change. These are the legacies for which we should be remembered. We helped shine a light so that DePauw can hold as bright a place for everyone admitted as it has for us."
The day's events included a speech by civil rights legend, attorney and presidential adviser Vernon E. Jordan Jr. '57, which is recapped here.
Honorary doctorates were presented to community leaders Jinsie Scott Bingham '56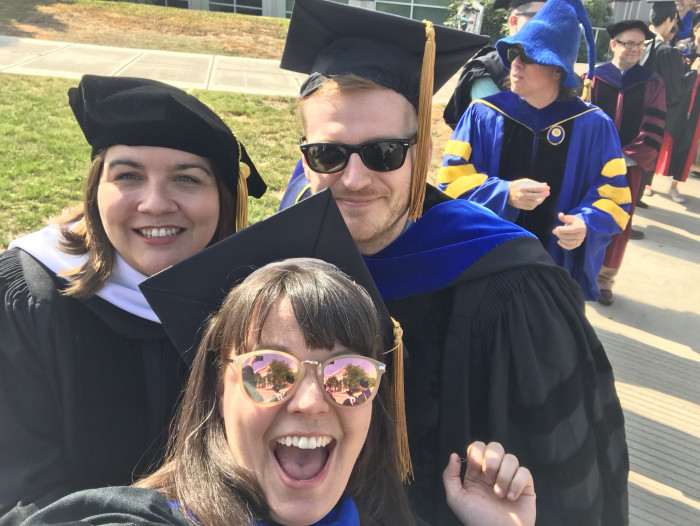 and Dorothy Chapman Brown and Holocaust survivor and forgiveness advocate Eva Mozes Kor. A summary with links to video clips is accessible here.
Graduates, parents and their friends are invited to order a commemorative DVD of this year's commencement. The disc will include the complete program as well as a photo gallery and a variety of bonus material, including recent campus highlights. Learn more about the DVD, which can be purchased using this online order form, in this previous story. (at left: front cover of 2017 DVD)
For more information on DePauw's 179th annual commencement, click here.
Back