"It is Only When We Come Together and See Each Other That We Can Move Forward," Vernon Jordan '57 Tells His Alma Mater's Class of 2018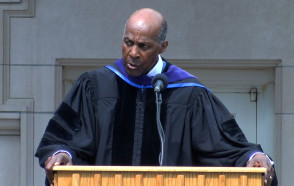 May 20, 2018
Key Links: Order a Commencement DVD; Photo Gallery
"My generation is exiting the stage. Your generation is taking it," civil rights legend and presidential adviser Vernon E. Jordan Jr. told graduates at his alma mater, DePauw University, this morning. In his address to the Class of 2018, Jordan offered, "I hope that as you leave DePauw, you choose the present, choose to be present, and present yourselves to one another -- your sisters and brothers and friends and fellow human beings -- with open arms. Because it is only when we come together and see each other that we can move forward."
After a forecast that threatened Sunday morning showers, the proceedings took place as planned outdoors in Holton Memorial Quadrangle. A total of 473 undergraduates received bachelor's degrees at DePauw's 179th Annual Commencement. The weather held off, save for a light rain that fell briefly as the diplomas were being awarded.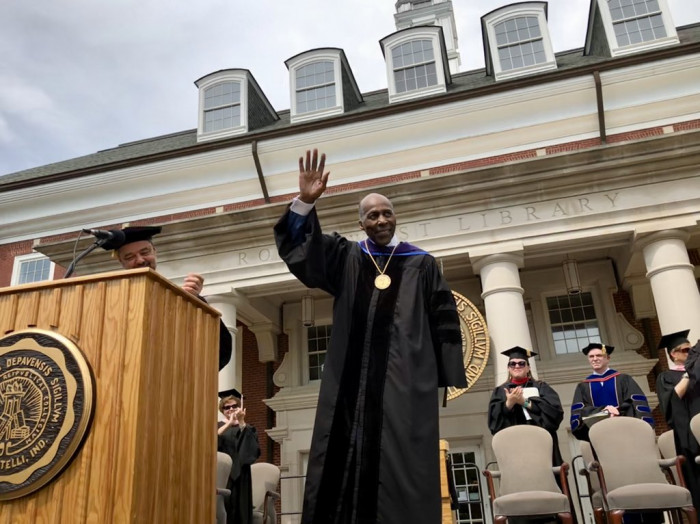 Today marked the third time Jordan, a 1957 DePauw graduate, has addressed a graduating class. Exactly 45 years ago -- on May 20, 1973 -- he spoke while serving as executive director of the National Urban League. Twenty years later he was back after serving as chair of the transition team of President Bill Clinton, his longtime friend.
"If this was a star wars franchise, this would be the third installment of a trilogy: The Return of the Jordan," he joked today. "I return because I love DePauw, because my heart bleeds black and gold. I agree with president John F. Kennedy when he called one's alma mater 'the second home of our youth' -- and since my earliest days on this campus, DePauw has been for me that second home."
He is the first person in DePauw's 181-year history to be called upon three times as commencement speaker who was not a bishop of the Methodist Church (Francis John McConnell and Edwin Holt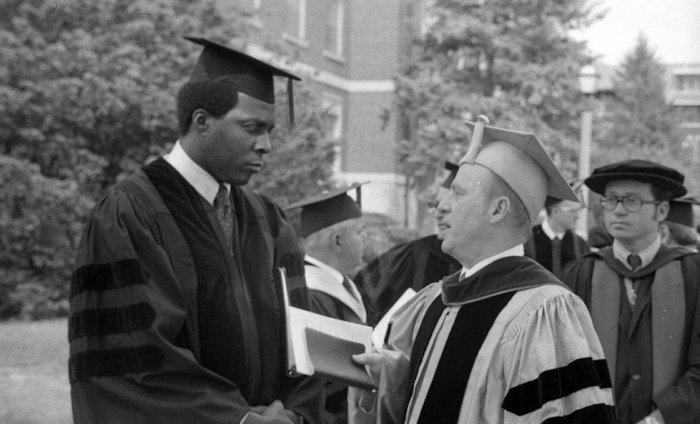 Hughes, both addressed DePauw graduates four times [McConnell: 1919, 1924, 1930 and 1947]; [Hughes: 1919, 1924, 1930 and 1947]). William Fraser McDowell spoke in 1902, 1908 and 1920. (at right: Jordan talks with President William E. Kerstetter on May 20, 1973)
As he addressed graduates, family members, faculty and friends, Jordan, now 82, recalled, "I received an exceptional education here. DePauw expanded my mind, broadened my horizons, lifted my sights and prepared me to serve and to lead. While I came here to learn political science and history, it was also an opportunity to learn about people I did not know, and people who did not know me.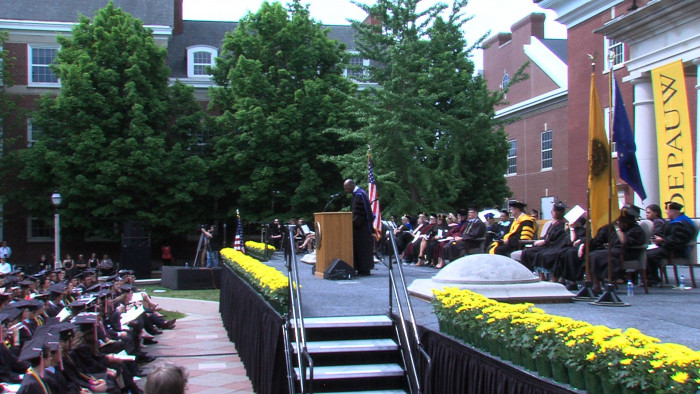 "But I also know I return at a difficult time for this campus. I've heard and read about the recent series of hateful incidents here -- the racist and homophobic words scrawled on bathroom stalls, or spelled out with stones. They feel like instances of bigotry that could have happened when I was 18 -- but should never happen in 2018. At moments like these, it seems as if we, as a country, are re-treading the same ground that was being trod when I was a student here."
Jordan continued, "I was the only black student in my class, one of only five enrolled at DePauw at the time. Even though I had left the segregated south to come to the Midwest, I could not get far from the issue of race. When I was a student here, the black barber downtown would not cut black students' hair, which meant that when I needed a haircut, I would have to hitchhike to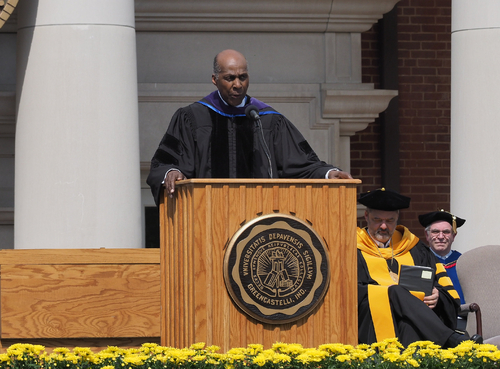 Indianapolis. Even when the university opened a barber shop in the Union Building, the white barber there was willing to cut my hair. And tried. Poor fella. But I had to keep hitchhiking.
"There were other things that were unwelcoming. At that time, blacks and whites could not and did not date one another on campus. It was not a written rule, but we all knew. I learned this the hard way. My good friend Peg Taylor, Class of 1956, took speech classes with me, and one day after class, she asked if I would escort her to her sorority house dance. Later that night a friend from across the hall told me, 'you have created a mess at the sorority house.'"
Word got around, and Jordan recalled a late night call from a tearful Taylor, saying that she had to rescind the invitation. He told her, "'Peggy, I understand. That's fine with me.' But it was not fine with Peggy. She resigned from the sorority. And the experience transformed and galvanized her. She became an equal rights advocate and activist. She was then elected president of the student senate, made Phi Beta Kappa, and won the Walker Cup at her commencement sixty-two years ago.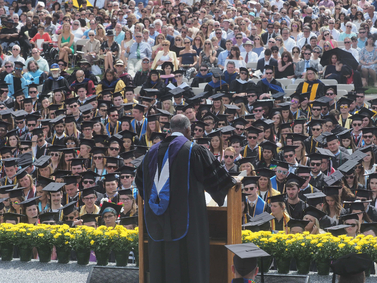 She later became a professor of speech at Orange Coast College. Also, because she was president of the student senate, she was allowed to have an automobile -- which she loaned to me every weekend so I could get off campus and find a date," Jordan remembered with a smile.
"Peg and I remained friends throughout our lives. Sadly, she passed away in 2014, but I cannot think of DePauw without thinking of Peg Taylor -- her friendship, her kindness, her courage, her leadership. She chose to stand up to injustice. She chose friendship. And by being an exception to the rule, she helped change the rule."
He continued, "There's a bigger lesson in what Peg did when we were students here. In so many ways, our challenge in our national life is to not let the exceptions become the rule. To not let fear and hatred become the rule. To not let a society that gets
more divided become the rule. To not let falsehoods become the rule. To not let a lack of leadership, a lack of integrity, a lack of respect for others, become the rule."
Jordan stated, "So the recent incidents you have witnessed here call on everyone, not just the members of one community, to respond. How you handle challenges like this is an essential part of your education. Because this is not only your graduation day. This is your moment."
It was 50 years ago that Jordan's friend, Dr. Martin Luther King Jr., was assassinated.
"Fifty years later, the world is still all messed up," Jordan offered. "The nation is still sick. Trouble is still in the land, and confusion still all around-and because of that, the future is at risk. But we must choose this moment, as Martin would."
He then asked, "You may still be wondering: what does it mean to choose the present? What does it mean to choose this moment, despite its hardships? To start, it means accepting the circumstances before you, with clear eyes. Rather than turn away from subjects that might be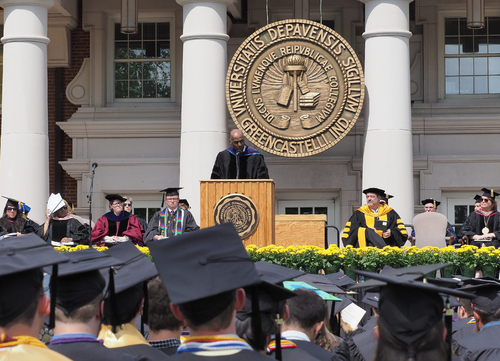 challenging, you must look deeper, listen closer, and learn all that you can. Choosing the present requires that we actively, consistently, and consciously engage. It is not enough to be a passive recipient of information -- or misinformation. Choosing the present means getting involved, and getting into what (Congressman) John Lewis calls 'good trouble.' It means being like my friend, Peg Taylor, and seeing the people in front of you, and the opportunities you have to do good. It means choosing friendship and fairness and standing up for what is right, even when it is difficult.
"Most importantly, choosing the present means knowing that this is indeed your time, and seizing it with all the energy and passion you can muster," Jordan concluded. "It's only in choosing the present that we can create a better future. And the opportunities to make that choice are all around you. They will come at you in moments that are clear cut, and moments that are confusing. You may have to walk away, as Peggy did, or be the ones to welcome someone in."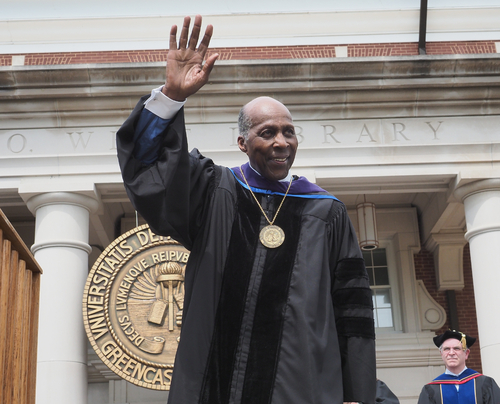 He called on the Class of 2018 "to work to understand one another, to see the commonalities and forge the way forward. You might not have to share a dorm room, but we still have to share a country. And you can choose to make this country -- and this moment -- better.
"Graduates, because of you and your time here at DePauw, I have faith that you will make the most of your moment. And, as you go down from this place, as you take leave of these hallowed grounds, as you say farewell to alma mater, as you accept the responsibilities and duties of citizenship, and as you continue to seize your moment and choose the present every day, may the road rise to meet you, may the wind be ever at your back, may the sun shine warm upon your face and the rains fall soft upon your fields. And until we meet again, may God hold you in the palm of his hands. Congratulations, Class of 2018!"
Vernon Jordan is a partner at Lazard Frères & Co. LLC in New York and senior managing director of Lazard Group LLC. He is also of counsel/senior counsel
at Akin Gump. A political science major as an undergraduate at DePauw, Jordan went on to earn his law degree at Howard University. He holds honorary doctoral degrees from more than 60 colleges and universities in America, including DePauw. He is the author of Vernon Can Read! A Memoir and Make It Plain: Standing Up and Speaking Out.
An advisory member of DePauw's Board of Trustees, Jordan has been a regular visitor to campus since he earned his diploma 61 years ago. He delivered a powerful Ubben Lecture at the October 2016 inauguration of President McCoy.
After he concluded his powerful speech, which was followed by a long standing ovation, Jordan received a surprise from his alma mater. President D. Mark McCoy presented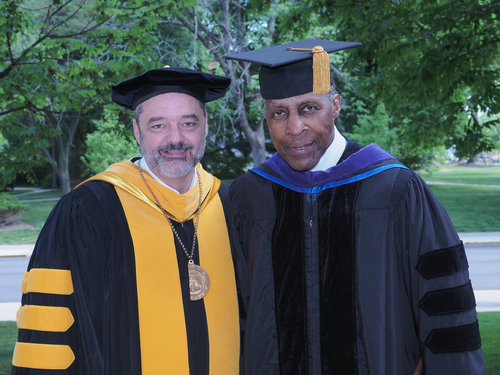 Jordan with the Old Gold Medal, "which is awarded from time to time by the Board to individuals who have served DePauw in a unique and meritorious way, a qualification which my friend has repeatedly met," Dr. McCoy remarked.
"You represent to these graduating seniors and other members of the DePauw community the limitless, lifelong benefits of a liberal arts education. Throughout your life and distinguished career, your intellect, talent, courage, and principles have empowered you to serve others in leadership roles," the president noted, and said that Jordan's remarkable achievements "call upon us all to do better for the greater good."
More coverage of today's event is available, including the speech by Peter T. Gorman '18, recipient of the Walker Cup, and the presentation of honorary degrees to community leaders Jinsie Scott Bingham '56 and Dorothy Chapman Brown and Holocaust survivor and forgiveness advocate Eva Mozes Kor.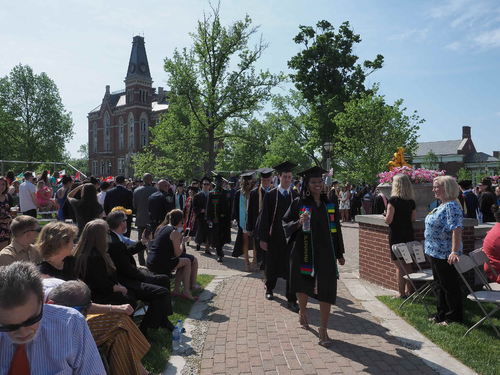 Graduates, parents and their friends are invited to order a commemorative DVD of this year's commencement. The disc will include the complete program as well as a photo gallery and a variety of bonus material, including recent campus highlights. Learn more about the DVD, which can be purchased using this online order form, in this previous story. (at left: front cover of 2017 DVD)
For more information on DePauw's 179th annual commencement, click here.
Back