Holocaust Survivor Eva Kor & Community Leaders Dorothy Brown & Jinsie Scott Bingham '56 Receive Honorary Degrees
May 20, 2018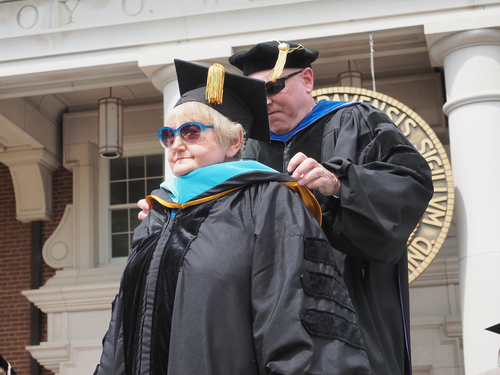 Key Links: Order a Commencement DVD; Photo Gallery
"Forgiveness is an act of self healing, self liberation, and self empowerment," Eva Kor told DePauw University's Class of 2018 this morning. Kor, a Holocaust survivor and forgiveness advocate, was one of three individuals to be presented honorary Doctor of Public Service degrees during the 179th Annual Commencement in Holton Memorial Quadrangle.
Eva Mozes Kor is one of the few surviving twins still sharing her personal account of the medical experiments supervised by Nazi doctor Josef Mengele at Auschwitz. In 1995 she chose to forgive the Nazis and opened CANDLES Holocaust Museum and Education Center in Terre Haute,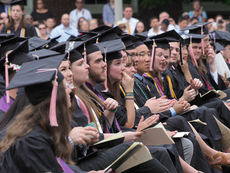 with a mission to illuminate the world with hope, healing, respect, and responsibility through education about the Holocaust.
"It's free," she told the graduates of forgiving others. "So any of you graduates, if you ever get very angry with somebody, please try forgiveness."
A pair of Greencastle community leaders also received honorary doctorates.
Jinsie Bingham Scott, a member of DePauw's Class of 1956, became the first woman in Indiana history to own and operate a commercial radio station. She was later elected the first female board member of the Indiana Broadcasters Association, serving as vice president for FM stations. A member of the Indiana Broadcasters Hall of Fame, Scott has received many other awards in a life spent serving her community.
"This is not the DePauw I attended back in the last millennium; it is greatly improved, as is the community of Greencastle," Scott said today. "Graduates I hope you have an opportunity to have a civic success ... This is your world, this is your day, this is your time to go and do. Remember this, it's okay, it's alright to get stardust on your new suit. Go do."
Dorothy Chapman Brown has served DePauw for more than 30 years, coming to the University as an instructor of education in 1986 after serving as a principal in Warren Township Schools
in Indianapolis and, before that, at Ridpath School, and holds the distinction of being the first African American to teach in Greencastle schools. She has dedicated her life to creating educational opportunities and hope for young people, serving as assistant dean and director of minority affairs at DePauw, and as house director for Phi Kappa Psi fraternity, a position she holds to this day.
"I am grateful that my career provided a platform, thus opportunities to help others, especially the young people of Greencastle and students at DePauw," Brown told the students, faculty, parents and others who sat before her. "DePauw is a great place to live, work and learn." She told the Class of 2018, "I encourage each of you to not let you learning end today, but let it be a stepping stone to being a lifelong learner. I accept this degree with much pride and humility, and I will allow it to serve as a testament to the value of serving one's community and serving in a profession with commitment and compassion."
A total of 473 undergraduates were awarded degrees during the program, which took place in Holton Memorial Quadrangle.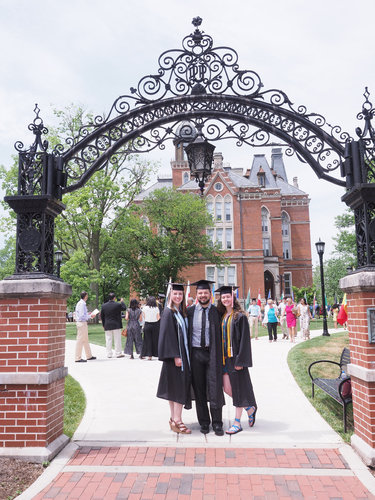 Also available are recaps of the primary address by civil rights legend and presidential adviser Vernon E. Jordan Jr. '57, and remarks by Walker Cup recipient Peter Gorman.
Graduates, parents and their friends are invited to order a commemorative DVD of this year's commencement. The disc will include the complete program as well as a photo gallery and a variety of bonus material, including recent campus highlights. Learn more about the DVD, which can be purchased using this online order form, in this previous story. (at left: front cover of 2017 DVD)
For more information on DePauw's 179th annual commencement, click here.
Back