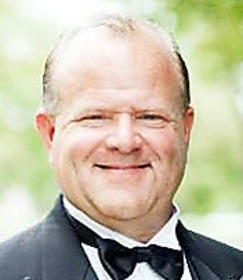 Bob Hershberger, professor of modern languages (Spanish) at DePauw University since 1998, died on Sunday, May 20 at his home in Greencastle. He was 54 years old.
Born in Denver, Colorado, Robert Preston Hershberger received his B.A. from Grinnell College, earned his master's degree from the University of New Mexico, and a Ph.D. from the University of Kansas.
The professor loved the outdoors, fishing, traveling, teaching Spanish at DePauw University and leading a myriad of student trips abroad.
Dr. Hershberger founded Servicio en las Américas, a three-week language immersion program that sends a group of incoming DePauw freshmen into Spanish-speaking areas of the world. He initiated the requirement that students speak only Spanish after the second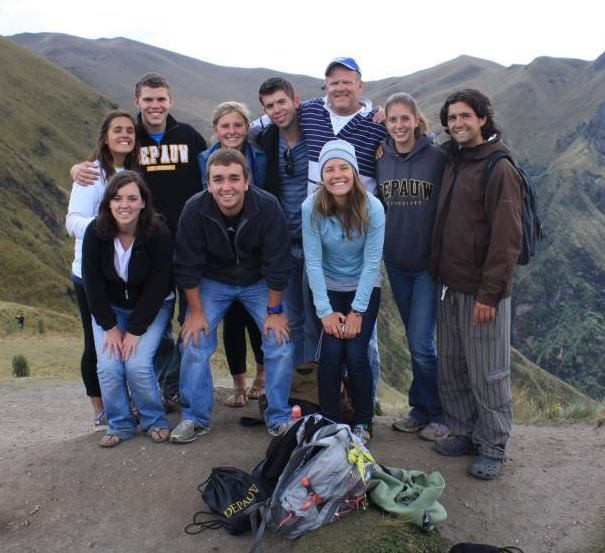 day of the program and had the DePauw group partner with service and nonprofit organizations on transformative and sustainable projects in host communities.
The professor also created the Community Technology Enhancement Program (CTEP), which has collected used computers from DePauw, local schools, and the community to be refurbished and donated to low-income families and nonprofit organizations. In 2006, three years after launching CTEP, Hershberger called it "a great example of neighbors helping neighbors. We've seen first-hand the life-changing experiences that people have had locally after being given a computer, a 'window to the world,' if you will." (at left: Hershberger with students in 2012; below right: chatting with an undergraduate on campus in 1998)
Hershberger chaired his department for two terms and was co-author of the Plazas and Rumbos textbook series, as well as an introductory Spanish textbook, Viajes: Introducción al español.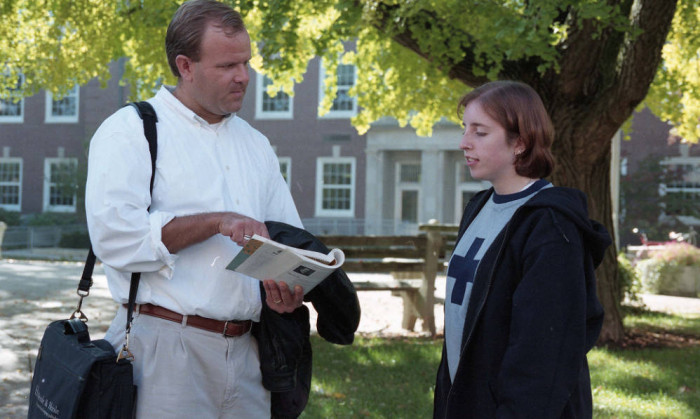 In 2004-05, Professor Hershberger received the Exemplary Teaching Award, given jointly by DePauw University and the General Board of Higher Education of the United Methodist Church. "His teaching is particularly exemplary for its student-centered approach," stated Neal B. Abraham, executive vice president, vice president for academic affairs and dean of the faculty, at the time. "Students speak of the effectiveness with which he has drawn them to mastery and fluency."
He was also active in his spare time teaching Spanish at Asbury Towers retirement community, the police department and to his own colleagues at DePauw. Hershberger also directed Greencastle's Crown Street Community Center, and volunteered in local schools and as a coach for the Putnam County Youth Soccer Association.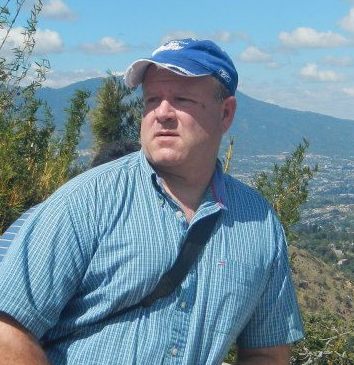 Survivors include his wife, Natasha Ryadovaya, who has taught in the modern languages department; sons William Sawyer and Matthew Nicholas; his first wife, Sarah McAdams, communications manager at DePauw; and daughters Kate and Annie.
A memorial service will be held at 6 p.m. Saturday, May 26 at Gobin Memorial United Methodist Church. The professor's family will receive friends at the church from 4 p.m. until the service begins.
An online obituary is available here.