David Vogel '18 is Graduate Assistant for TCU's Men's Basketball Program
June 9, 2018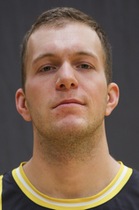 David Vogel, a May 2018 graduate of DePauw University, is now a graduate assistant for the men's basketball program at Texas Christian University.
An announcement notes, "Vogel is from Bluffton, Ind., and is a 2018 DePauw graduate who earned a degree in communications. He played for the Tigers from 2014-2018. Vogel will pursue a Master of Educational Leadership degree at TCU."
Read more here.
Get more information at the official online home of Tigers basketball.
Back