"We Need Politics," Lee Hamilton '52 Asserts
June 12, 2018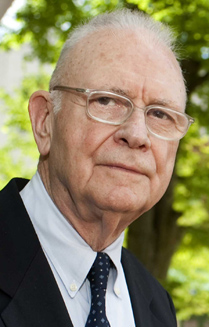 Looking at the list of challenges facing the United States, Lee H. Hamilton asks that "if we're not to throw up our hands and give in, how do we make progress on it? Well, I'll tell you: politics."
In a newspaper column, the 1952 DePauw University who served 34 years in the U.S. House of Representatives offers, "we should do all we can to encourage and support them to fix these problems, because they're all we've got. American politics can be an inefficient, noisy, messy ride. But be careful before you condemn it and its practitioners, because alternatives like a chaotic anarchy or the brutal efficiency of a dictatorship are far worse.
"In other words, if we're going to attack the problems that concern us, we need politics: otherwise, our government would grind to a halt. We would be without a means of remedying our collective problems. The institutions of politics -- the rule of law, elections, city councils, legislatures,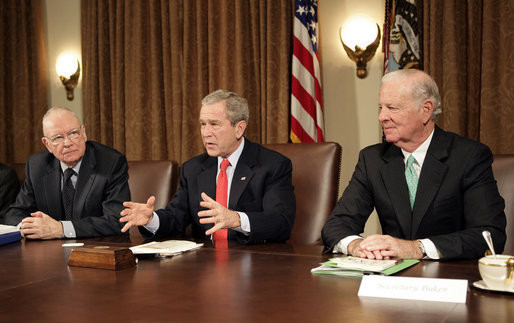 Congress -- are the way we make operational a government of, by, and for the people. They are how we work together." (at left: Hamilton and James Baker present the Iraq Study Group Report to President George W. Bush on December 6, 2006).
Later, Hamilton writes, "If you ask people what they most cherish about our political system, most will say it's the idea of opportunity. For all its fits and starts, its horse-trading and negotiating and raw give and take, politics is also how we try to provide equal rights, civil liberties and a fair shot at opportunity for all. Sure, we fall short of the ideal. But in a representative democracy, it's the mechanism we possess to try to create a more perfect union.
He concludes, "The plain truth is, it doesn't do much good just to talk about the ideals or shared values of America. You also have to try to realize them on the ground, to pull them out of the complicated --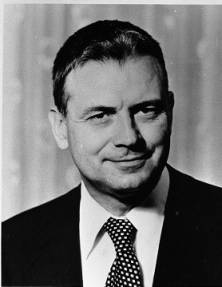 and often self-contradictory -- mass of popular longings and opinions and translate them into policy and law. For better or worse, politics is how we do this."
You'll find the complete text at the website of Texas's Odessa American.
Hamilton is a senior adviser for the Indiana University Center on Representative Government, a distinguished scholar with the IU School of Global and International Studies, and a professor of practice in the IU School of Public and Environmental Affairs. He was a member of the U.S. House of Representatives for 34 years.
A history major and basketball standout at DePauw, Lee Hamilton was awarded the Presidential Medal of Freedom in 2015. He was inducted into the Capital One Academic All-America® Hall of Fame and has also received the Churchill Award for Statesmanship, the Eisenhower Medal for exceptional leadership, the Distinguished Service Award from the U.S. Association of Former Members of Congress, and the Franklin and Eleanor Roosevelt Institute Freedom From Fear Award, among many other honors. He's also a member of the Indiana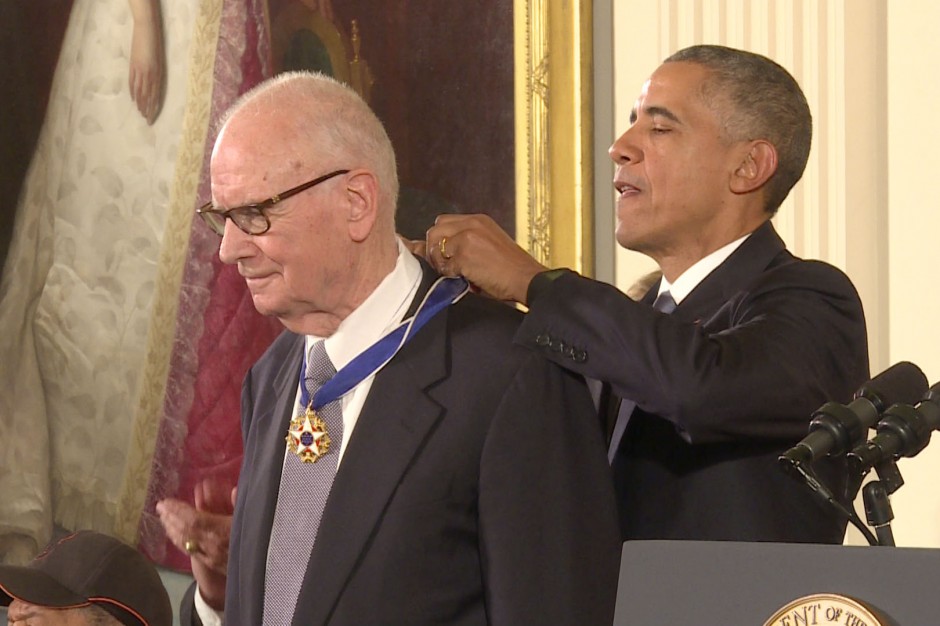 Basketball Hall of Fame and DePauw's Athletic Hall of Fame.
Since retiring from Congress, he's served on a number of government panels, including vice chair of the 9/11 Commission.
Congressman Hamilton has been a frequent visitor to his alma mater over the years. In February he joined former U.S. Senator Richard G. Lugar at DePauw to discuss the lack of civility in modern politics. Hamilton delivered an Ubben Lecture on March 15, 2011 as well as his alma mater's commencement addresses in 1971 and 1998.
Back