On-Air Error Makes Prof. Jeff McCall '76 Question "The Culture in the Newsroom"
June 21, 2018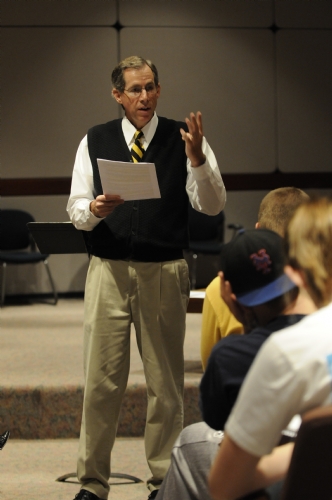 "Media critic and DePauw University professor Jeffrey McCall told Fox News that he cautions his students about doing anything in the newsroom, or any other place, that could cause anyone to question either their seriousness or fairness," notes the network this afternoon in a story detailing an on-air error by ABC News.
According to the report, yesterday afternoon ABC aired a graphic "that falsely stated that Paul Manafort, Donald Trump's ex-campaign chief, pleaded guilty to five charges of manslaughter." Manafort is not charged with that crime, and "ABC News sources tell Fox News that the false report was a 'practice chyron' that had likely been maliciously written by an ABC News employee hostile to President Trump (a chyron is a TV news term for words that appear on the lower third of the screen)."
ABC says it is investigating the error.
"ABC has apologized for this problem, but what they really need to explain is how the culture in the newsroom would allow for such a stunt to happen in the first place," says McCall,
professor of communication at DePauw. "It also suggests that the climate in the ABC News production room allows for such nonsense to happen. Clearly, newsrooms should never be creating fake content in the first place, or have an atmosphere in which even low level staffers are suggesting their biases."
Access the story here.
Jeffrey M. McCall is a 1976 graduate of DePauw, where he was a Rector Scholar and speech (communication) major and worked on student radio station WGRE, which he now serves as faculty adviser. McCall earned a master's degree from the University of Illinois and a Ph.D. from the University of Missouri. He joined the DePauw faculty in 1985 and authored Viewer Discretion Advised: Taking Control of Mass Media Influences.
Regularly quoted in reports on media matters, Dr. McCall wrote a column last week for The Hill on the relationship between the president and the media and was quoted in another Fox News story on ABC News.
Source: Fox News
Back