Colombian President and 2016 Nobel Peace Prize Winner Juan Manuel Santos Coming for Oct. 22 Ubben Lecture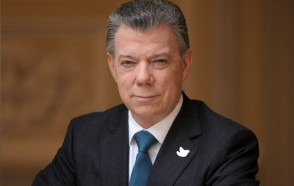 July 31, 2018
Juan Manuel Santos, the president of Colombia since 2010 and the recipient of the 2016 Nobel Peace Prize, will visit DePauw University on Monday, October 22, as a guest of the Timothy and Sharon Ubben Lecture Series. His talk, "Global Citizenship: Now More Than Ever," will be followed by a question-and-answer session. The event will begin at 7:30 p.m. in Kresge Auditorium, located within DePauw's Green Center for the Performing Arts (605 S. College Avenue).
Like all Ubben Lectures, the event is presented free of admission charge and is open to all. Seating will be on a first-come, first-served basis, and no tickets will be distributed.
Santos will become the 11th Nobel laureate and ninth winner of the Nobel Peace Prize to be welcomed to DePauw as an Ubben Lecturer.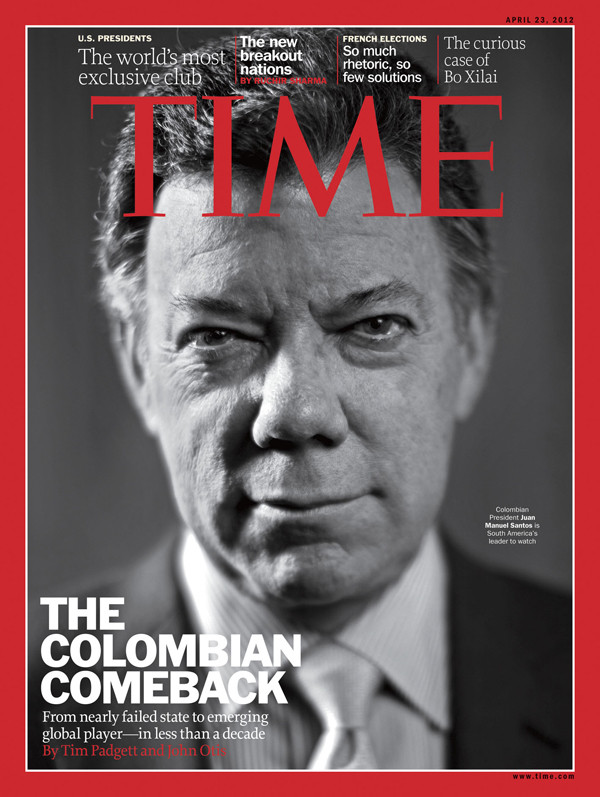 The previous visitors included Malala Yousafzai, Leymah Gbowee, Oscar Arias, F.W. de Klerk, Mikhail Gorbachev, Shimon Peres, Willy Brandt, Elie Wiesel, Leon Lederman, and Ferid Murad, a 1958 DePauw graduate.
Born in Bogota on August 10, 1951, Santos was a cadet of the Naval Academy in Cartagena, studied economics and business administration at the University of Kansas, and pursued graduate courses at the London School of Economics and Political Science and at the Harvard Kennedy School. He was also a Neiman Fellow of Harvard University.
He began his career as a journalist, and entered public service as head of Colombia's delegation to the International Coffee Organization (ICO) in London. He was the last Designee to the Presidency of the Republic (a position that was later folded into the office of vice president), and in 1991 was appointed Colombia's first Minister of Foreign Trade and led a drive to modernize and enhance Colombia's competitiveness in the world market. He chaired the Eighth United Nations Conference on Trade and Development. In 2000, Santos was appointed Minister of Finance and Public Credit Minister, where he successfully handled the worst economic crisis in Colombia in the last 80 years. He was also National Defense Minister, and in 2005 founded the political party of the National Unity (Partido de la U).
On June 20, 2010, he was elected president of the Republic of Colombia, obtaining the highest number of votes in the country's history. During his campaign, he offered to lead a Government of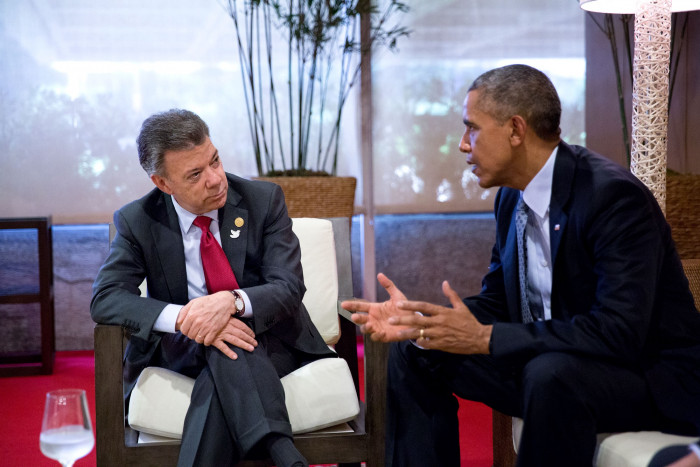 National Unity, to make the transition from Democratic Security to Democratic Prosperity, and announced that he would seek peace with the Revolutionary Armed Forces of Colombia—People's Army (FARC). Since 1964, the guerrilla movement had been involved in the continuing Colombian armed conflict.
In June 2014, he was re-elected as president of Colombia with a platform based on three pillars: Peace, Equity and Education.
In June 2016, following four years of negotiations, President Santos and the FARC signed a ceasefire accord in Havana. A year later, FARC handed its weapons to the United Nations and announced its reformation as a legal political party, the Common Alternative Revolutionary Force, in accordance with the terms of the peace deal. Ten members of the group were sworn-in as new members of congress this month.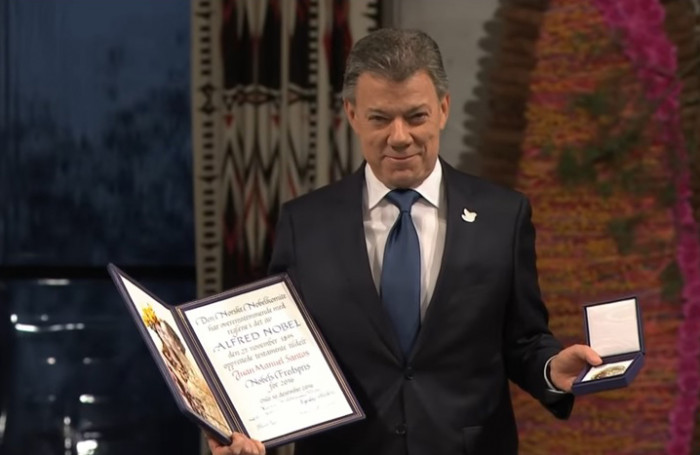 Santos was awarded the 2016 Nobel Peace Prize "for his resolute efforts to bring the country's more than 50-year-long civil war to an end." The president himself has stated, "It is far more difficult to make peace than it is to wage war; I know it because I have done both."
President Santos's second term ends on August 7 and he is returning to private life.
In January 2017 Santos was featured by the World Economic Forum as Statesman of the Year. He's twice been recognized by TIME magazine as being among the world's 100 most influential people.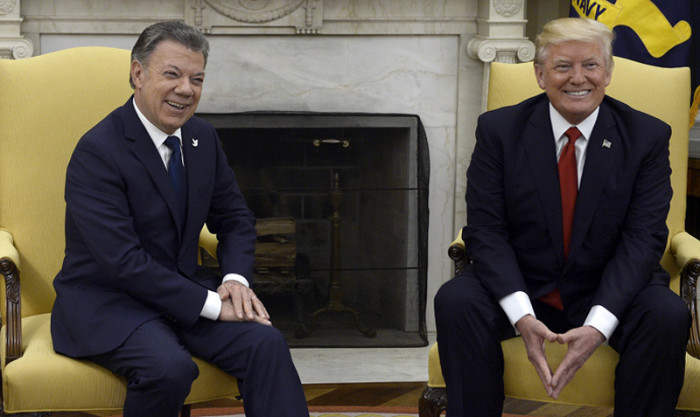 Santos has been a Fulbright visiting fellow at the Fletcher School of Law and Diplomacy at Tufts University, and was a Nieman Fellow at Harvard University. He received the King of Spain International Journalism Award and was president of the Commission of Freedom of Expression of the Inter-American Press Association (SIP). He has published several books, including The Third Way, which he wrote with former British Prime Minister (and 2008 Ubben Lecturer) Tony Blair.
Established in 1986 through the generous support of 1958 DePauw graduates Timothy H. and Sharon Williams Ubben, the Ubben Lecture Series was designed to "bring the world to Greencastle." The series has presented 111 events over the past 32 years.
Previous Ubben Lecturers have included Malala Yousafzai, Margaret Thatcher, Bill Clinton, Spike Lee (pictured at left), Jimmy Kimmel, Vernon Jordan '57, Mikhail Gorbachev, David Cameron, Jane Goodall, Tony Blair, David Brooks, Bill Rasmussen '54, Leslie Odom Jr.,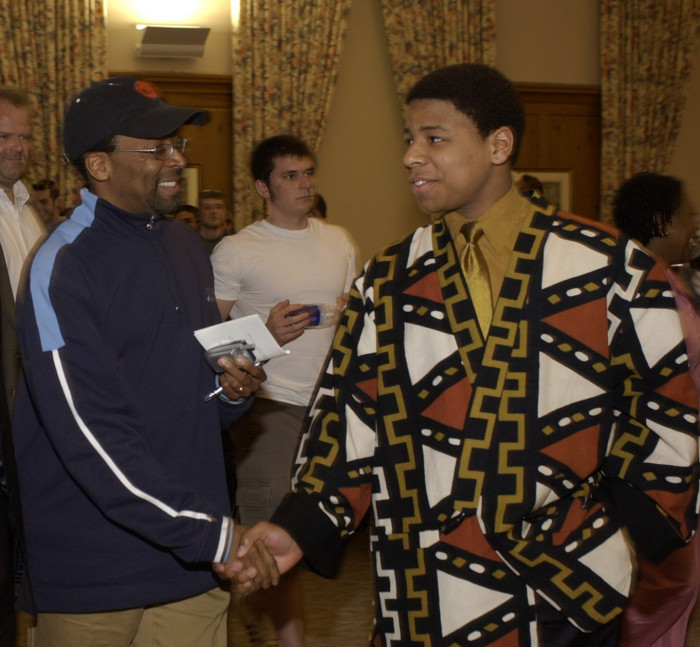 Doris Kearns Goodwin, Mike Krzyzewski, Julian Bond, Jenna Fischer, General Colin Powell, Andrew Luck, Michio Kaku, Piper Kerman, Barbara Bush, Jimmy Wales, Jesse Jackson, Todd Rundgren, Martin Luther King III, Willy Brandt, Bob Woodward, Carl Bernstein, Ambassador L. Paul Bremer, General Wesley Clark,Greg Mortenson, Arne Duncan, Ken Burns, Ron Paul, Karl Rove, Howard Dean, Eric Schlosser, Dan Quayle '69, Jane Pauley, Harry Belafonte, Sam Donaldson, David McCullough, John Major, Lee Hamilton '52, Ralph Nader, Bret Baier '92, Mitch Albom, Brian Mulroney, Yeonmi Park, Candy Crowley, Peyton Manning, Liz Murray, Jason Reitman, William J. Bennett, Richard Lamm, Mary Frances Berry, Jim Lovell, Gwen Ifill, ice cream entrepreneurs Ben Cohen & Jerry Greenfield, Douglas Hallward-Driemeier '89, Stephen Levitt, Allan Bloom, Andrew Young, Paul Volcker, David Hanson and his robot creation Sophia, Naomi Wolf, Ross Perot, Sister Helen Prejean, Bill Bradley, Ferid Murad '58, Paul Tsongas, Nicholas Carr, Rebecca Skloot, Seymour Hersh, Zbigniew Brzezinski, George Will, Carl Rowan, and many others (at left: Spike Lee during his 2003 campus visit)
To view a complete roster of Ubben Lecturers -- which includes links to video clips and news stories -- click here. Video montages of many events are available on YouTube.
Back