Tickets for 2018-19 Green Guest Artist Series Now Available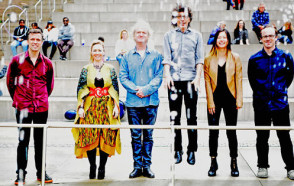 August 7, 2018
Ticket packages for the five-concert 2018-19 Green Guest Artist Series at DePauw University are available beginning today, and will remain available through September 4. The series -- which brings high-caliber performing arts programming that also is affordable to Greencastle -- includes: Bang on a Can All-Stars; the choral ensemble Conspirare; New York Voices; Indianapolis Symphony Orchestra with cellist Julian Steckel; and the DePauw School of Music's 2018/19 artists-in-residence, the International Contemporary Ensemble.
Purchasing the series package will provide patrons with a 50 percent savings off the regular ticket prices. Priced at $50 for adults and $10 for seniors, the Green Guest Artist ticket special is available online at music.depauw.edu.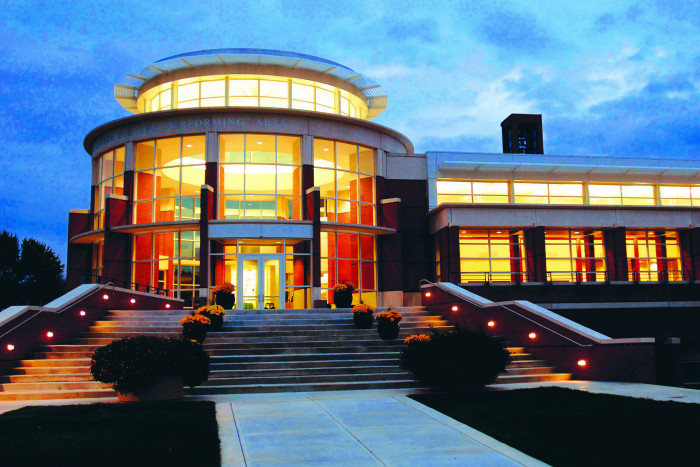 An option to obtain the series tickets in person also will be offered at the Green Center box office (605 S. College Ave.) from noon to 2:30 p.m. Tuesday-through-Thursday, August 14-16. Green Series tickets will be mailed out after sales end on September 4.
The "All-Access" card used in previous seasons will be discontinued.
The 2018-19 Green Guest Artist Series includes:
Sept. 15: Bang on a Can All-Stars. Recognized worldwide for their ultra-dynamic live performances and recordings of today's most innovative music, this six-member amplified ensemble has consistently forged a distinct category-defying identity, freely crossing the boundaries between classical, jazz, rock, world and experimental music and traveling into uncharted territories. The ensemble's ongoing multimedia project, Field Recordings, showcases commissioned works by 14 (and counting) composers, channeled through the "unstoppable" Bang on a Can All-Stars.
Oct. 10: Conspirare. Considering Matthew Shepard Craig Hella Johnson conducts the Grammy Award-winning ensemble Conspirare in a riveting performance of Considering Matthew Shepard, his musical response to the tragic death of a young gay man who has become an American symbol for hope and empowerment. This major new work for chorus, soloists and chamber ensemble sets to music a rich variety of texts by librettist Michael Dennis Browne and poets Lesléa Newman, Rumi and many others, leading listeners from anguish to understanding.
Nov. 17: New York Voices. Described as "one of the finest singing ensembles ever assembled" (Edward Blanco, All About Jazz), this quartet of critically acclaimed vocalists has refined its musical story to a high art. Known for close-knit voicings, inspired arrangements and unparalleled vocal blend, the group's chameleon-like musicianship allows it to move seamlessly from setting to setting, be it intimate, orchestral or big band -- as our Green Guest Artists and as headliners for DePauw School of Music's 2018 JazzFest.
Feb. 3: Indianapolis Symphony Orchestra with guest cellist Julian Steckel. Engaging melodies, rich harmonies and orchestral textures describe Rachmaninoff's Symphony No. 3, which came 30 years after his second symphony. Italian conductor Daniel Rustioni will lead the Indianapolis Symphony Orchestra through the nostalgic Symphony No. 3 and Respighi's symphonic poem Fountains of Rome. Cellist Julian Steckel will take on Shostakovich's challenging Concerto No. 1.
April 5: International Contemporary Ensemble (ICE), 2018/19 Artists-in-Residence. Recipients of the American Music Center's Trailblazer Award and the Chamber Music America/ASCAP Award for Adventurous Programming, ICE's 35 members are soloists, chamber musicians, commissioners and collaborators with the foremost musical artists of our time. Named the 2014 Musical America Ensemble of the Year, this NYC-based ensemble serves as artists-in-residence at Lincoln Center for the Performing Arts' Mostly Mozart Festival. Its residency at DePauw will culminate in this season's final Green Guest Artist concert.
For additional information on the 2018-19 season, purchase of Green Guest Artist Series or individual tickets, contact the GCPA box office (658-4327 or greencenter@depauw.edu).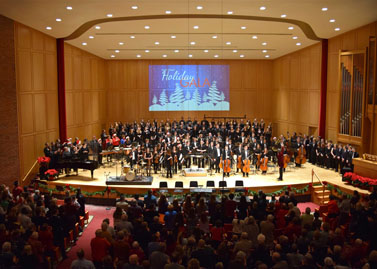 Tickets to popular annual events such as the Holiday Gala, Communiversity, and DePauw musical theater and opera productions will be sold separately, while master classes by artists such as Broadway star Marla Mindelle will be free.
Individual concert tickets to all School of Music events will go on sale at noon Wednesday, Sept. 5, at the following prices: Green Guest Artist Concerts: $20; Holiday Gala and DePauw Opera: $10; Faculty Select Series, Music of the 21st Century and major student ensembles: $5. Individual tickets for seniors over 65, youth 12 years and younger, and all students, continue to be free thanks to season sponsors Judson Green and Joyce (Taglauer) Green ('74 & '75).
Back