DePauw Mourns the Passing of Longtime Math Prof. John Anderson at Age 90
August 9, 2018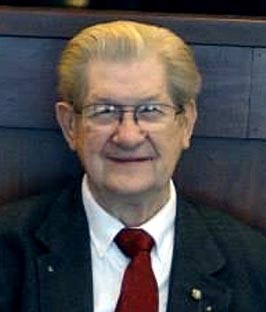 John R. Anderson, professor emeritus of mathematics at DePauw University where he taught for more than three decades and also served as assistant dean, died Monday, August 5, at his Greencastle home. He was 90 years old.
Born August 1, 1928, in Stromsburg, Nebraska, Anderson earned his B.S. and M.A. degrees from the University of Nebraska and a Ph.D. in mathematics from Purdue University. During World War II, he joined the U.S. Army and served in the 293rd GHQ Army Band under Gen. Douglas MacArthur at Tokyo, Japan.
He began his career as a teacher at Nebraska's Bloomfield High School. A position at the Allison Division of GMC brought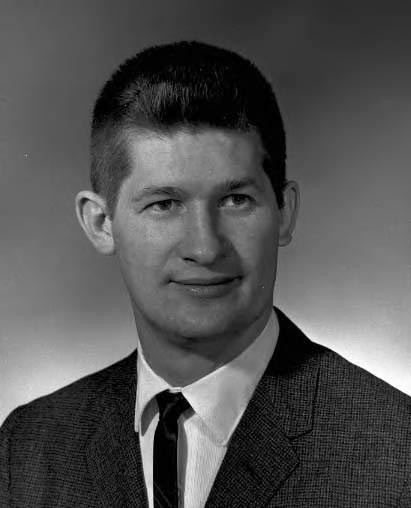 him from Nebraska to Indiana in 1954. There he was employed as a senior project engineer-control systems analysis and also taught math classes to felloe engineers. (at left: Prof. Anderson in 1962)
Dr. Anderson joined the DePauw faculty in 1960. In 1973 he was appointed assistant dean of the University and director of graduate studies. He held the first role until 1976 and directed the graduate studies offerings until 1977. Anderson also served as chair of the math department, retiring in 1992.
In the mid-1970s, Anderson oversaw the creation of videotaped programs that DePauw aired on local cable television.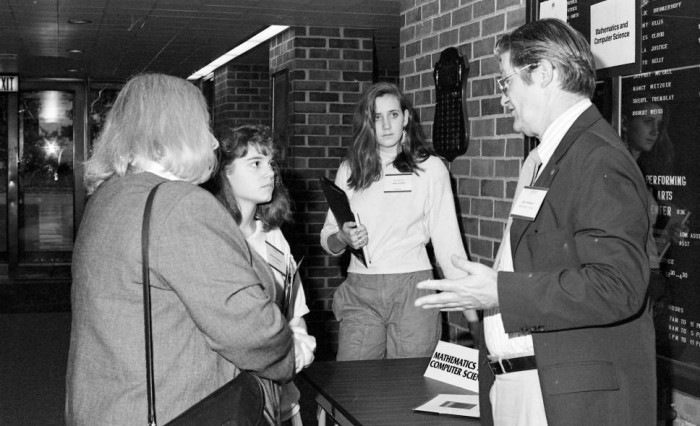 The professor was awarded a Danforth Teacher Study Grant for 1963-64. Anderson also served as a member of the Commission on Higher Education of the North Central Association.
His hometown of Stromsburg, Nebraska, honored Anderson's achievements by bestowing the title of "Honorary Swede" upon him at their annual Swedish Festival in 1977. (at right: Anderson talks with prospectives students on a campus tour in 1988)
Professor Anderson's numerous philanthropic efforts included membership in Rotary International, Kappa Sigma fraternity and Thrivent.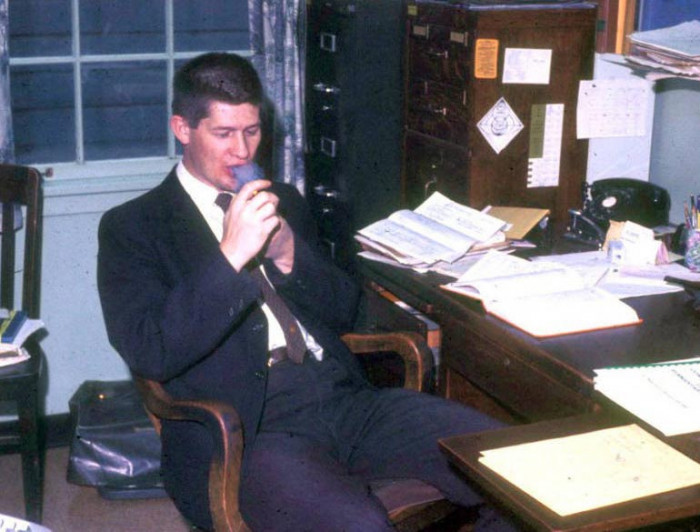 Survivors include his wife of 68 years, Bertha M. (Nore) Anderson.
Visitation will be held from 4-8 p.m. Monday, August 13, at Peace Lutheran Church, 1421 S. Bloomington Street in Greencastle. An additional visitation will take place from 10-11 a.m. on Tuesday, August 14, at Peace Lutheran Church, with services beginning at 11 a.m. and interment at Forest Hill Cemetery in Greencastle to follow. (at left: John Anderson in his office at DePauw in 1967)
An online obituary is available here.
Back