"One of the Most Connected Men in America," Vernon Jordan '57, Profiled in London's Financial Times
August 19, 2018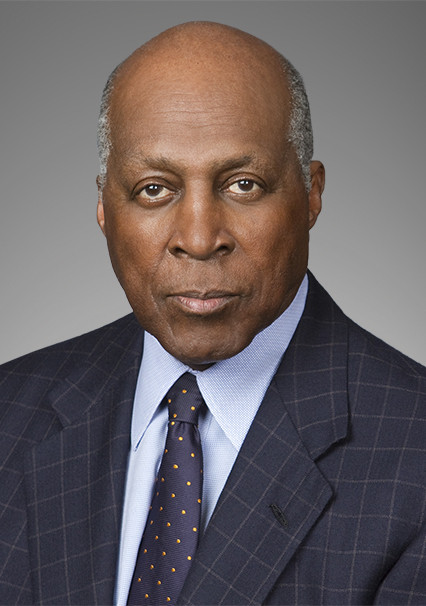 Vernon E. Jordan Jr., "one of the most connected men in America" and 1957 graduate of DePauw University, is the subject of a profile in the Financial Times.
A partner at Lazard Frères & Co. LLC in New York and senior managing director of Lazard Group LLC, and of counsel/senior counsel at Akin Gump, Jordan "is a whisperer to the powerful, the man who can make the introduction, give the straight talk and soothe the egos of business titans," writes Sujeet Indap for the London-based publication. "His powerbroker persona is most manifest in his decades-long friendship with Bill and Hillary Clinton. To jaded voters on the left and right, he is the ultimate Washington insider, a man whose seamless waltz between business and politics has fueled resentment at an incestuous system. Yet his successes in the boardroom and the smoke-filled backroom have, by now, obscured a distinguished role in the civil rights movement -- and an upbringing in the segregated Deep South. Born into a world that had little use for his talents,

Vernon Jordan would make himself indispensable."
Indap continues, "Henry Louis Gates, the celebrated Harvard historian, tells me he regards Jordan as the man most responsible for breaking down the color barrier in corporate America. 'Historians will remember Vernon Jordan as the Rosa Parks of Wall Street,' he says.
Now 83, Jordan splits his time between Washington, D.C. and New York City. "One is a company town, Washington. There is only one conversation," Jordan tells the publication. "New York, on the other hand, is about business. But it's also about culture. It's about entertainment. And I feel like as I go back and forth between the two, that I have the best of both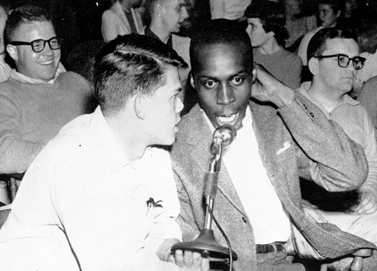 worlds."
There are several mentions of his undergraduate days. Indap reports, " When Jordan left Georgia for DePauw University in rural Indiana in 1953, he was the only black student in his class; he recalls that at the time of his arrival, the town had no barbers willing to cut a black person's hair. His segregated education left him unprepared for college too: 'We were reading the history of civilization and my classmates, who'd gone to private schools and fine township high schools, were on chapter six; I was struggling to get out of the preface.' But he persevered and went on after graduation to Howard University, the historically black university in Washington that was the training ground for many of the era's finest civil rights lawyers." (photo above right: Jordan as a DePauw student)
A longtime adviser to President Clinton, Jordan is asked about "Hillary Clinton's coziness with high finance -- which perhaps cost her the 2016 presidential election."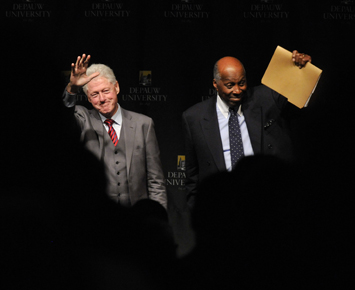 Jordan, who was a political science major at DePauw and is the former president of the National Urban League, states, "It is not a crime to be close to Wall Street. If you are a politician, you have to have relationships with every kind of entity. And so, I have also been criticized about being a banker at Lazard, just like I was criticised for going to DePauw University in 1953. They said, 'You want to be white.' Well, all I wanted was a good education that I couldn't get at Georgia Tech, the University of Georgia or Emory [which all admitted only white students]. Just like they said to Jackie Robinson, just stay here in the Black League . . . You cannot be deterred." (at left: Jordan and President Bill Clinton at DePauw on November 18, 2011 for the 25th anniversary Ubben Lecture)
Access the complete article at the newspaper's website.
An advisory member of DePauw's Board of Trustees,Vernon Jordan holds honorary doctoral degrees from more than 60 colleges and universities in America, including DePauw. He is the author of Vernon Can Read! A Memoir and Make It Plain: Standing Up and Speaking Out.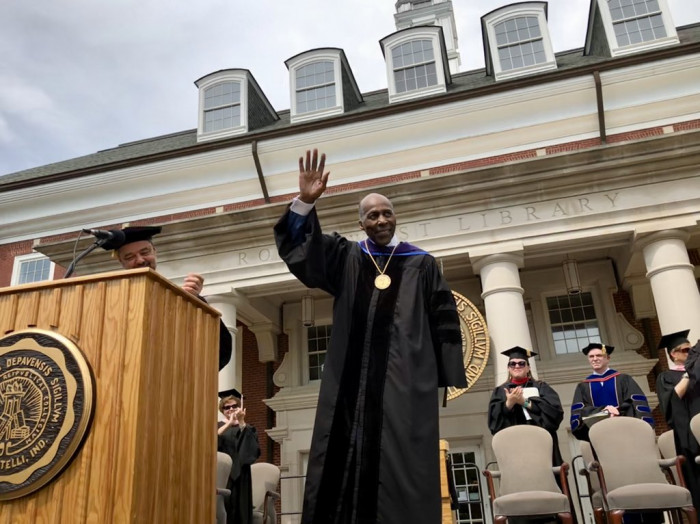 In December 2009, Jordan was one of eight individuals presented with the Du Bois Medal, the highest honor awarded by the Harvard University Institute of Politics' W.E.B. Du Bois Institute. He's also been honored with the Spingarn Medal, the NAACP's highest honor for achievement, the Trumpet Award, and DePauw's Old Gold Goblet and McNaughton Medal for Public Service. In June 2017 he received the Harvard Law School Center on the Legal Profession's Award for Global Leadership and he was honored by the Anti-Defamation League this February.
Jordan is the first person in DePauw's 181-year history to be called upon three times as commencement speaker who was not a bishop of the Methodist Church. In his most recent commencement address this May, Jordan delivered a powerful message to DePauw's Class of 2018, which is embedded below.
Jordan has been a regular visitor to campus since he earned his diploma 61 years ago.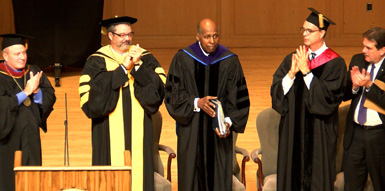 Among his many visits to Greencastle: he delivered an Ubben Lecture at the October 2016 inauguration of President D. Mark McCoy and was on campus in November 2011 to introduce his good friend, America's 42nd president, Bill Clinton, who delivered an Ubben Lecture before 5,000 people in the Lilly Center.
Jordan has said, "DePauw expanded my mind, broadened my horizons, lifted my sights, prepared me to serve and to lead and nurtured my growth and maturity. I made lasting friendships here. If I had my life to live over again, I would return to this place."
Source: Financial Times
Back