Former Congressman Lee Hamilton '52 Offers His Thoughts on Ballot Laws
August 20, 2018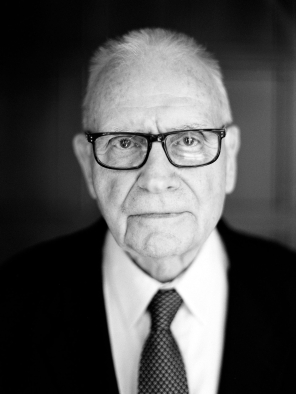 "We need to do everything we can to lift voter turnout, not suppress it," declares Lee H. Hamilton. In a newspaper op-ed, the veteran statesman and 1952 graduate of DePauw University argues, "The more people who vote, the more nearly our democracy will reflect the views of 'the people,' not just the people who had the wherewithal to have the right ID or a ride to the polling place. And the more the polls reflect the communities we live in, the healthier and more legitimate our democracy will be."
A Democrat who served 34 years in the U.S. House of Representatives and was known for his bipartisanship, Hamilton writes, "There are times when I'm convinced the progress of this country can be measured through our ballot laws. Think about it. Over the course of our history, we've expanded the franchise from the sole preserve of white male property owners to most all citizens 18 and older -- regardless of race, gender or wealth. Yet despite this steady march, we remain embroiled in debate over who gets to vote. Mostly this is carried on in the states, with Republicans oft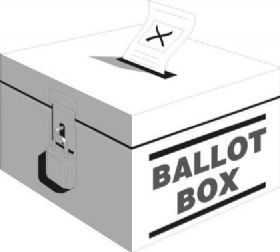 en favoring limits on access to the polls, and Democrats usually hoping to expand access."
The author several books including Strengthening Congress adds, "I don't mean to dismiss the idea that we need to protect the integrity of the ballot and ensure that people who vote are entitled to do so. We do. But I believe representative democracy is strengthened by expanded voting through public marketing campaigns, registration drives and even automatic registration when you get a driver's license, through longer hours, early voting or voting by mail. Voting is our most basic right as a citizen. It's how we make ourselves heard and felt. Our elected representatives respond to what voters consider the most important issues and how to decide them. Our whole political system depends on it, and erodes if voting turnout falls. So the impact of voting is huge."
Access the complete essay at the website of Indiana's South Bend Tribune.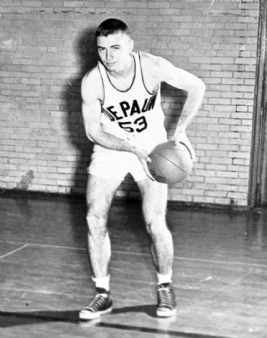 Lee Hamilton is a senior adviser for the Indiana University Center on Representative Government, a distinguished scholar with the IU School of Global and International Studies, and a professor of practice in the IU School of Public and Environmental Affairs.
A history major and basketball standout at DePauw, Hamilton was awarded the Presidential Medal of Freedom in 2015. He was inducted into the Capital One Academic All-America® Hall of Fame and has also received the Churchill Award for Statesmanship, the Eisenhower Medal for exceptional leadership, the Distinguished Service Award from the U.S. Association of Former Members of Congress, and the Franklin and Eleanor Roosevelt Institute Freedom From Fear Award, among many other honors. He's also a member of the Indiana Basketball Hall of Fame and DePauw's Athletic Hall of Fame.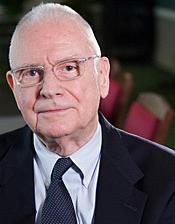 Since retiring from Congress, he's served on a number of government panels, including vice chair of the 9/11 Commission.
Congressman Hamilton has been a frequent visitor to his alma mater over the years. In February he joined former U.S. Senator Richard G. Lugar at DePauw to discuss the lack of civility in modern politics. Hamilton delivered an Ubben Lecture on March 15, 2011 as well as his alma mater's commencement addresses in 1971 and 1998.
Back