Football Career of Veteran Coach Dave Dunkelberger '61 Comes Full Circle
August 30, 2018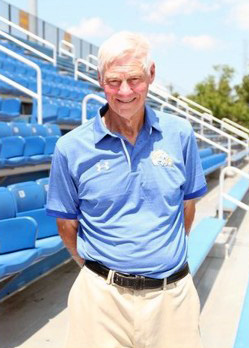 "Following a standout career as a three-sport athlete at Miamisburg High School in the mid-1950s and a stellar run through DePauw University, he became a football coach," notes a Dayton Daily News article on Dave Dunkelberger, a 1961 DePauw graduate. "Since then he's had a staggering 22 jobs around the nation and in Canada, too. Most have been at the college level, although he's been at four high schools, too -- in fact he coaches defensive backs at Olentangy High right now -- and he's been a pro coach, as well."
The story notes that tomorrow night Dunkelberger and Olentangy will play at Miamisburg, his high school alma mater. It'll be his first time on the field there since his senior season in 1956, and his alma mater has made him an honorary captain for the contest.
The coach known as "Dunk" tells the newspaper, "Miamisburg is where I grew up and played. It's a special place to me. I want us (Olentangy) to win, I really do, but I want it to be a good game for both of us, too."
The piece notes that Dunkelberger -- whose resume includes coaching stints at Southern Illinois, Louisiana and Temple -- was a three-time letterman at DePauw. After coaching football for six decades, he tells the newspaper, "I've coached a lot of kids where, if they didn't have football and you didn't stick with them, they wouldn't have made it. I love teaching kids and seeing them grow." (at left: 1960 image)
Access the story at the paper's website.
Also available is this previous summary.
Back