Anytime Fitness Names Taryn Owens '13 the Chain's 'Personal Trainer of the Year'
September 19, 2018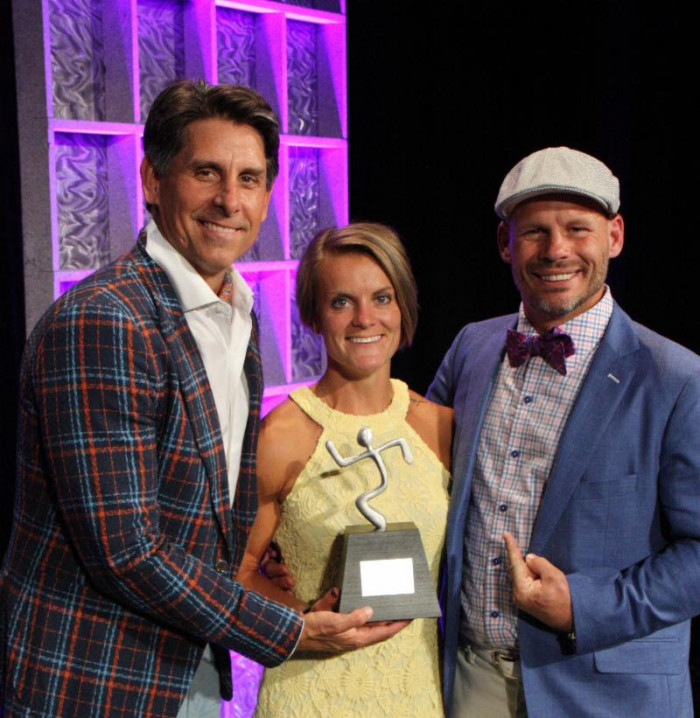 Taryn Owens, a 2013 graduate of DePauw University, has been honored by Anytime Fitness, the world's largest and fastest-growing fitness club chain, as "Personal Trainer of the Year." Owens received the award at the company's annual conference in Louisville, Kentucky earlier this month.
The company notes, "Owens' recognition is especially impressive when you realize that she was honored as the "best of the best" among more than 10,000 personal trainers working at approximately 4,200 Anytime Fitness gyms worldwide." (photo, l-r: Anytime Fitness CEO Chuck Runyon, Owens, and Dave Mortensen)
"Taryn was selected for a number of reasons," said Dave Mortensen, president and co-founder of Anytime Fitness. "In addition to training nearly 100 members at her gym in Greensburg, Taryn has trained dozens of other personal trainers who now work at Anytime Fitness gyms throughout the region. She teaches her fellow trainers that the most important part of their job is guiding, listening to and caring about members who need help to become just a little bit better each day. She even hosts 'Let's Get Personal' coaching sessions for other trainers each year."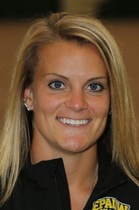 A kinesiology and communication major at DePauw, Owens was a member of the Tiger women's track and field team. "While at DePauw, and in the years since graduating, Owens has earned several personal training and nutrition certifications," the announcement notes.
"Exercising should be fun, not something to be feared or dreaded," she states. "I always try to get to know my clients on a personal level before we start training together. Knowing what their goals are, and what they've tried in the past, makes it so much easier to help them reach their individual health and fitness goals."
The award is the subject of an article in the Greensburg Daily News.
Back