Vernon Jordan '57 to Receive Inaugural CLEO EDGE Heritage Award
September 21, 2018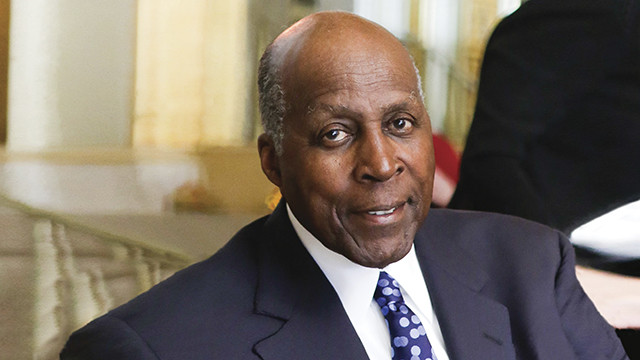 Vernon E. Jordan Jr. -- advisor to presidents, noted civil rights leader/activist, attorney, businessman, and 1957 graduate of DePauw University -- has been named the inaugural recipient of the Council on Legal Education Opportunity, Inc.'s CLEO EDGE Heritage Award. Jordan will be honored at the CLEO 50th Anniversary Awards Gala on November 15 at the Ritz Carlton in Washington, D.C. The theme for the occasion is "The CLEO EDGE: 50 Years of Championing Education, Diversity, and Greater Equality in the Legal Profession."
Hereafter, the award that Jordan is receiving will be named the "CLEO EDGE Vernon E. Jordan, Jr. Heritage Award" to commemorate his lifetime achievements. "The award will honor a person who has demonstrated outstanding leadership in education, diversity, and greater equality in the legal profession and society," notes an announcement.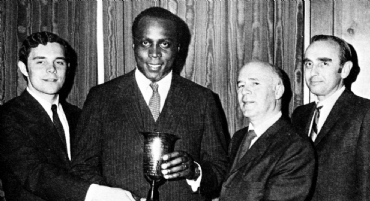 CLEO is a charitable organization committed to diversifying the legal profession by expanding legal education opportunities for persons from traditionally under-represented racial and ethnic groups, low-income, and disadvantaged communities. (at left: Jordan receiving DePauw's Old Gold Goblet in 1969)
"When Jordan matriculated at Howard University School of Law in 1957-1960, less than 1% of lawyers in the United States were African American (0.75% according to U.S. Census data). And the scarcity of Native American and Latino lawyers was even more startling. As a practicing civil rights attorney in Atlanta, Georgia, he was one of only 393 African-American lawyers in 10 Southern states."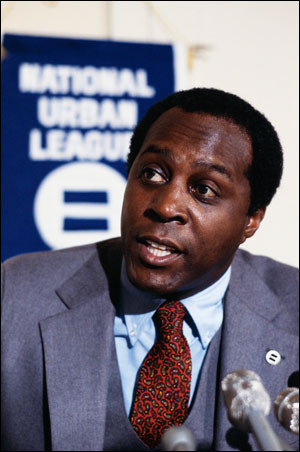 CLEO says Jordan, who was a political science major at DePauw, was "trained to make a difference in American life" and "became a trailblazer in the civil rights movement." In 1969 he became the first black Fellow of the Institute of Politics at the John F. Kennedy School of Government at Harvard University and later served as the president and chief executive officer of the National Urban League and as the executive director of the United Negro College Fund. "Throughout his lifetime Jordan broke down numerous barriers, including becoming the first African American to sit on a Fortune 500 company board."
Jordan remains active as a partner at Lazard Frères & Co. LLC in New York and senior managing director of Lazard Group LLC, and of counsel/senior counsel at Akin Gump Strauss Hauer & Feld LLP.
"We are elated to award the first CLEO EDGE Heritage Award to Vernon E. Jordan, Jr." said Cassandra Sneed Ogden, CEO of CLEO. "We want our students to emulate such a person who has spent his life's work in defense of social justice and equality for all our nation's citizens. His partnership in one of the nation's top law firms is also a worthy goal."
Jordan noted, "One of my goals in life is to help young lawyers achieve their dreams as I was helped to achieve mine. The mission of CLEO to increase the number of diverse lawyers in the legal profession is consistent with that goal. This Lifetime Achievement Award honors not only me, but more importantly, all who have worked tirelessly to achieve diversity in the legal profession. I am, therefore, greatly honored to receive this Award and even more honored to have it named after me."
Read more here.
An advisory member of DePauw's Board of Trustees,Vernon Jordan holds honorary doctoral degrees from more than 60 colleges and universities in America, including DePauw. He is the author of Vernon Can Read! A Memoir and Make It Plain: Standing Up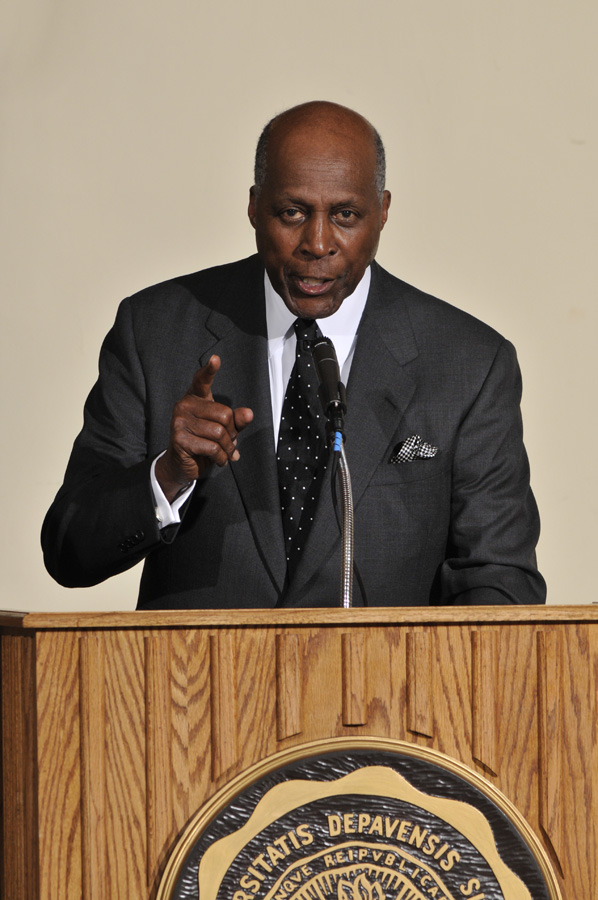 and Speaking Out.
In December 2009, Jordan was one of eight individuals presented with the Du Bois Medal, the highest honor awarded by the Harvard University Institute of Politics' W.E.B. Du Bois Institute. He's also been honored with the Spingarn Medal, the NAACP's highest honor for achievement, the Trumpet Award, and DePauw's Old Gold Goblet and McNaughton Medal for Public Service. In June 2017 he received the Harvard Law School Center on the Legal Profession's Award for Global Leadership and he was honored by the Anti-Defamation League this February.
Jordan is the first person in DePauw's 181-year history to be called upon three times as commencement speaker who was not a bishop of the Methodist Church. In his most recent commencement address this May, Jordan delivered a powerful message to DePauw's Class of 2018, which is embedded below.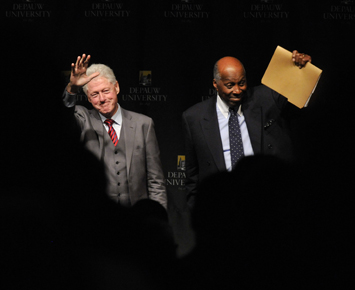 Jordan has been a regular visitor to campus since he earned his diploma 61 years ago. Among his many visits to Greencastle: he delivered an Ubben Lecture at the October 2016 inauguration of President D. Mark McCoy and was on campus in November 2011 to introduce his good friend, America's 42nd president, Bill Clinton, who delivered an Ubben Lecture before 5,000 people in the Lilly Center.
Jordan has said, "DePauw expanded my mind, broadened my horizons, lifted my sights, prepared me to serve and to lead and nurtured my growth and maturity. I made lasting friendships here. If I had my life to live over again, I would return to this place."
Last month, Vernon Jordan was featured in London's Financial Times. A summary is available here.
Back