At State Capitol, President McCoy Calls Upon Indiana Lawmakers to Adopt Hate Crime Legislation
October 10, 2018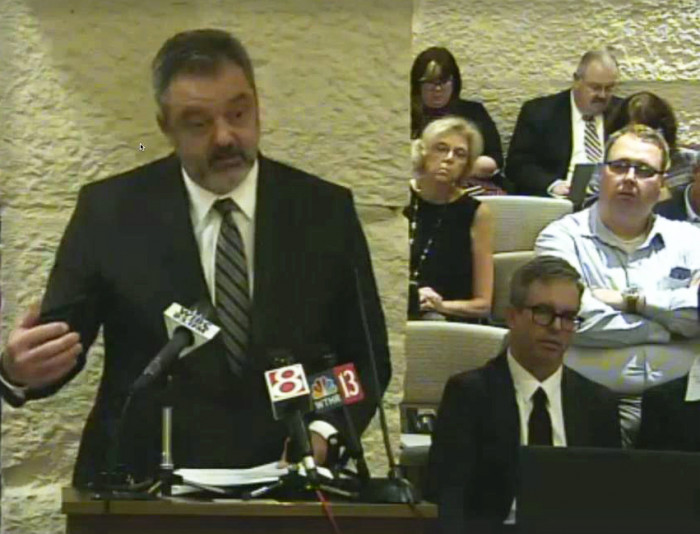 "The absence of a hate crimes bill in Indiana speaks much more loudly than any of us would like," DePauw University President D. Mark McCoy told Indiana lawmakers this morning. Dr. McCoy addressed the Interim Study Committee on Corrections and the Criminal Code, which includes a group of state senators and representatives, at a hearing to consider testimony on the possible creation of hate crimes legislation for the state. The session took place at the Indiana State Capitol in downtown Indianapolis.
"At DePauw, like all colleges in Indiana, we do our utmost to create an environment that is welcoming and supportive -- and the work we do in attracting, educating and supporting our students is important and life-changing," McCoy told the panel. "These are the years that will shape their lives forever. It will shape not only their lives, but their opinions and perceptions of our state forever."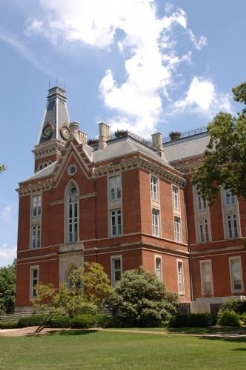 The president added, "I am proud to say that DePauw, like the world our graduates will inhabit, is a very diverse place. Thirty-two percent of our current students come from multicultural backgrounds and we've come a long, long way. In 1986, that number was 3%. Fifty-eight percent of our students come from out of state and a full 10% are international students from around the globe. For many, if not all of them, the first night they spend in a residence hall at DePauw is their first night in Indiana. They come to learn and to grow and to prepare for lives of meaning and means. They also come with the assumption that they will enjoy their time in Indiana and at DePauw and that we -- together -- will make their time here as productive, happy and safe as we can."
According to McCoy, "The students we are admitting now come from 'Generation Z' or what we call 'Genzee.' Our admission office reports that increasingly these Genzee students are asking questions about safety and security and about equity and inclusion. They want to know what our stand is, and where our city and state stand. Our university continues to take a strong stand against bias, hate and intimidation. Our city has a hate crimes ordinance. But when they ask about our state, we have to say that, at the moment, our state does not have a hate crimes law. Worse, we are one of only a handful of states that don't. That's why I am here today."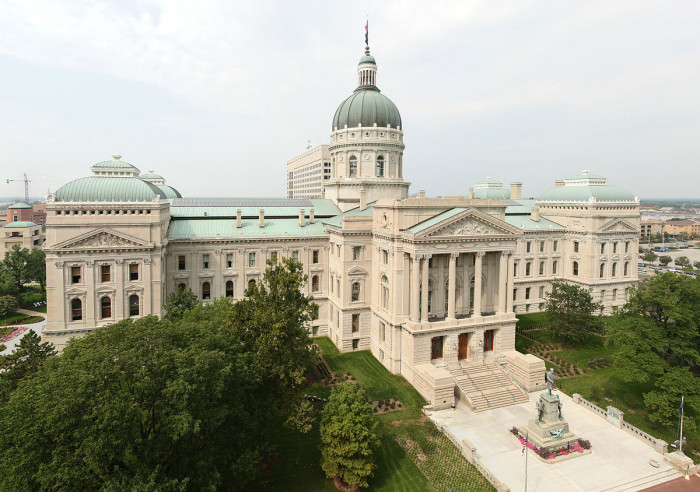 DePauw's president told the state legislators, "This crucial question 'Does Indiana care?' is not going away. And it extends beyond our students. Our faculty and staff ask this same question. They wonder, 'Why is Indiana one of the few states that does not have a hate crimes law?'
"I ask you today to send them -- and all citizens of the world who look upon Indiana -- a message. In Indiana, we care about people, we will do what we can to make Indiana as welcoming as it can be, and we will classify hate crimes as something that will be called out, named, and punished."
Video of the complete remarks by President McCoy, and the questions and answers that followed, is embedded below.
In August, Dr. McCoy was the lead author of a letter which was co-signed by the presidents of 23 other Indiana private colleges and universities, calling on the Indiana General Assembly to enact a hate crimes law, as 46 others states have. The letter was published in several newspapers and was the subject of a nationally distributed Associated Press story.
The letter can be accessed by clicking here.
Mark McCoy was appointed DePauw's twentieth president on March 7, 2016 following a national search and took office July 1, 2016. He was inaugurated in October 2016 during ceremonies over Old Gold Weekend.
Back