Once Fierce Rivals, Now Teammates and Close Friends: Two DePauw Football Standouts Featured in Indianapolis Star
October 11, 2018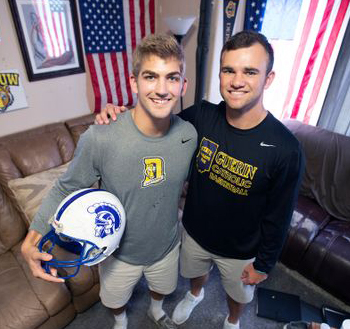 "Before the story of Matt Labus and Brooks Hepp brings them to DePauw and becomes something beautiful, before this story of football and friendship fills your heart and maybe even starts to fill your eyes, it was something ugly. Stupid, you might call it," writes Gregg Doyel in today's Indianapolis Star. "This ugly: Their teams brawling in third grade on an Indianapolis CYO field. This stupid: Labus and Hepp spending the next nine years despising each other, their feud a lit fuse following them to the powder keg that is Guerin Catholic vs. Bishop Chatard."
The sportswriters column notes, "At DePauw they have become teammates and then friends, and then something that transcends all of that, more like family. They are seniors now, so many moments standing out, milestones marking their road from enemies to friends."
Doyel relays a story from last fall's DePauw victory at Ohio Wesleyan. Labus, the Tigers' starting quarterback, went down with a season-ending injury. Hepp cemented DePauw's win with a leaping interception in the end zone late in the game.

"Hepp runs to his teammate, this kid he fought in CYO, this rival he spent a decade hating. Hepp runs to Labus and throws his arms around him. This is how Hepp celebrates the most important play of his college career. By hugging his best friend and starting to cry."
The article points to difficult moments the two have shared this season. Labus was sidelined in the season opener with another year-ending injury. The next day he learned that his good friend and high school co-captain passed away.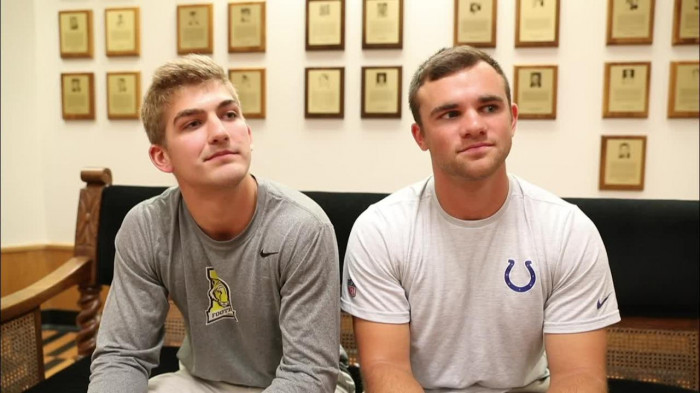 The piece ends, "And there they sat, bitter boyhood rivals from Indianapolis, best friends at DePauw, comfortable in the quiet. Off in the corner of their room is a helmet from Chatard, something Hepp put there. It's not a taunt -- Labus and Hepp are way past that -- but a reminder: They have a history, they have come a long way, and they will keep going. They are on this road together."
You'll find the feature -- "Childhood enemies from Indianapolis become best friends on DePauw football team" -- at IndyStar.com.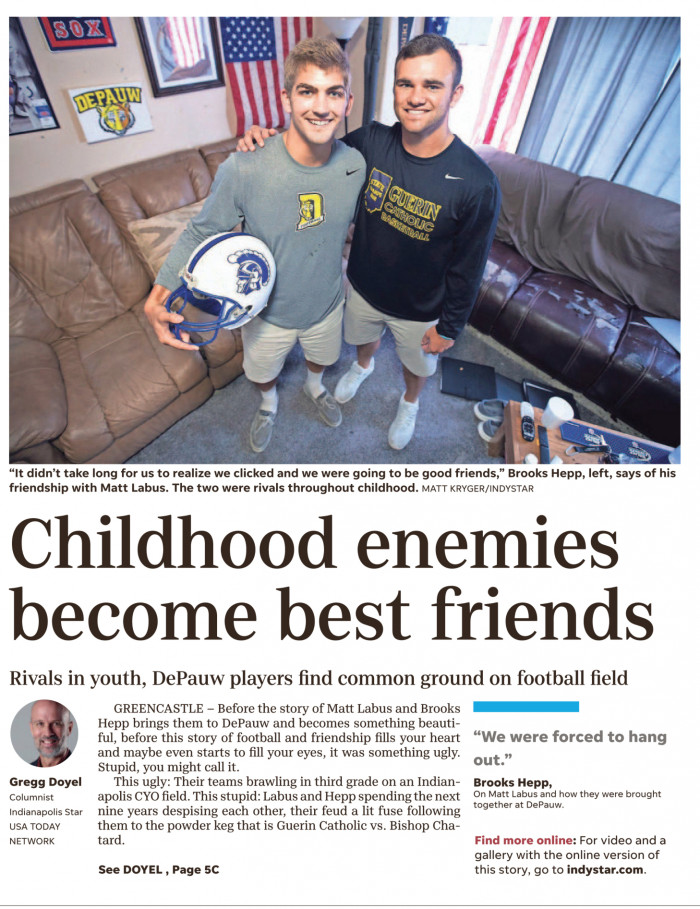 Source: Indianapolis Star
Back