Surprise Event Recognizes "Good Deeds" of Senior Hunter Sego, Winner of National Award
October 11, 2018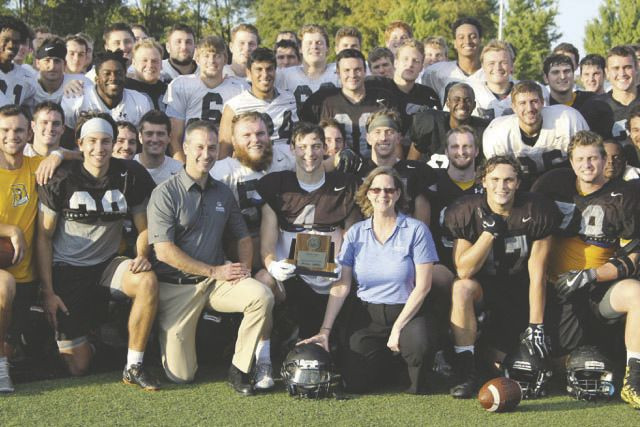 "Good deeds often go unrecognized. But for one DePauw University football player, good deeds were more than acknowledged last week during a surprise event after a routine practice at Blackstock Stadium," reports the Journal Review of Crawfordsville, Indiana. "Madison native and DePauw senior punter Hunter Sego was formally added to the All State AFCA Good Works Team Wednesday, October 3, surrounded by officials and his teammates at the 50-yard line."
Nick Wilson writes, "Local Allstate agents Matt Welker and Sally Fowler, as well as DePauw Director of Athletics Communications Bill Wagner, were among those in attendance as Sego was presented the Good Works Team NCAA trophy.
Welker told Sego, "We are thrilled to not only present you with this trophy, but to inform you that we are sending to you New Orleans to take part in the halftime show at the Allstate Sugar Bowl alongside the rest of the Good Works team in January. You will be joined by 21 other college football players from around the nation whose community service will be recognized."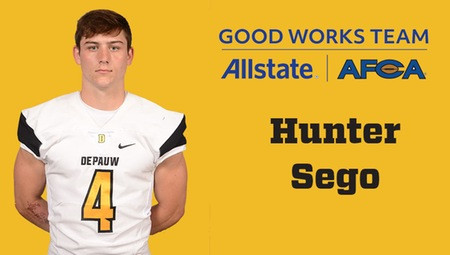 The newspaper adds, "In addition to his appearance on national television during the halftime show, Sego will spend the day with legendary Florida University quarterback Tim Tebow, who is also known for his charitable works."
Access the complete article at the paper's website. The announcement of Sego's award is covered in this previous summary.
A biochemistry major at DePauw, Sego was diagnosed with Type 1 Diabetes as a seven year old and serves as global ambassador for the American Diabetes Association.
Back