125th Monon Bell Classic to Also Appear on FOX College Sports Central & FOX Sports Midwest Plus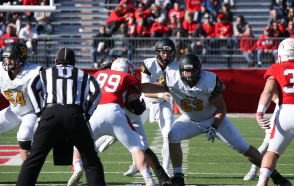 November 2, 2018
Also: Tickets; Pre-Order DVD
Next Saturday's (November 10) 125th football game between DePauw University and Wabash College will be televised on FOX Sports Midwest Plus and nationally on FOX College Sports Central, in addition to FOX Sports Indiana, the network informed the two schools today. Additionally, the battle for the prized Monon Bell will be streamed nationally to all users of the FOX Sports app, FOX Sports GO app, and at FOXSportsGO.com (stream here: https://foxsports.onelink.me/SY6x/c61a8688).
The quasquicentennial edition of the series, which began in 1890, will take place Saturday, November 10, in Crawfordsville, with kickoff slated for 1:07 p.m. (Eastern time).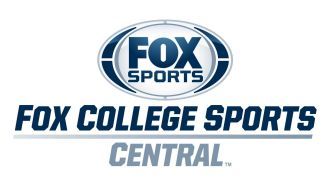 "We've been awaiting final word on the options fans and friends of the rivalry who live outside of the Midwest will have on game day and are thrilled that viewers will have these great choices," said Ken Owen '82, special adviser to the president at DePauw. "This is the second year we've partnered with FOX Sports and I know that the people who gather at approximately 60 alumni parties across the country, as well as those who plan to watch the game at home, are in for another treat."
A listing of telecast parties is available here.
Click here for channel information; you'll also find more details at the bottom of this article.
DePauw and Wabash first met on the gridiron in 1890. In 1932, a locomotive bell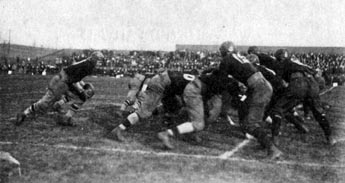 from the Chicago, Indianapolis and Louisville Railroad Company, also known as the Monon Line, was donated and became the winner's trophy each year.
In the all-time series, Wabash holds a 61-54-9 lead. Since the Monon Bell entered the rivalry in 1932, Wabash leads, 42-38-6. (at right: the 1916 DePauw-Wabash game; below: the cover of the 1959 game day program)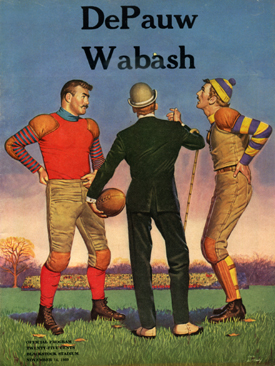 The game was first televised in 1977 by ABC on a regional basis; national telecasts began in 1984, and the game has been seen on ESPN2 and AXS-TV, among other outlets.
Tickets for the game are available here.
A DVD of the 125th Monon Bell Classic will be created and will include the entire 2018 game, season highlights for both teams, photo galleries, and many other extras. The disc can be pre-ordered here.
All 124 games to date are commemorated in video vignettes known as "Monon Memories." Created by Owen, the clips can be found here and on YouTube.
Learn more about the history of the Monon Bell Classic here.
TELEVISION AND STREAMING INFORMATION FOR THE 2018 MONON BELL CLASSIC:
Inside the FOX Sports Indiana/FOX Sports Midwest footprint (Residential)
Cable TV and live TV streaming packages:
FOX Sports Indiana in Indiana
FOX Sports Midwest Plus in Illinois, Missouri and Iowa
FOX College Sports Central
DirecTV – FOX Sports Indiana, channel 671-4
Dish Network – channel 440 or 412-28
Nationwide outside the FOX Sports Indiana/FOX Sports Midwest footprint (Residential)
FOX College Sports Central (check locally for availability)
DirecTV – FOX Sports Indiana, channel 671-4, with a subscription to the SportsPack
Dish Network – channel 440 or 412-28, with a subscription to the Multi-Sport pack
AT&T U-verse – FOX Sports Indiana, channel 749 or 1749, with a subscription to the HD Premium Tier
Bars, restaurants and commercial establishments
On FOX College Sports Central (check locally for availability)
Inside the FOX Sports Midwest/FOX Sports Indiana footprint:
DirecTV – FOX Sports Indiana, channel 671-4, with Commercial Choice package
Dish – channel 440 or 412-28; check with Dish representative for more information
Outside the FOX Sports Midwest/FOX Sports Indiana footprint:
DirecTV – FOX Sports Indiana, channel 671-4, with FSN A La Carte package
Dish – channel 440 or 412-28; check with Dish representative for more information
Back