DePauw's "Impressive" Ubben Lecture Series & Coordinator Ken Owen '82 Cited in Successful Meetings
November 8, 2018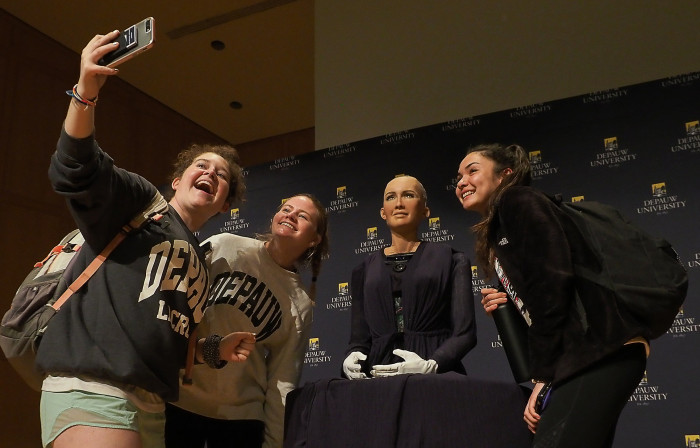 "The speakers featured at DePauw University's Timothy and Sharon Ubben Lecture Series are impressive: Malala Yousafzai, the youngest-ever recipient of the Nobel Peace Prize, Bill Clinton and Jane Goodall, to name a few," begins an article in the latest issue of Successful Meetings. "But with the bar set high, this February's speaker exceeded attendees' expectations -- and she wasn't even human." (at right: DePauw students pose for a selfie with Sophia)
Andrea Doyle writes, "With long, fluttery eyelashes and expressive eyes, Sophia, the robot, who could easily be mistaken for a living and breathing woman, if not for the metal cap of her head, captured the attention of the packed auditorium in Greencastle, Ind., where more than 1,450 were in attendance."
In a story headlined "What a Robot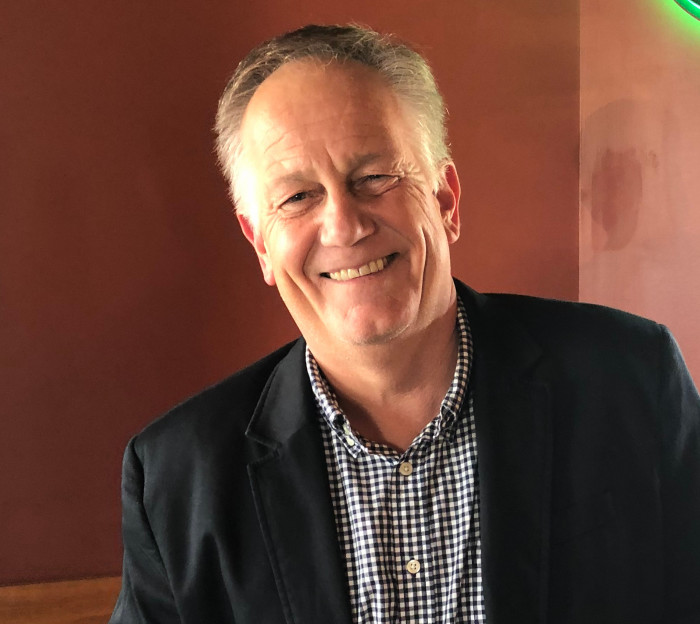 Named Sophia Tells Us About Meetings and Technology: How meetings are incorporating artificial intelligence," Doyle includes comments from Ken Owen, special adviser to the president and 1982 graduate of DePauw, who coordinates the Ubben Lecture Series.
"It was amazing to watch Sophia simulate a full range of facial expressions, track and recognize faces, empathize with emotions, hold conversations with people and answer their questions," Owen tells the publication. "It was like taking a sneak peek into the future."
Doyle adds, "Owen admits that in some ways, Sophia is a work in progress. 'I compare it to Henry Ford dreaming up the car and rolling out something that looks like a car but isn't really road ready.'"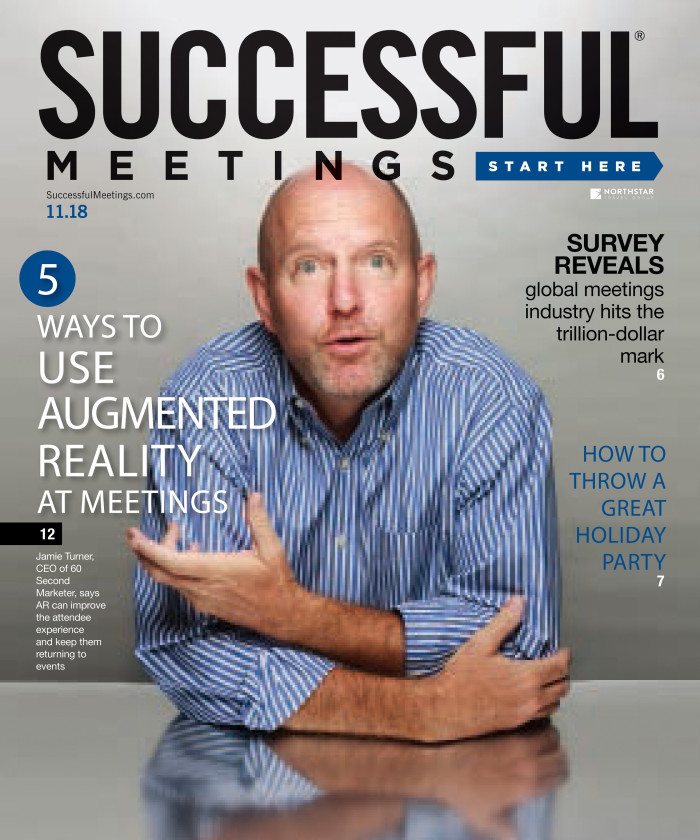 The article calls Sophia a "powerhouse draw." She was joined in her February 28, 2018 DePauw appearance by her creator, Dr. David Hanson.
Owen notes, "I pondered bringing in Sophia without Dr. Hanson, and it's certainly much less expensive, but I feared we'd lose much in terms of understanding the implications of AI, where the technology is now, and what its possibilities are for the future. I wanted the creator to face tough questions if things didn't go as planned. It's a choice you make, but I'd highly recommend having them both; I'm glad we did."
Access the complete piece at the magazine's website.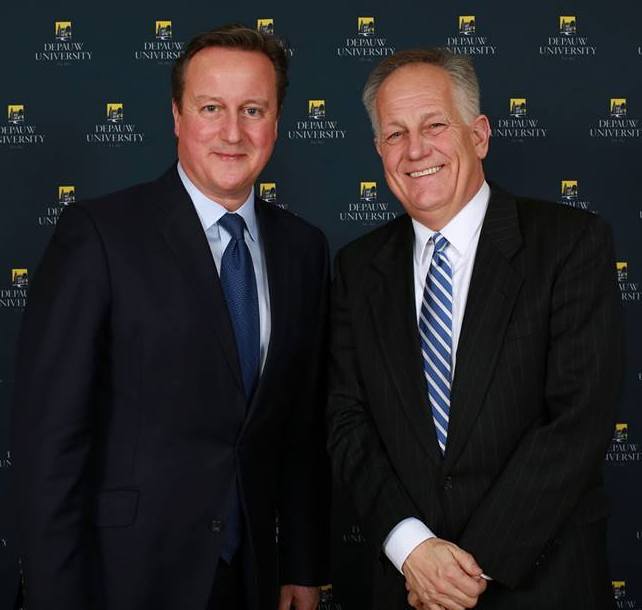 Established in 1986 through the generous support of 1958 DePauw graduates Timothy H. and Sharon Williams Ubben, the Ubben Lecture Series was designed to "bring the world to Greencastle." The series has now presented 112 events over the past 32 years, with guests including Margaret Thatcher, Spike Lee, Jimmy Kimmel, Vernon Jordan '57, Mikhail Gorbachev, David Cameron, Jesse Jackson, Ross Perot, and many others.
To view a complete roster of Ubben Lecturers -- which includes links to video clips and news stories -- click here. Video montages of many events are available on YouTube.
Ken Owen returned to DePauw in 2001 after two decades in TV news. Along his responsibilities to raise the University's external visibility as spokesman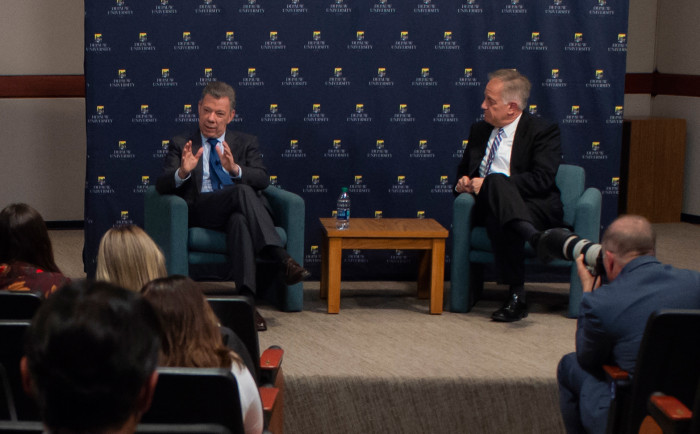 and liaison with media outlets, he coordinates the Timothy and Sharon Ubben Lecture Series and the annual Monon Bell telecast. His efforts to make pieces of DePauw's past more relevant and accessible include the restoration of a 1941 admission film, and he has created "Monon Memories" of every football game between DePauw and Wabash College for the Monon Bell since the rivalry began in 1890. The video vignettes were the subject of features in the Chronicle of Higher Education and during HDNet's telecast of the 115th Monon Bell Classic in November 2008. (above: Owen and David Cameron; at right: Owen with 2016 Nobel Peace Prize recipient and former Colombian President Juan Manuel Santos on October 22)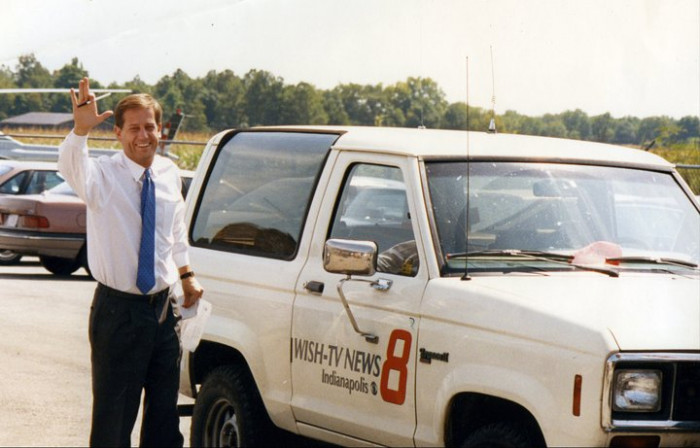 A communication major and Rector Scholar at DePauw, where he delivered broadcasts over WGRE, Owen has taught journalism at Indiana University - Purdue University at Indianapolis and has co-chaired the Annapolis Group communications committee. Next Wednesday, Owen will serve as emcee for the "Indy PR Legend" luncheon in downtown Indianapolis.
Since coming to DePauw, Owen has moderated two statewide political debates and has appeared on Fox News Channel and Inside Indiana Business, among other outlets.
Back