As Classic Sports Matchups Go, "DePauw/Wabash is Eternal": Indianapolis Star
November 8, 2018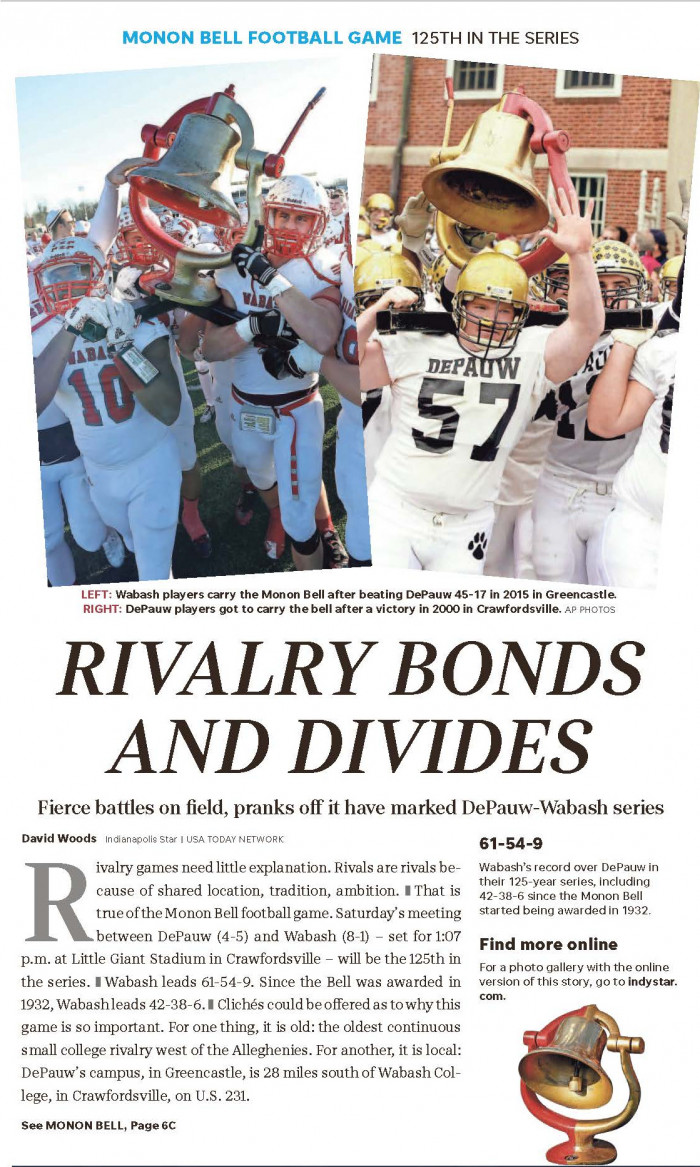 "You can have your Super Bowls, College Football Playoff, state tournaments. Teams must qualify for those, and it's not always the same teams," writes David Woods in the Indianapolis Star. "DePauw/Wabash is eternal."
The front of this morning's sports page features a lengthy feature on the football rivalry between DePauw University and Wabash College, which will play out for the 125th time Saturday afternoon in Crawfordsville.
Bill Lynch, head coach of the Tigers, tells the newspaper, "It's like getting to play a championship game every season. And it's the 10th game, not the fifth game." He adds, "Regardless of how your season is going, you know you're playing in the big game at the end of the season."
Woods notes, "Clichés could be offered as to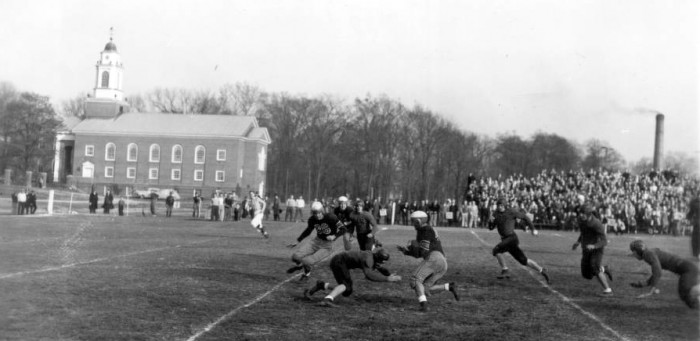 why this game is so important. For one thing, it is old: the oldest continuous small college rivalry west of the Alleghenies. For another, it is local: DePauw's campus, in Greencastle, is 28 miles south of Wabash College, in Crawfordsville, on U.S. 231. That doesn't explain it, though. Not hardly." (at left: the 1939 game)
The piece includes some of the legendary tales of games (and Bell thefts) past, and reflections from alumni of both colleges.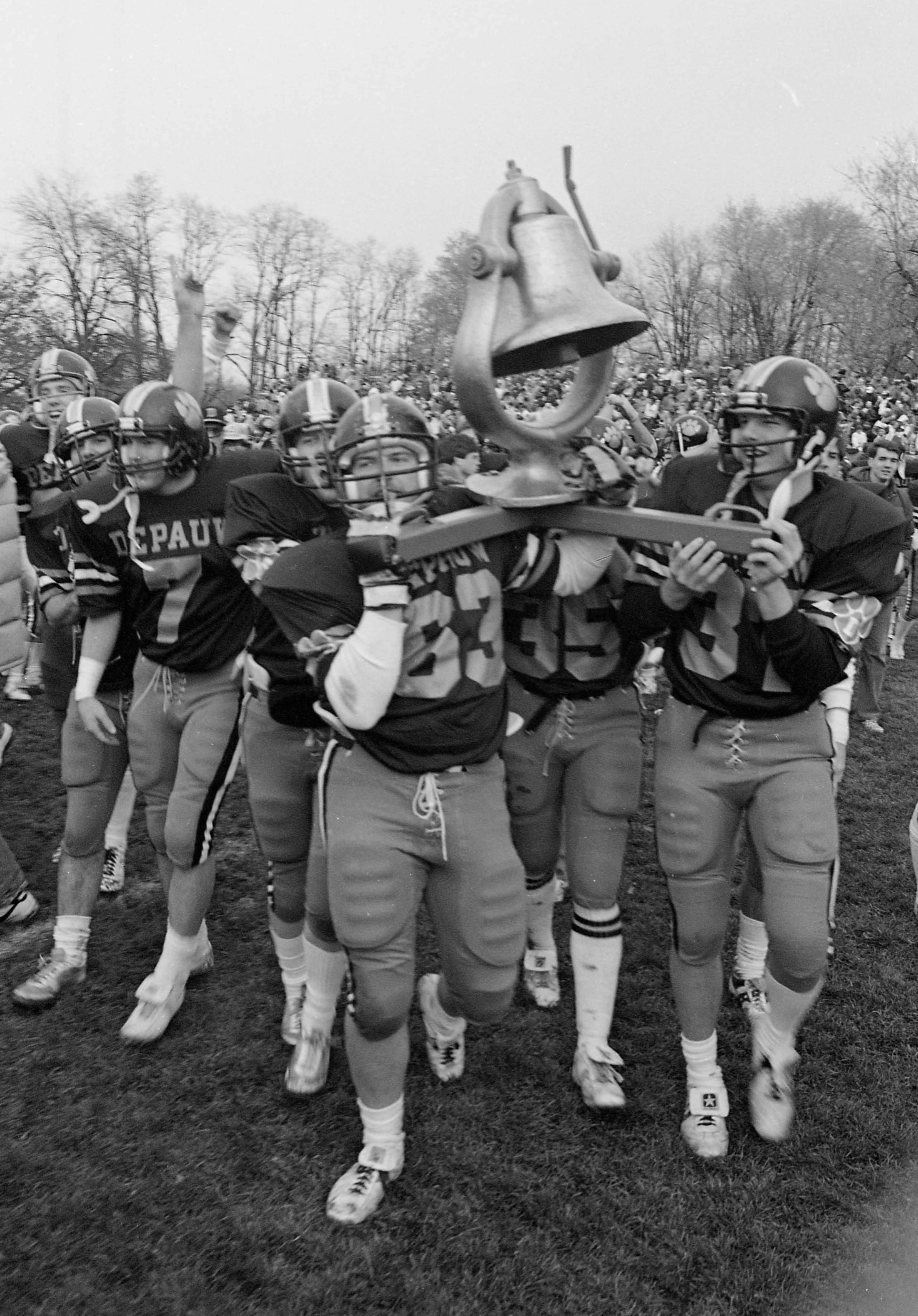 Meredith McGrady Simmons, is a 2011 DePauw graduate whose father attended Wabash. "While my dad and I joke about which school is better, both Wabash and DePauw give their students an amazing education and launchpad for success," she says.
Woods reports, "Lynch formerly coached at Indiana, whose game against Purdue is for the Old Oaken Bucket. He said there would be students at IU and Purdue who do not know there is a football game that Saturday. 'Everybody knows' at DePauw and Wabash, he said. 'It overrides everything else,' Lynch said. 'You can try to make something big, but the Bell, on those campuses, people get emotional about it.'" (at right: the Tigers celebrate with the Monon Bell in 1983)
The article points out, "Right up there with graduation year and GPA, there are numbers forever remembered by DePauw and Wabash football alumni: Monon Bell record, 4-0, 3-1, 2-2, 1-3 or 0-4 ... The record is recalled by all alumni, irrespective of whether they were on the teams."
The complete story -- headlined "Monon Bell: 125 years of glorious rivalry, pranks, memories" -- is available at IndyStar.com.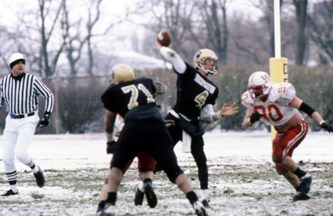 A separate piece by Scott Horner, "Monon Bell history: Reliving Wabash vs. DePauw nail-biters," is also available at the Star's website, as is a photo gallery of historic photos from the rivalry. Horner writes, "Wabash and DePauw meet on the football field for the 125th time Saturday, and Wabash holds a 61-54-9 edge in the series, winning last year 22-21. Many of those games have come down to the closing seconds, and the Indianapolis Star was there to describe the action." (at left: the 1995 game)
Yesterday, Indianapolis Monthly published an article headlined "The Monon Bell Classic: What You Need To Know." Read more here.
The 125th football game between DePauw and Wabash kicks off at 1:07 Saturday afternoon (Eastern time) in Crawfordsville. Some tickets are still available via this link; the contest will be televised on FOX Sports Midwest Plus and nationally on FOX College Sports Central, in addition to FOX Sports Indiana.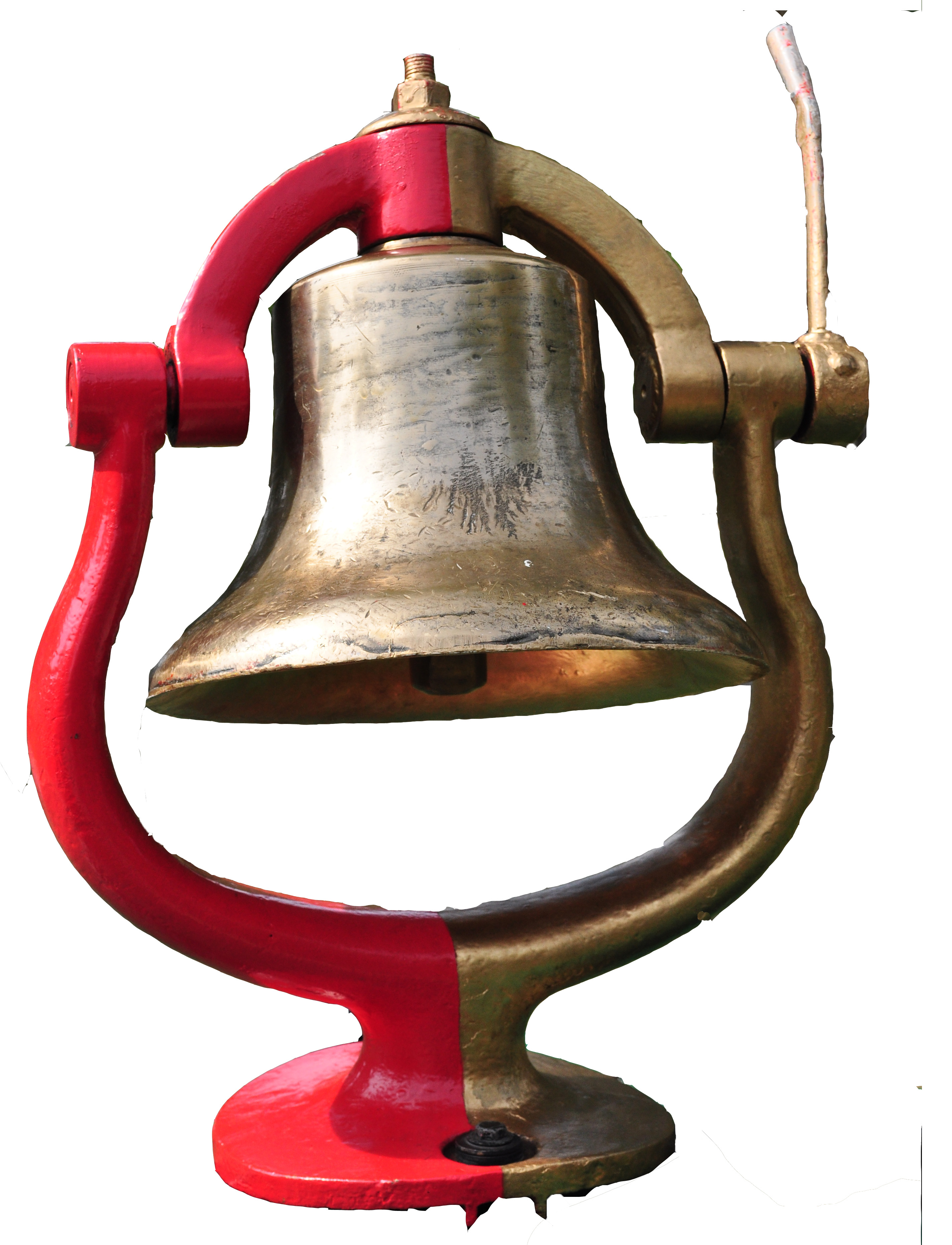 Additionally, the battle for the prized Monon Bell will be streamed nationally to all users of the FOX Sports app, FOX Sports GO app, and at FOXSportsGO.com (stream here: https://foxsports.onelink.me/SY6x/c61a8688).
A DVD of the 125th Monon Bell Classic will be created and will include the entire 2018 game, season highlights for both teams, photo galleries, and many other extras. The disc can be pre-ordered here.
All 124 games to date are commemorated in video vignettes known as "Monon Memories." Created by DePauw's Ken Owen '82, the clips can be found here and on YouTube.
Source: Indianapolis Star
Back