ESPN's College GameDay Spotlights Today's 125th Monon Bell Classic as One of USA's 'Notable Games'
November 10, 2018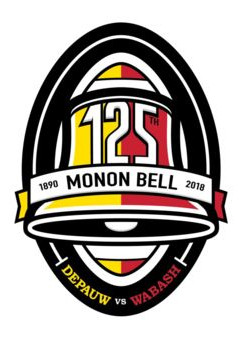 "As the Indiana coach I always watched this game because the Monon Bell game is important," former Hoosiers head coach Lee Corso said this morning on ESPN's College GameDay. The popular sports program previewed today's 125th matchup between DePauw University and Wabash College as one the "notable games" being played across the nation today.
"It's gonna be a great ballgame," Corso offered. "Everybody in the state of Indiana is watching it."
The clip is embedded below.
Today's game kicks off at 1:07 p.m. in Crawfordsville and will air nationally on FOX Sports. More information is available here.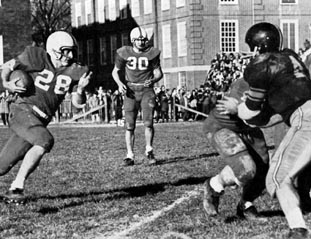 A DVD of the 125th Monon Bell Classic will be created and will include the entire 2018 game, season highlights for both teams, photo galleries, and many other extras. The disc can be pre-ordered here. (at right: a photo from the 1960 battle for the Bell)
All 124 games to date are commemorated in video vignettes known as "Monon Memories." Created by DePauw's Ken Owen '82, the clips can be found here and on YouTube.
Back