Grant Gives Students Access to Microscopes "Most Other Schools Like DePauw Don't Have"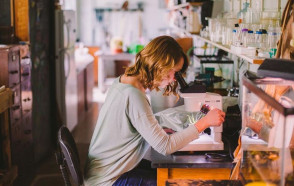 November 29, 2018
"Powerful imaging equipment typically found at major research institutions will soon be part of the DePauw University campus," begins an Inside Indiana Business story out today. "The school is purchasing a handful of cutting-edge light and electron microscopes," as Kylie Veleta reports. "The Buehler Family Foundation, led by 1978 DePauw graduate A.C. Buehler III, provided half-a-million dollars to purchase the high-tech equipment that's expected take research to the next level at the small liberal arts university."
Pascal Lafontant, associate professor of biology and the center's principal investigator, says the grant gives students access to cutting-edge microscopes that "most other schools like DePauw don't have."
The professor states, "Student experience tends to be very good at smaller schools with these resources. If you're at a big school, it's unlikely that you get to use [the microscopes] as an undergrad; you have to be a postdoc to have access to those. Because we
have them here, where we only have undergrads, the undergrad can be trained and use the instruments."
Veleta notes, "The instruments will comprise the new Buehler Biomedical Imaging Center inside the F.W. Olin Biological Sciences Building, adding momentum to the university's growing research infrastructure. The university says the imaging center will enhance undergraduate research, which already aims to equip students for success in graduate school and medical programs. DePauw leaders believe the facility will enhance recruitment. Lafontant says prospective students will realize they can do research rather than observe it, and faculty will recognize higher potential for research funding ... The imaging center will have a special focus on regeneration biology, the biology of inflammation, wound healing and repair and the neuroscience of behavior and addiction -- areas in which DePauw already has expertise. The university is ordering the instruments now and expects at least part of the center to be functional by January."
Dr. Lafontant says, "The new opportunities in funding for research, getting to do the work in-house and seeing students really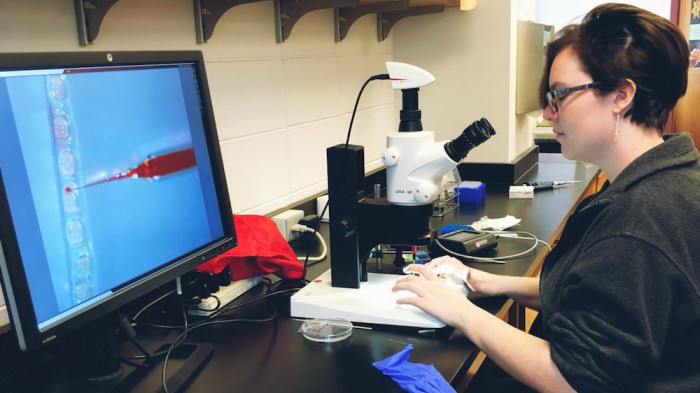 enthusiastic about learning and using the new instruments, that gets us even more excited."
Access the complete article here.
Learn more about the Buehler Biomedical Imaging Center, which will be located inside the F.W. Olin Biological Sciences Building, in this previous summary.
Pascal Lafontant's primary research interest is heart regeneration and he received a National Institutes of Health (NIH) grant to support his work. Read more by clicking here and here.
Source: Inside Indiana Business
Back