2018 Monon Bell DVD Arrives, Now Shipping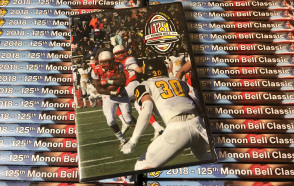 November 29, 2018
Nineteen days after DePauw University and Wabash College met for the 125th time on a football field, the DVD of the Monon Bell Classic has arrived from the replicator and is shipping. Produced by the two colleges and replicated Oasis Disc Manufacturing, the limited edition discs are available via this link for $14; a $4 shipping and handling charge will be added to each order, regardless of size, as well as 7% sales tax to orders shipped within Indiana.
The dual layer disc includes the FOX Sports telecast of the November 10 game from Crawfordsville, with Kevin Lee on play-by-play, Brad Wochomurka '04 and Steve Hoffman on color, and sideline updates from Katie Hargitt. Also on the DVD are season highlights for both DePauw and Wabash, the institutional messages the two schools aired during the game, photo galleries of this year's contest as well as one offering historic images from the rivalry, The Ballad of the Monon Bell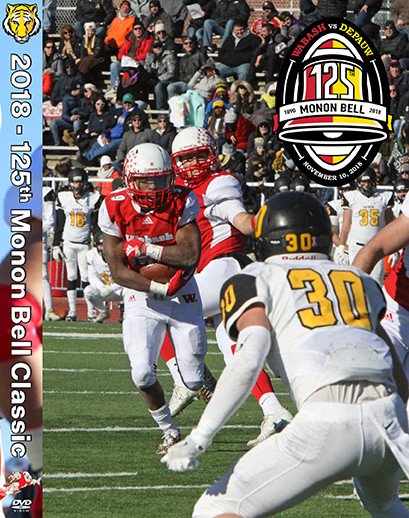 music video, Monon Memories from 1918, 1953, 1958, 1962, 1967, 2001, 2007, 2016 and 2017, and more.
"Players, parents, alumni and fans will find almost five hours of content that recaps game day, the two teams' seasons, and the wonderful history our rivalry has collected," noted Ken Owen '82, special adviser to the president, who mastered the disc. "What DePauw and Wabash share each November is very special and worth celebrating."
Twenty-three contests in the historic series have now been captured on DVD. DePauw and Wabash partner to create the discs.
Also available, for $7.50 each, are the DVDs of the 1977, 1984, 1993, 1994 and 2000-17 Monon Bell Classics (supplies of past games are extremely limited and the 1994 game is sold out; the 2008 package is a two-disc set including all 115 "Monon Memories" produced to that date). Order them here.
DePauw and Wabash first met on the gridiron in 1890. In 1932, a locomotive bell from the a locomotive bell donated by the Chicago, Indianapolis and Louisville Railroad Company, also known as the Monon Line, was donated and became the winner's trophy each year.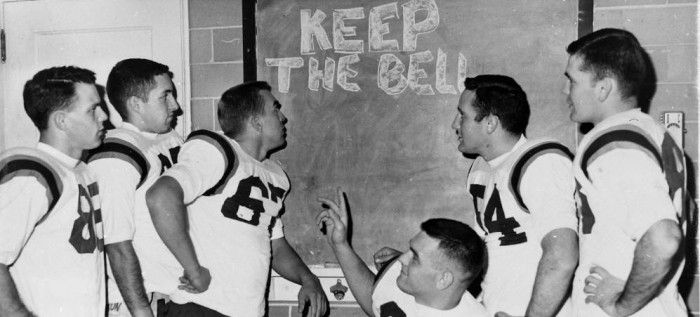 In the all-time series, Wabash holds a 62-54-9 lead. Since the Monon Bell entered the rivalry in 1932, Wabash leads, 43-38-6.
All 125 games to date are commemorated in video vignettes known as "Monon Memories." Created by Owen, the clips can be found here and on YouTube.
Access DePauw's Monon Bell Web page here.
Back