Essay by Prof. Samuel Autman is Nominated for Pushcart Prize
December 7, 2018
An essay by Samuel Autman, associate professor of English and Richard W. Peck Professor of English at DePauw University, has been nominated for a Pushcart Prize. Recognizing the best "poetry, short fiction, essays or literary whatnot" published by small presses over the previous year, the Pushcart Prize is an American literary prize published by Pushcart Press. Winners will have their entries published in an anthology next year.
Autman was nominated for "Night Scavengers," which appeared on the website of Memoir magazine and will be published in the 2019 "Best of Memoir" issue. The essay is available here.
It was recently announced that Professor Autman will serve as a nonfiction editor of Panorama: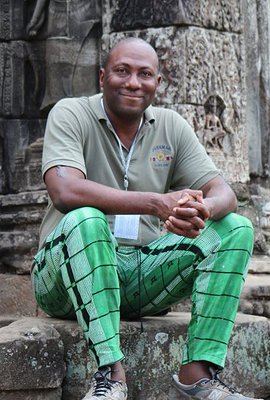 The Journal of Intelligent Travel. The London-based publication describes itself as "an international literary journal with a diverse, modern take on travel."
In August, Panorama published Autman's piece, titled "Don't Meet Me in St. Louis," which examines how traveling expands one's art.
Autman won first place in the SLS-DISQUIET 2015 Literary Contest in nonfiction. His essays have appeared in Kept Secret: The Half-Truth in Nonfiction; The Chalk Circle: Prizewinning Intercultural Essays; Black Gay Genius: Answering Joseph Beam's Call; Ninth Letter; Under the Gum Tree; and Brevity.
Back