Sam Kramer '20 & AD Stevie Baker-Watson Honored by the Indiana Youth Services Association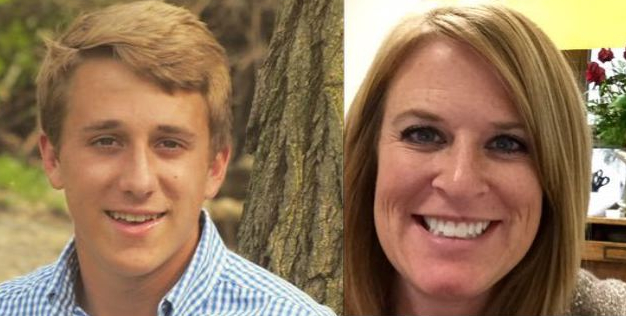 December 10, 2018
Sam Kramer, a junior at DePauw University, and Stevie Baker-Watson, DePauw's Theodore Katula Director of Athletics and Associate Vice President for Campus Wellness, have been presented with Indiana Youth Services Association 2018 Community Education Awards.
A communication major and soccer player at DePauw, Kramer serves as liaison to the Make Good Decisions program, which educates teens and young adults on the dangers of underage drinking, drugs, destructive behaviors and the Indiana Lifeline Law. Baker-Watson has worked with Kramer on the college public education effort.
According to IYSA, "The Community Education Award is presented to the agency or person making the most significant impact on their community through educating young people about the Make Good Decisions program. By coordinating or facilitating community and school events, this agency has lead the charge to save the lives of young people in their community by raising awareness of the Lifeline law."
"Because of Sam there have been awareness games, posters, t-shirts and education on the alcohol poisoning signs and to simply TXT or Call 911 in emergency," the organization noted, praising Kramer for "your heart, leadership and vision."
IYSA said that Baker-Watson "is committed to the safety of the students at DePauw University. Stevie believed and listened to a student's idea, supported it and ran with it."
On October 25, 2017, Kramer and Baker-Watson joined State Treasurer Kelly Mitchell, State Senator Jim Merritt, and Alan Hill '81 & '83, vice president for student academic life and dean of experiential learning at a DePauw news conference on the Make Good Decisions program. Video of the event is embedded below.
IYSA advocates for the children and families of Indiana by enhancing its members' ability to implement the core roles of youth advocacy, delinquency prevention, information and referral, and community education. IYSA currently has 33 accredited members and one affiliate member which deliver a variety of prevention programs in 75 Hoosier counties. Learn more here.
Back