Prof. Park Wiseman '40 Prepares to Celebrate His 100th Birthday
December 21, 2018
Park Wiseman, a 1940 graduate of DePauw University, "arrived at Ball State in 1947 expecting to spend a year there, maybe two," notes the latter's alumni magazine. "After all, Wiseman was a chemist with a doctoral degree, while Ball State Teachers College (as the University was known at that time) held only a marginal interest in science. The institution focused almost entirely on preparing educators for the classroom. Wiseman, on the other hand, wanted to prepare students for careers in science." (top photo by Don Rogers)
Wiseman retired in 1982. On December 29 he will celebrate his 100th birthday.
"That he and Ball State are passing the century mark together in 2018 is a coincidence worth celebrating," Nick Werner writes. "But the occasion is especially noteworthy because of the key role Wiseman played in helping grow the institution into a full-fledged university with an abundance of degree programs. Wiseman and others helped convince John Emens, who served as Ball State's president from 1945 to 1968, to establish independent academic departments for math, physics, chemistry, biology, and geology, and to expand the institution's mission beyond just science education. Wiseman was the first head of the chemistry department when it was formed in 1965 and served for four years."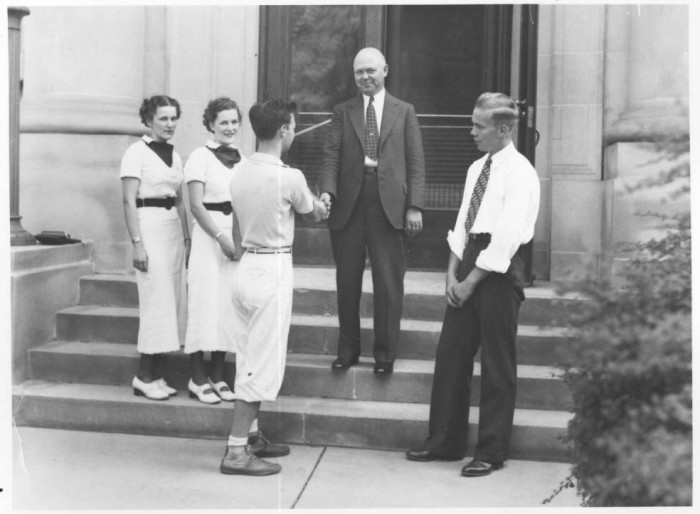 The piece notes, "Wiseman attended DePauw University on a full-tuition Rector Scholarship, described by the university as its oldest and preeminent merit academic scholarship. Wiseman knew his mother couldn't afford to pay for room and board, so he borrowed money and paid off the loan by working as a head waiter his senior year." (at left: Wiseman, at the far right, is among a group of students greeting then-DePauw President Clyde E. Wildman '13)
For 75 years, the professor was married to the former Marjorie Nelson, who studied music at DePauw. She died in 2007.
Eleven years ago, a scholarship was established in Dr. Wiseman's name. The magazine concludes, "Wiseman arrived on campus more than 70 years ago, yet his footprint remains. His legacy endures, not only in laboratories and lecture halls, but also in the lives of so many current and future alumni. Not bad for someone who didn't plan on staying."
You'll find the feature by clicking here.
Back