Gables Residential & CEO Sue Ansel '82 Up for Two National Awards
December 29, 2018
Gables Residential, a real estate company led by Susan M. "Sue" Ansel, chief executive officer and 1982 graduate of DePauw University, is a finalist for "Multifamily Development Firm of the Year" and "Property Management Firm of the Year" in the Multifamily Pillars of the Industry Awards. The recognition, presented by the National Association of Home Builders (NAHB), salutes the top professionals leading the vibrant and growing multifamily industry across the nation.
The winners will be announced February 19 during the NAHB's International Builders' Show in Las Vegas.
Learn more here.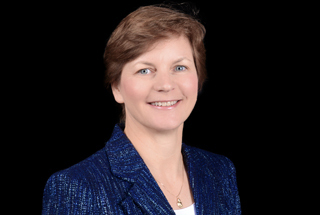 Ansel was recently named "Multifamily Executive of the Year" in commercial real estate development and investment by D CEO. She is among the publication's "Dallas 500 of 2018." She was elected chairwoman of the National Multifamily Housing Council (NMHC) earlier this year.
Sue Ansel was an economics major at DePauw and serves on the University's Board of Trustees. She was listed among the 25 "Top Women in Real Estate" by Commercial Property Executive and was named Multifamily Executive magazine's "2010 Executive of the Year." She presented the address for her 25th reunion class at 2007's Alumni Reunion Convocation. Learn more in this story; video of her speech is embedded below.
Back