Bret Baier '92 Signs New Multi-Year Contract with Fox News Channel
January 8, 2019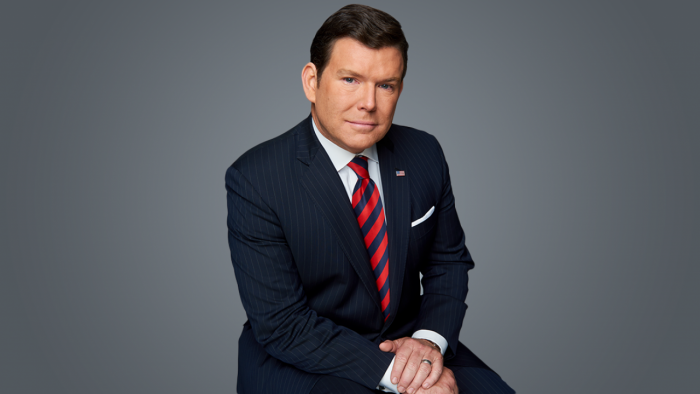 Bret Baier, the 1992 DePauw University graduate who is anchor and executive editor of Fox News Channel's Special Report and the network's chief political anchor, has signed a new multi-year deal, Fox announced today.
"Bret continues to be the gold standard not only across FNC, but the entire news industry and his reporting has played an integral role in the success and growth of the network," stated Jay Wallace, president and executive editor of Fox News and Fox Business Network. "From election nights to his nightly broadcast Special Report, Baier brings unparalleled journalistic expertise and political knowledge that our viewers continue to tune in for and we are proud that he will be with us for many years to come."
Baier said, "Having just marked my 10 year anniversary of anchoring Special Report and being at Fox News for more than two decades, there is no group of people I would rather be working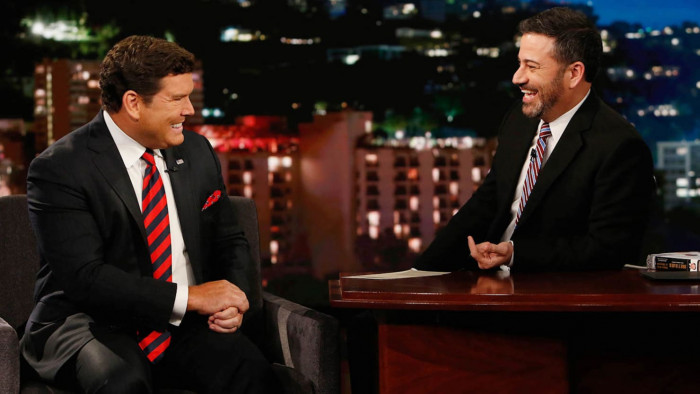 with to bring complete, fair and balanced news to our viewers. I am very honored to continue in this role and value the trust that FNC has placed in me to do what I love every day." (at left: Baier with ABC's Jimmy Kimmel; both were Ubben Lecturers at DePauw)
Baier has anchored Special Report since January 2009. It is "the number one news program on cable in its time slot, averaging 2.3 million total viewers in 2018, according to Nielsen Media Research," the network points out. "From 2009 to date, Special Report has grown its audience by double-digits -- up 13% overall in total viewers and ranked as the highest rated program in its timeslot in cable news for 10 consecutive years in both total viewers and the 25-54 demo ... Throughout his tenure at the network, Baier has interviewed President Donald Trump, Vice President Mike Pence, former President Barack Obama, former President George W. Bush, former Vice President Dick Cheney and former Secretary of State Hillary Clinton."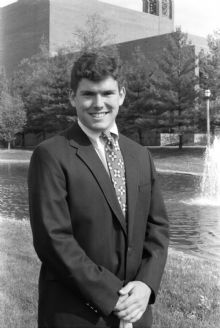 Read more at the website of the Associated Press.
The 2017 recipient of the Sol Taishoff Award for Excellence in Broadcast Journalism, the National Press Foundation's highest honor for a broadcast journalist, Baier was an English (composition) and political science double major at DePauw. He captained the Tiger golf team and was among the first students to work in the then-new Center for Contemporary Media. (at right: Baier, as a DePauw student, stands in front of Bowman Pond)
While a DePauw student, Baier interned with Bernard Shaw at CNN and landed his first professional job at WJWJ-TV (PBS) in Beaufort, South Carolina. He also worked at WREX (NBC) in Rockford, Illinois, and WRAL (CBS) in Raleigh, North Carolina, before joining Fox in 1998. Before being named anchor of Special Report, he served as the network's national security correspondent and chief White House correspondent.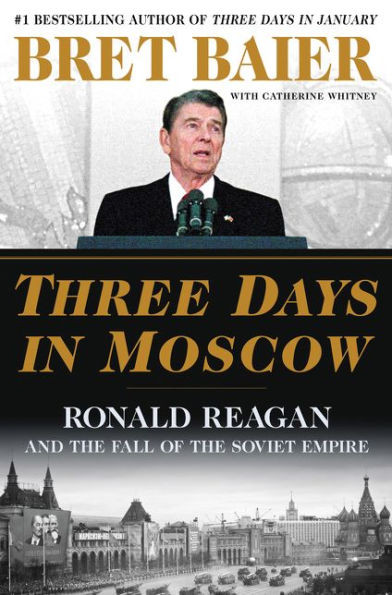 Baier has authored the best-selling books Three Days in January: Dwight Eisenhower's Final Mission; Three Days in Moscow: Ronald Reagan and the Fall of the Soviet Empire and Special Heart: A Journey of Faith, Hope, Courage and Love.
Baier returned to DePauw for Old Gold Weekend in 2013 and spoke as part of the Timothy and Sharon Ubben Lecture Series and received the University's Distinguished Alumni Achievement Award.
"DePauw is a big part of who I am, it's a big part of who I became, and I really like coming back here," he told the homecoming audience.
The talk is summarized here; video is embedded below.
Source: Associated Press
Back