President McCoy Addresses Leadership Development Symposium in Tokyo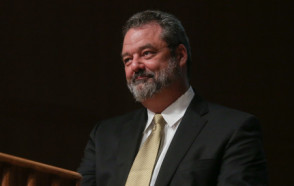 January 10, 2019
"The liberal arts education provides the broad base and the foundation in ethics, in cultural agility, and in creativity that leaders need," DePauw University President D. Mark McCoy said in a speech in Tokyo, Japan today. "When paired with robust experiential opportunities and numerous opportunities to rise from failure early and often, we develop leaders the world needs."
Dr. McCoy, who is traveling in Japan, was invited to address a leadership development symposium presented by the Grew Bancroft Foundation, which provides Japanese scholars with four-year undergraduate scholarships to liberal arts colleges in the United States.
In his remarks, the president noted that the first four Japanese students enrolled at DePauw in 1877 included Sutemi Chinda and Aimaro Sato, who later became ambassadors, and Izumy Nasu, who translated Homer's Iliad into Japanese. In attendance for today's speech were Japanese business executive and longtime DePauw trustee Hirotsugu "Chuck" Iikubo '57, and Tetsuya Endo, who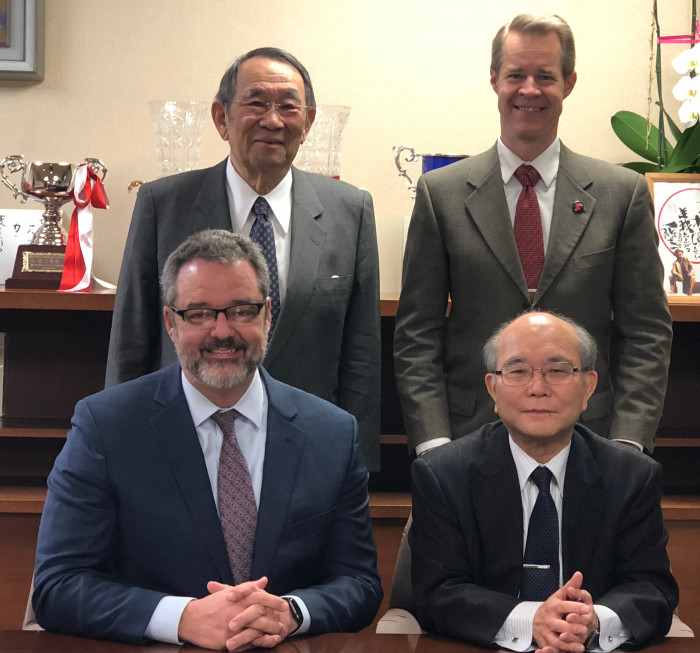 received his master's degree from DePauw in 1960 and has served in many roles, including as ambassador to New Zealand and as vice chairman of Japan's Atomic Energy Commission.
The DePauw-Japan connection can be credited for the planting of cherry trees in Washington, D.C., an effort that Ambassador Chinda played a key role in a century ago, McCoy told the symposium. (photo: standing, l-r, Chuck Iikubo and Paul Tsuchido Shew, chaplain and associate professor at Aoyama Gakuin University; sitting, l-r, President McCoy and Yoshikazu Miki, president of Aoyama Gakuin University)
"With a storied history in leadership such as this, DePauw has adopted the mission statement, 'DePauw develops leaders the world needs.' But what kind of leader does the world need in 2019? While the principles of solid leadership likely remain the same, surely the leadership needed in a world like ours is somehow different than ambassadors Chinda or Sato or even Endo practiced. 1957 graduate Iikubo authored books on leadership for Japan and America. His classmate Vernon Jordan answered a call to leadership in the American civil rights movement. Each leader we have graduated has answered the call to leadership for their time. What do today's leaders need? In the high-speed, globally connected, increasingly automized world we inhabit, what traits remain the same and what new traits are needed in today's leaders?"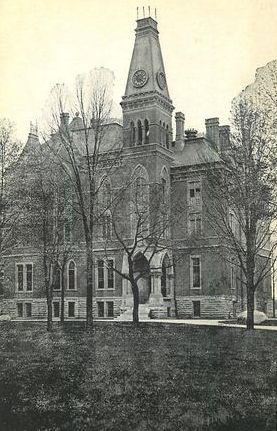 The president outlined three elements of leadership in his remarks, stressing that "a strong, broad, liberal arts education develops leaders the world needs."
The diversity that the first Japanese students brought to the DePauw campus in 1877, and which is far greater today, is critical, he stated. "American and Japanese leadership styles are thought to have marked differences, often related to the group vs. individual decision-making processes. This confirms our belief that leadership today also requires a cultural agility that is becoming increasingly important in our ever-shrinking world. Japan and America have mutually benefited from leaders that are culturally agile and that can bridge the distance between leadership styles and utilize the best of all. That agility also includes the ability to work across difference -- whether that difference be cultural, national, ethnic, gender, race, lifestyle or anything else. The world is growing smaller and our populations more diverse. We need to develop a strong sense of equity and inclusion in our work now more than ever."
Text of President McCoy's complete speech can be accessed by clicking here.
Mark McCoy was appointed DePauw's twentieth president on March 7, 2016 following a national search and took office July 1, 2016. He was inaugurated in October 2016 during ceremonies over Old Gold Weekend.
Back