Rick Locke '83, Renowned Mayo Clinic Gastroenterologist and Longtime DePauw Trustee, Dies at Age 57
January 11, 2019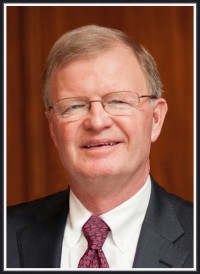 G. Richard Locke III, M.D., a 1983 graduate of DePauw and a member of the University's Board of Trustees, died yesterday at his home in Rochester, Minnesota, surrounded by his family, from complications of progressive supranuclear palsy. Dr. Locke, a Mayo Clinic physician who was internationally known for his work in the epidemiology of functional gastrointestinal disorders and gastroesophageal reflux disease, was 57 years old.
Born September 21, 1961 in Cleveland, Ohio, Rick Locke had a unique combination of intellect and empathy that allowed him to excel at each stage of his life.
A Rector Scholar at DePauw, Locke was president of Academic Council and captain of the golf team, earning four varsity letters. As a senior he was awarded DePauw's Walker Cup, which is given to the student who has done the most for the University over their four years on campus, and was a finalist for the Rhodes Scholarship. He graduated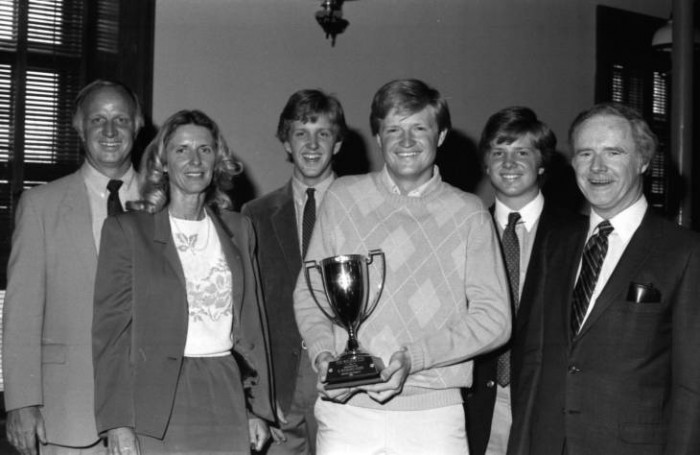 with Phi Beta Kappa honors.
Locke went on to study medicine at Harvard Medical School, from which he graduated in 1987. He completed his residency in Internal Medicine at the University of Minnesota, where he served as chief resident, and completed his fellowship in gastroenterology at the Mayo Clinic School of Graduate Medical Education.
Dr. Locke was a consultant in the division of gastroenterology and hepatology (GIH) at the Mayo Clinic in Rochester, Minnesota with a joint appointment in the division of health care policy and research. He was also a professor of medicine at the Mayo Medical School. Administratively, served as the service champion on the Clinical Practice Quality Oversight Committee for Mayo Clinic Rochester and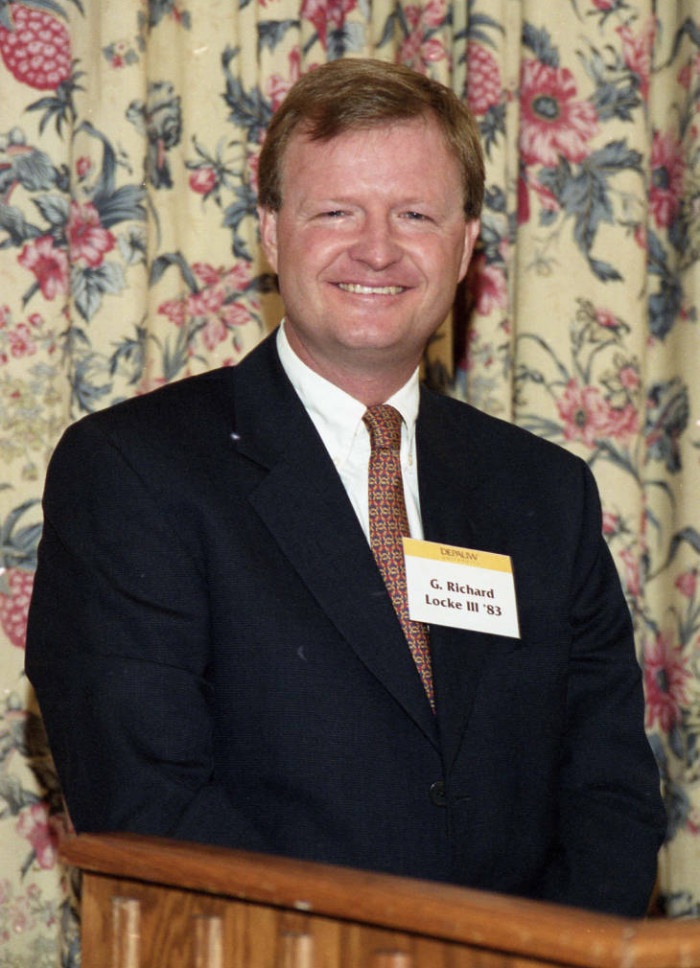 also was a member of the executive committee of the Mayo Clinic Program on Professionalism and Bioethics. In the past he was involved in the GIH division as head of the motility clinic, director of both the outcomes research unit and esophageal interest group and then vice chair for planning and quality.
Dr. Locke is past president of the Functional Brain-Gut Research Group and was an associate editor of the American Journal of Gastroenterology. He served as the American College of Gastroenterology (ACG) Governor for the State of Minnesota and was on committees of both the American Gastroenterology Association (AGA) and ACG.
The G. Richard Locke III Endowed Prize for Pre-Medical Excellence Scholarship is awarded each spring to the DePauw student who holds the highest grade point average and will attend medical school. The fund was established in honor of Locke by his fellow trustees and friends.
In December 2003, Dr. Locke and his brothers -- Dr. Jonathan T. Locke '85, Dr. Mark D. Locke '87 and J. Michael Locke ' 89 -- received the Outstanding Alumni Award from the Decatur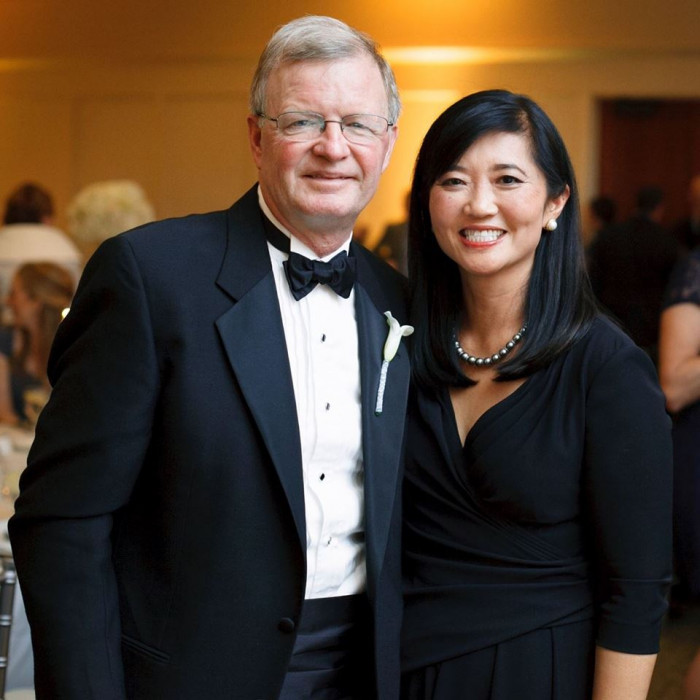 (Illinois) Public Schools Foundation. The Lockes, all graduates of Eisenhower High School, were recognized for their many achievements and success in their careers. In accepting the award, Rick Locke praised the education he and his siblings received in the Decatur public schools, which taught them many lessons in life and allowed them to learn much about others. They learned that "some people live in big homes, some in small homes, and some in no home at all," he said.
The son of the late Dr. G. Richard Locke `58 and Judith Blang Locke `58, Rick Locke is also survived by his wife, Jean Lee Locke, and children Katherine L. "Katie" Locke and G. Richard "Chip" Locke IV `15. (at left: Rick and Jean Locke; below: Dr. Locke with his mother)
Dr. Locke elected to donate his brain tissue to the Mayo Clinic Brain Bank. He hoped that by contributing to research in progressive supranuclear palsy, a rare disease, he could posthumously continue his lifelong work of alleviating the suffering of others.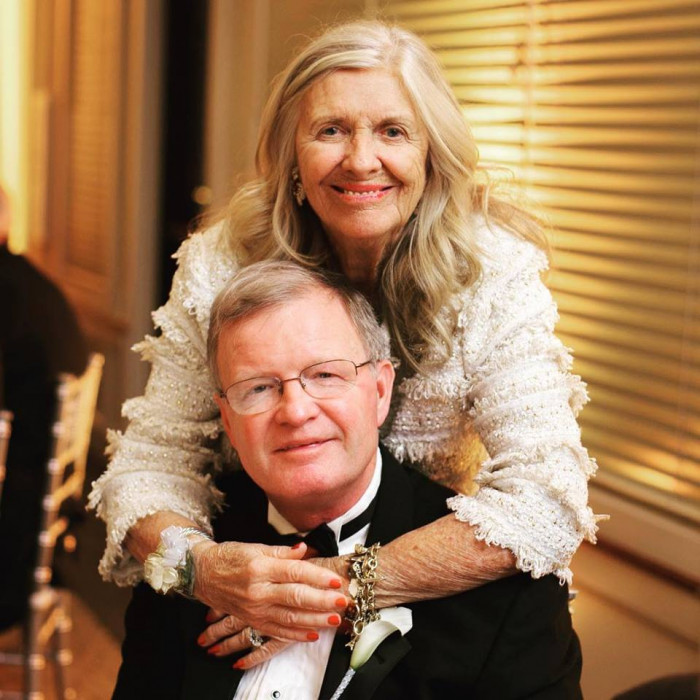 In lieu of flowers, gifts in memory of Rick may be made to DePauw University or the Mayo Clinic.
A funeral service will be held at 10:30 a.m. on Monday, January 14, at the Co-Cathedral of St. John the Evangelist in Rochester. Visitation will be held from 4 to 6 p.m. on Sunday, January 13, in the River Park Chapel at Macken Funeral Home and one hour prior to the service at the church on Monday. Burial will be in Union Cemetery in Flandreau, South Dakota.
An online obituary is available here.
Back