Jan Risi '81 Named to Restaurant Industry's 'Power List'
January 24, 2019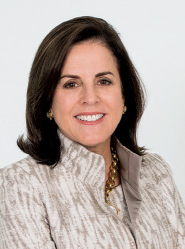 Nation's Restaurant News has named Jan Risi, president and CEO of the Subway Independent Purchasing Cooperative and 1981 graduate of DePauw University, to its 2019 "power list." The publication describes it as "the definitive list of people setting foodservice trends today and shaping them for tomorrow."
Ron Ruggless writes, "When it comes to foodservice supply chains, Jan Risi, as president and CEO of Subway's Independent Purchasing Cooperative Inc., oversees a powerhouse. The Miami-based franchisee-owned cooperative, which Risi formed with Subway founder Fred DeLuca in 1996, annually manages more than $5 billion in food, packaging, equipment, supplies and other services for Subway operators. IPC serves 30,000 franchised restaurants in the United States, Canada and Puerto Rico, negotiating the lowest prices for purchased goods and services and finding ways to improve quality for operators of the brand, which is based in Milford, Conn., and owned by Doctor's Associates Inc. Risi also serves on Subway's strategic planning council, which has seen the brand expand from 7,000 units in the late 1990s to more than 40,000 restaurants worldwide now."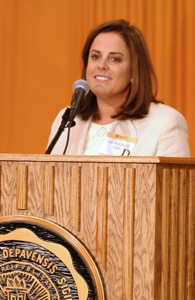 The text adds, "Risi started her career as a commodities buyer with Ralston Purina Co. in 1981 and has worked with such other restaurant foodservice brands as Burger King, Chef America and Jack in the Box. And Risi credits her success, according to a Miami Herald quote on the website of her alma mater, DePauw University, to hiring people 'smarter than me.'"
Access the piece here.
An economics major at DePauw, Risi received her alma mater's Robert C. McDermond Medal for Excellence in Entrepreneurship in 2010 and the Distinguished Alumni Achievement Award in 2012. She delivered the 25th reunion address on behalf of the Class of 1981. A story detailing the event -- including a video clip and MP3 file of her speech -- can be found by clicking here. Video of the address is embedded below.
Back