DePauw Will Close Wednesday as Record Cold Temperatures Impact Region
January 29, 2019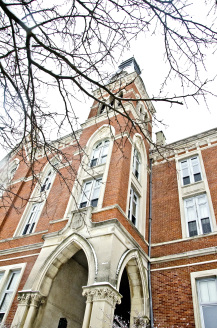 DePauw University will be closed tomorrow, Wednesday, January 30, as record cold temperatures and dangerous wind chills are in the forecast for west central Indiana and the Midwest. The University will close at 5 p.m. today and reopen at 11 a.m. Thursday. Classes will resume with 12:40 p.m. classes on Thursday, January 31. Because of the two missed days of classes, the final day of the adjustment period will now be Wednesday, February 6.

The Ubben Lecture by John Kasich, which was set for 7:30 p.m. Wednesday in Kresge Auditorium, has been rescheduled to Thursday evening, January 31, for the same venue and same time.
Members of the campus and Greencastle communities should be aware that the closing of the University will mean the indoor tennis and track center will not be open Wednesday. The fitness center at the Lilly Physical Education and Recreation Center will remain open from 9 a.m. to 6 p.m. to those with memberships, including students. Please note that all scheduled fitness classes during this time are canceled.
---
Additional information for faculty, staff and students:
Please continue to monitor the DePauw University website for updates and to review the weather/emergency closing policy.
As the college will be closed, campus services will be limited:
Public Safety will remain open and available at 765-658-5555. In order to focus on student safety and weather-related emergencies, Public Safety may be unable to provide battery jump-starts and other non-emergency services during the closure.
Dining Services will provide meals during normal hours of operation in both Hoover Hall and the Student Union Convenience Store. Cafe Roy, Blend, Wallace-Stewart and Cafe Allegro will be closed.
DePauw health wellness center will be closed. If you have scheduled appointments, please expect to hear from DePauw health, or call to reschedule at 765-658-4555. If you need to seek immediate medical attention, please contact Public Safety at 765-658-5555 or call 9-1-1.
Counseling Services will be closed on Wednesday, January 30. However, students may continue to access our after-hours crisis services (ProtoCall Services), which will be offering us additional coverage during the day. Students may call the Counseling Services main number (765) 658-4268 to get connected to an on-call clinician for assistance with a mental health crisis/emergency.
The indoor tennis and track center will be closed to the public during this time, and reopened at 11am Thursday. The Lilly Center will remain open Wednesday with limited hours from 9am-6pm to those with memberships including students. Please note that all scheduled fitness classes during this time are canceled. The Lilly Center will reopen at 9am on Thursday.
The student post office and university libraries will be closed on Wednesday.
INFORMATION FOR FACULTY AND STAFF
Non-essential staff should stay home on Wednesday. All staff will be paid for their regularly scheduled hours and are encouraged to work remotely as needed and as possible. Essential personnel will be notified by 5pm today if they are required to come to work on Wednesday.
Faculty and staff with questions should contact Human Resources (ext. 4181).
STAYING SAFE
The National Weather Service has issued a wind chill warning for this time. Dangerously cold wind chills could reach -34 degrees from Tuesday through Thursday. Frostbite can take effect in as little as 5–10 minutes for any exposed skin. If you leave your residence you need to wear proper winter gear, including warm boots or shoes, layers, and make sure to cover skin with scarves, hats, gloves, and mittens. Given the risk of car battery or other automotive failure in extreme low temperatures and the expected lack of support services, travel by car is not recommended.
Additional information on staying safe during cold weather is available through the National Weather Service website, and winter safety information for travelers is available through INDOT's Winter Driving Safety Tips website.
COLD WEATHER TIPS
Don't prop open doors or windows. Keep them closed if at all possible.
If you leave your residence you need to wear proper winter gear, including warm boots or shoes, and make sure to cover skin with scarves, hats, gloves, or mittens. In this type of weather, exposed skin can be frostbitten in fewer than 10 minutes. https://www.cdc.gov/disasters/winter/staysafe/frostbite.html
Be sure to eat enough, even if you might be moving less. Your body needs food to convert to body heat.
Limit alcohol consumption. Alcohol has significant additional risks in very cold temperatures, such as making people feel warmer than they actually are. This may make them susceptible to serious conditions such as frostbite, hypothermia, and even death. https://www.accuweather.com/en/weather-news/how-drinking-alcohol-makes-you-vulnerable-in-cold-weather/70003691
If possible, stay indoors.
Look out for your friends. If you are walking someone home, please make sure they get inside their residence.
If someone must walk alone, have them text you to confirm they are home safely once inside.
RESOURCES
Back