Indy CBS & Fox Affiliates Recap Gov. John Kasich's Day at DePauw
February 3, 2019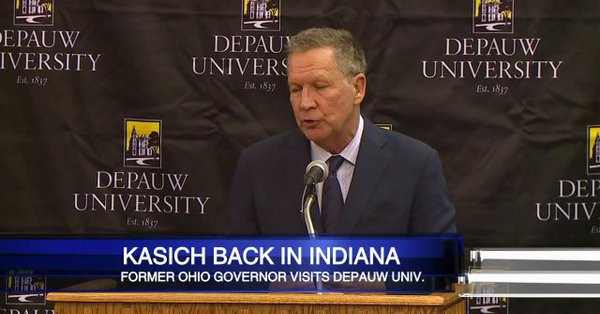 "During a visit to DePauw University this past week, former presidential candidate John Kasich (R-Ohio) said he was still mulling his political future, while calling for politicians to find middle ground in these divided and contentious times," reported IN Focus, a program that aired this morning on Indianapolis CBS affiliate WTTV and local Fox outlet WXIN-TV. Host Dan Spehler recapped Kasich's day at DePauw Thursday in a segment that included clips from the former governor's news conference and afternoon forum with DePauw students.
"Right now, you're seeing Democrats move to the left," said Kasich. "Medicare for all is a good example, wealth taxes, things like that, and what's critical is to have ideas [for alternatives] ... if you don't like Obamacare, what's the answer? Are you willing to recognize there's a growing gap between the rich and poor, and if you are, what are you willing to do? I don't think you win be rejecting, and you certainly don't improve the public discourse if you're negative and don't have a better idea."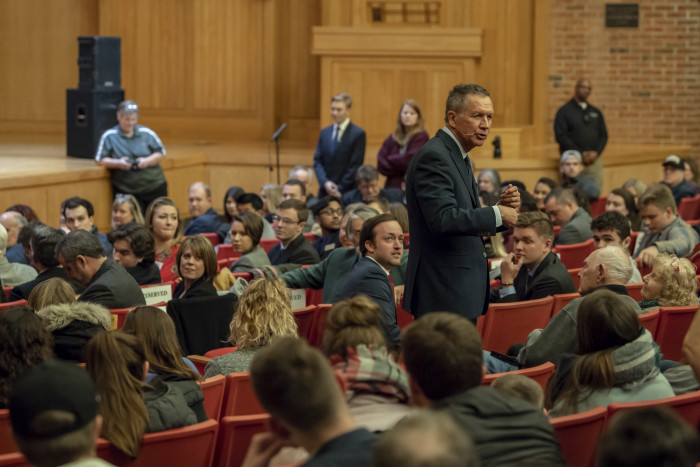 Spehler reports, "Since 2016, the former Ohio governor has positioned himself as more of a centrist, leading some to believe he might consider an independent run for President in the future, or try and challenge Trump in the 2020 primary."
"All my options are on the table," Kasich told reporters gathered in DePauw's Memorial Student Union Thursday afternoon. "In terms of my political future, I really don't know, in terms of, is there a lane, is there a path. It's yet to be determined."
Read more at the CBS station's website; video is embedded below.
"Are we living a life here bigger than ourselves?," Kasich asked his DePauw audience Thursday night in Kresge Auditorium. "Now nobody's applying for sainthood here, I'm the first one to say I'm the farthest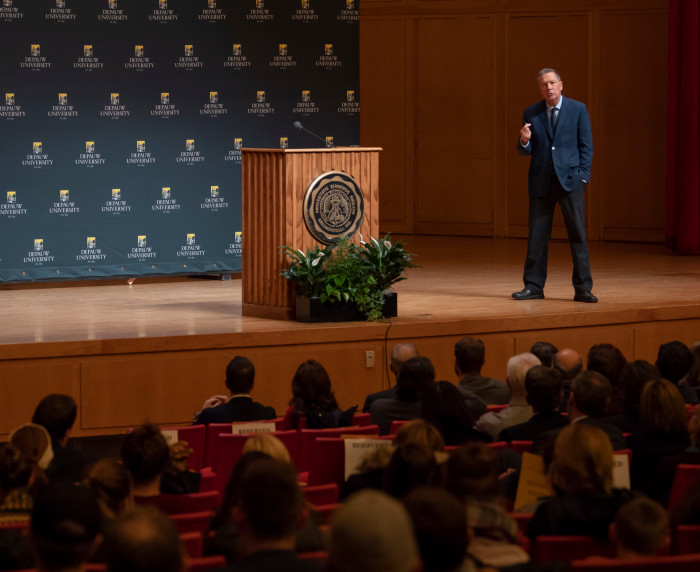 thing away from it; I make terrible mistakes. But I can get up the next day and think, 'How can I be impactful? How can I change the world?' And it's not just a discussion for fancy philosophers, it's a discussion for all of us and our families and in our school and in our workplace -- wherever we are. 'Cause that's how we find satisfaction in life, when we live a life a little bigger than ourselves."
A recap of Gov. Kasich's Ubben Lecture at DePauw is available here.
Yesterday, Kasich and Hillary Clinton teamed on an op-ed which was published in the Washington Post, calling for a crackdown on animal poaching. It's covered in this summary.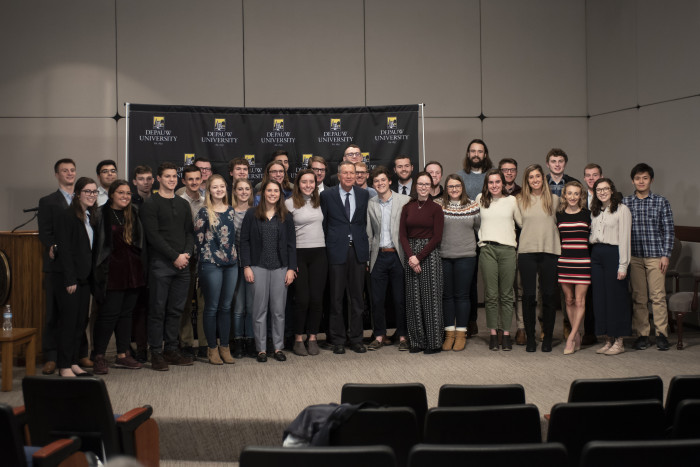 Back