Prof. & Author Tiyi Morris to Address 'The Making of a Movement' on Feb. 7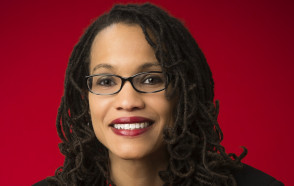 January 28, 2019
Tiyi M. Morris, associate professor of African American and African Studies at Ohio State University - Newark and author of Womanpower Unlimited and the Black Freedom Struggle in Mississippi will visit DePauw University on Thursday, February 7. As part of Black History Month, Dr. Morris will speak on "Black Women's Civil Rights Activism: The Making of a Movement." The program will begin at 7 p.m. in Watson Forum, located within DePauw's Pulliam Center for Contemporary Media, and is free and open to all.
Morris received her B.A. in African & African American Studies and liberal studies from Emory University, and a master's and Ph.D. in American Studies from Purdue University. Dr. Morris has an interdisciplinary research and teaching focus that combines the fields of American history, black studies, and women's studies.
The professor's work has also appeared in Southern Black Women in the Civil Rights Era (1954-1974): A State By State Study; Comrades: A Local History of the Black Panther Party; and Groundwork: Local Black Freedom Struggles in America.
Back