ESPN Founder Bill Rasmussen '54 is one of Sports Illustrated's '40 for the Ages'
September 14, 1994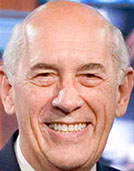 September 14, 1994, Greencastle, Ind. - "Bill Rasmussen didn't set out to become a millionaire or start a minor revolution," Bob Costas noted tonight during 40 for the Ages: Sports Illustrated's 40th Anniversary Special. "All the guy wanted was to start a local sports channel, but cable operators insisted it would be cheaper to go national. All he wanted was to air a few hours of TV sports a day, but the satellite technicians said it would cost less go to round-the-clock."
In a segment that aired tonight on NBC in prime time, Costas continued, "Little ESPN bloomed into the biggest all sports network in the world, feeding the non-stop appetite for televised games of every sort."
Of Rasmussen, a 1954 graduate of DePauw University, Costas noted, "Some spend their lives chasing that one idea that'll make them rich. Bill Rasmussen couldn't get out of its way."

Rasmussen comes in #29 on the list, which is topped by Muhammad Ali, with Michael Jordan at #2. Sports Illustrated aimed to name the 40 individuals who have had the greatest impact on the world of sports over the previous 40 years.
A Rector Scholar and economics major at DePauw, Bill Rasmussen went on to earn an M.B.A. from Rutgers University. He co-founded ESPN with his son, Scott, a 1986 DePauw graduate.
Back