Actor Drew Powell '98 to Address DePauw's Class of 2019 at Commencement, May 19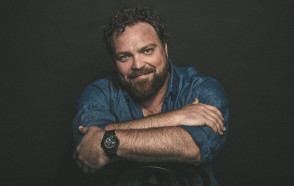 February 20, 2019
Drew Powell, an actor and 1998 DePauw University graduate who is best known for four seasons as a character on Fox's hit series Gotham, will provide the primary address to his alma mater's Class of 2019 at the Sunday, May 19 commencement ceremonies. The program will begin at 10:00 a.m. in Holton Memorial Quadrangle.
Powell will also receive the University Arts Medal during the program.
An English (literature) major and Media Fellow at DePauw, Powell portrayed antagonist Cyrus "Butch Gilzean" Gold, a character who transformed into Solomon Grundy during Gotham's first four seasons. Powell also played Reede Smith, one of the final suspects for the serial killer Red John on The Mentalist.
His resume includes a role in the big screen remake of Straw Dogs and he'll soon be seen on the big screen's Ted K. Other movie roles include appearances in Wanderland, Message From The King, Touchback, 1408, and The Marine.
Powell has been seen on TV on Ray Donovan, American Horror Story, NCIS: Naval Criminal Investigative Service, Grey's Anatomy, Modern Family, Castle, Necessary Roughness, Bones, Leverage, Malcolm in the Middle, True Blood, CSI, Ponderosa, The Office, House, Psych, Memphis Beat, Man Jam, and ER.
The versatile actor has also also performed in The Pee Wee Herman Show on Broadway and contributed his talents to the video games Hitman: Absolution and Grand Theft Auto V.
In a 2011 profile, the Indianapolis Star's Joe Shearer wrote, "A native of Lebanon and a graduate of DePauw University, Powell's love of acting grew out of the Avon movie theater ('featured in the movie Hoosiers, by the way,' he notes). Taken by the magic of cinema, Powell made the decision to head west while a senior at DePauw University, when he was offered a job as the youth director at a [North Hollywood] church. 'I packed up my car and headed west two weeks after graduation,' he said. Powell was noticed by a talent agent while doing a staged reading of Our Town at the church, and soon found himself in front of cameras shooting a role on the television show Malcolm in the Middle. That role (Cadet Drew) went over so well, it became a recurring one on the hit TV show." (at right: Powell with Will Smith on the Gotham set)
Powell told the newspaper that acting gives him the "feeling of marrying the thrill of the performance with the almost mystic power of the cinema."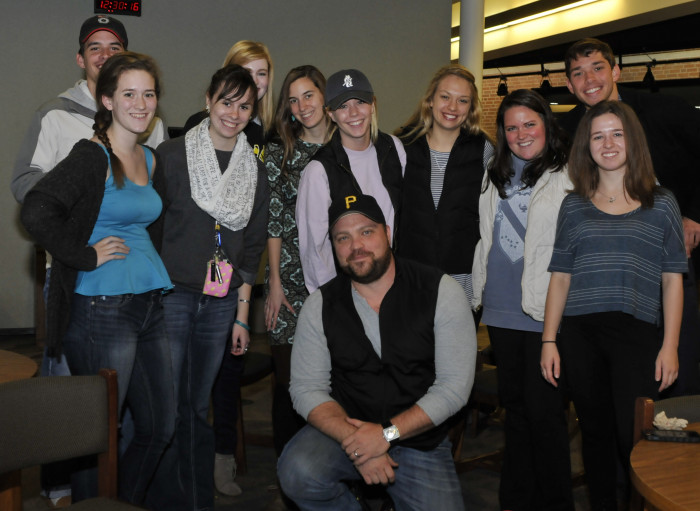 In 2017, Powell sat down for a podcast interview with his DePauw classmate and friend, CNBC's Jon Fortt, who noted, "There are only so many hit shows on TV, and so many recurring roles. So how did Powell make it? Drew packed up his car two weeks after college graduation and headed out to L.A. He knew as well as anyone the clichés about waiters (and now Uber drivers) with screen ambitions. So he took a pragmatic approach to his journey as an actor." (at left: Powell poses with Media Fellows during a November 2013 visit to DePauw; photo by Marilyn Culler)
Powell now lives in Los Angeles. During a September 2017 visit home he stopped by Indianapolis Fox affiliate WXIN-TV. Video of the segment is embedded below.
Learn more about DePauw University's 180th Commencement by clicking here.
Back