Faculty-Student Collaboration Results in Publication of James Riley Weaver's Civil War: The Diary of a Union Cavalry Officer and Prisoner of War, 1863-65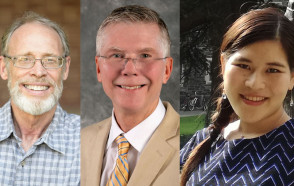 February 19, 2019
A collaboration between two faculty members and a student at DePauw University has brought to print a story that, in the words of John T. Schlotterbeck, A. W. Crandall Professor of History, Emeritus, is "important to DePauw's history while providing an unprecedented account of one man's civil war." Schlotterbeck, Wesley W. Wilson, coordinator of archives and special collections at DePauw, and Midori Kawaue '17, are co-editors (with Harold A. Klingensmith) of James Riley Weaver's Civil War: The Diary of a Union Cavalry Officer and Prisoner of War, 1863-65. The book has just been published by Kent State University Press.
Originally handwritten on 700 pages, James Riley Weaver's Civil War diary provides an unbroken 666-day record -- from June 1, 1863 to April 1, 1865 -- of one man's experiences as a Union cavalry officer in the 18th Pennsylvania Cavalry and prisoner of war in Confederate officers' prisons, and his return to civilian life. Weaver, who was a DePauw faculty member from 1885 until 1917, "added the social sciences to the college curriculum and developed a student-centered,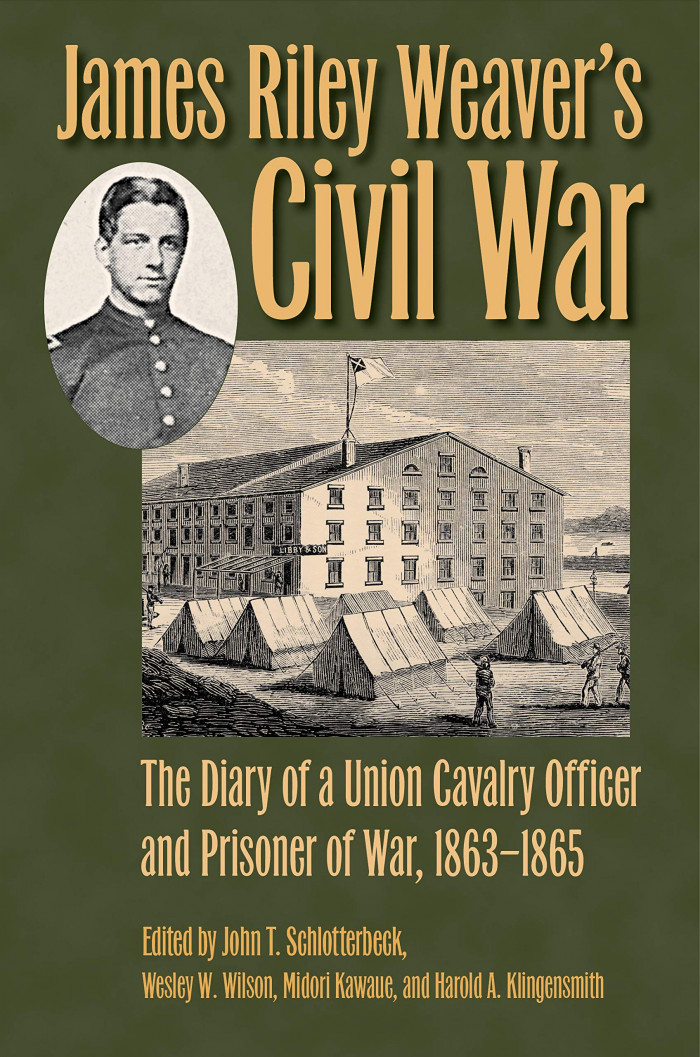 inquiry-driven pedagogy," states Dr. Schlotterbeck. "Along with administrators and a core group of faculty he was instrumental in making DePauw a modern liberal arts college by the early 20th century."
The public is invited to join in two celebrations to mark the publication of the work.
On Friday, March 8, from 4 to 6 p.m., the editors of the book will join with Susan Wadsworth-Booth, director of Kent State University Press and a 1984 DePauw graduate, in Roy O. West Library. Excerpts of the diary will be read and the group will take questions from the audience. Students, faculty, and staff are invited to attend; a reception will follow.
The following day, Saturday March 9, a community-wide event will take place at 2 p.m. at Gobin Memorial United Methodist Church. The program will include Civil War-era music performed by Mike Van Rensselaer; remarks by Rev. Bryan Langdoc, pastor of Gobin Church; Wes Wilson; Nicole Etcheson, Alexander M. Bracken Professor of History at Ball State University; and David Gellman, professor of history at DePauw; with refreshments and opportunities to talk with the editors and purchase a copy of the book. Both events are free and open to all.
A native of western Pennsylvania, Weaver attended Allegheny College and enlisted in the 18th Pennsylvania Cavalry in 1862, eventually becoming a first lieutenant. He was at the Battle of Gettysburg, but was captured three months later and spent the remainder of the war in Confederate prisons and camps. He wrote at least one page per day of his military service and imprisonment describing what he saw, his thoughts on the war, and news from home and from the newspapers in a style that was free of emotional rancor.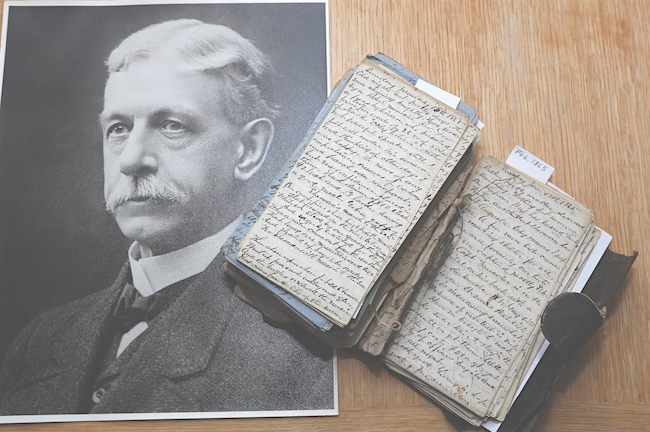 After the war Weaver married Anna Simpson, a daughter of Methodist Bishop and DePauw's first president, Matthew Simpson, at a huge Philadelphia wedding attended by President Ulysses S. Grant, who gave him a diplomatic post in Italy as a wedding gift. Fifteen years later he returned to the States and took a position on the faculty of DePauw University in 1885 teaching political science, history, economics and sociology. Notably, he served as a mentor to Charles Beard, an 1898 DePauw graduate who went on to become one of the most influential American historians of the first half of the 20th century. Weaver retired from DePauw in 1917 and died three years later.
Ninety-five years later, in 2012, Weaver's descendants shared the diary with the DePauw Archives. The pages were scanned and posted to Flickr, which supports crowdsourcing. Civil War buff Tony Klingensmith of Ogden, Utah, discovered the entries on the Internet and transcribed the entire document for the Archives without any stipulation. However, in return for his work, Wilson asked Klingensmith to collaborate on the entire project. It was the task of intern Kawuae to edit the transcriptions that Klingensmith provided.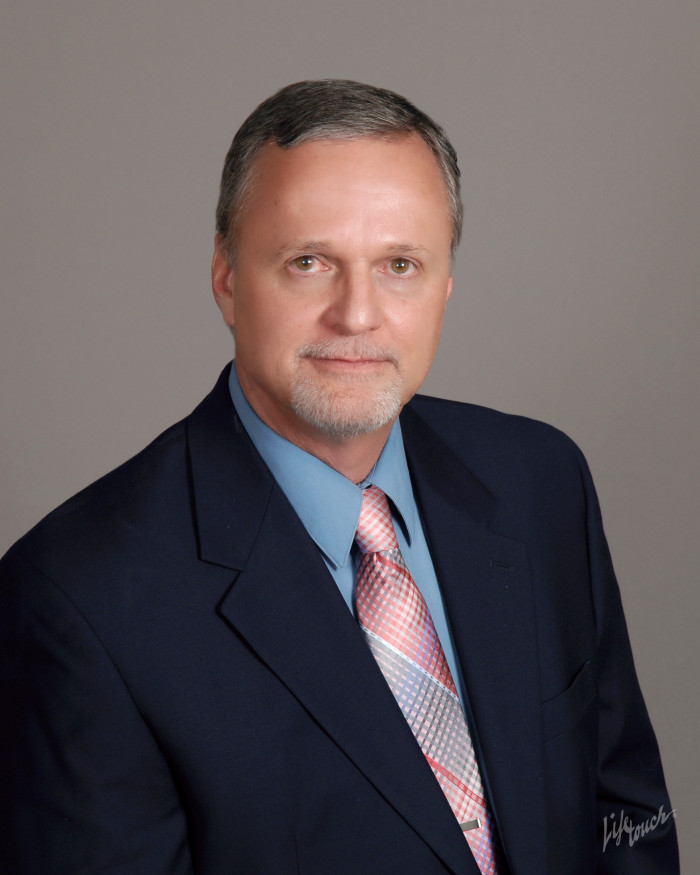 Wilson, who calls the diary "a treasure," points out that Klingensmith (pictured at left) "was great with names. He knew Civil War officers, including spellings and rank, and Weaver wrote names in almost every entry. It would have taken us a long time to research that."
Prof. Schlotterbeck divided the entries into chapters and authored introductions to them and added citations.
Weaver's diary details, according to the publisher's synopsis, his "cavalry duties, life in a series of prisons throughout the South, and his return to civilian life. It is an unparalleled eyewitness account of a crucial part of our history … Weaver describes the 'little world' inside each prison and outdoor camp, describing men drawn from 'every class of society, high and low, rich and poor, from every country and clime.' In addition, Weaver records details about life in the Confederacy that he gleans from visitors, guards, new arrivals, recaptured escapees, Southern newspapers, and even glimpses through windows."
Midori Kawaue, who is now a graduate student at Princeton, hails from Japan and majored in history and French at DePauw, where she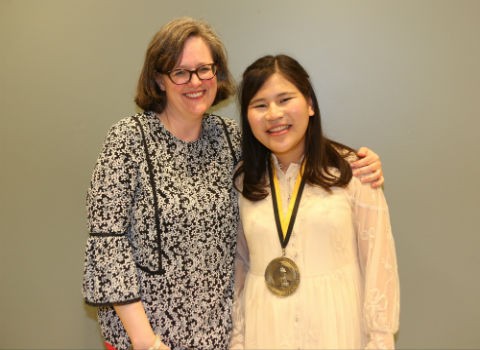 was a Rector Scholar. For her work on the Weaver diary among other accomplishments, she was awarded the Ferid Murad Medal, which has been given since 2014 to the senior who has had the most significant scholarly or artistic achievements during his or her time at DePauw. As a senior Kawaue also received a 2017 Gilder Lehrman History Scholar Award from the Gilder Lehrman Institute of American History. (at right: Kawaue with Anne Harris, vice president for academic affairs)
Learn more about James Riley Weaver's Civil War: The Diary of a Union Cavalry Officer and Prisoner of War, 1863-65, and order the book, at Amazon.com or the publisher's website.
Back