Chicago Tribune Reflects on Life and Contributions of Pioneering Chemist Percy Julian '20
February 17, 2019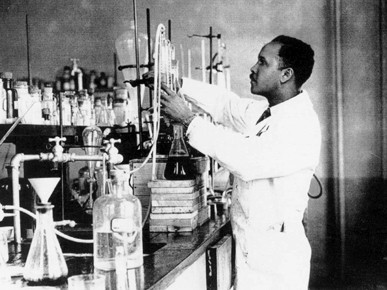 "There wasn't a high school for blacks in Montgomery, so [Percy] Julian went to Indiana and enrolled at DePauw University. Although he graduated as his class valedictorian, graduate schools wrote DePauw's dean, suggesting Julian set his sights low, perhaps teach at a black college," notes a Chicago Tribune article on the 1920 graduate. "Julian ignored that advice, and his career and academic pursuits would make him a well-traveled man."
Ron Grossman writes, "He earned a master's degree in chemistry at Harvard, which wouldn't offer him a teaching position. Eventually he earned a doctorate in Vienna." The chemist went on to break more racial barriers,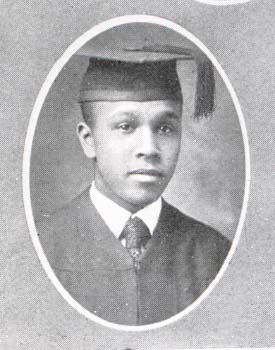 becoming "an early pioneer in chemical synthesis. He was only the third African-American to hold a doctorate in chemistry. The Glidden Co. made Julian a research-director in Chicago. Seventeen years -- and many patents later -- he opened his own Julian Laboratories in Franklin Park. He held 19 honorary degrees, was inducted into the National Academy of Sciences and has several buildings named for him."
The piece recounts the racial violence Dr. Julian and his family endured in their Oak Park neighborhood and how he rose above hatred to develop life-changing drugs, including medical steroids to help those suffering from arthritis.
Access the full text here.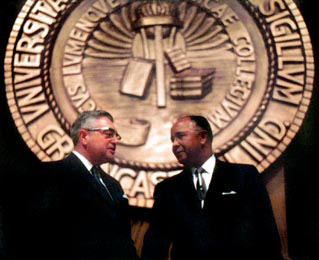 The founder of research laboratories in the United States, Mexico, and Guatemala, Percy Lavon Julian was a member of DePauw's Board of Trustees, and was the first recipient of the University's McNaughton Medal for meritorious public service (seen at right with President Russell Humbert). He also received an honorary degree from his alma mater in 1947. He died on April 19, 1975 in Waukegan, Illinois.
The University's Percy Lavon Julian Science and Mathematics Center -- where a bust of Dr. Julian greets visitors -- stands as a tribute to the great chemist.
In 1993, the U.S. Postal Service issued a stamp in Dr. Julian's honor.
Back