Buffalo Bills Assistant GM Joe Schoen '01 Took DePauw Internship to NFL Career
March 4, 2019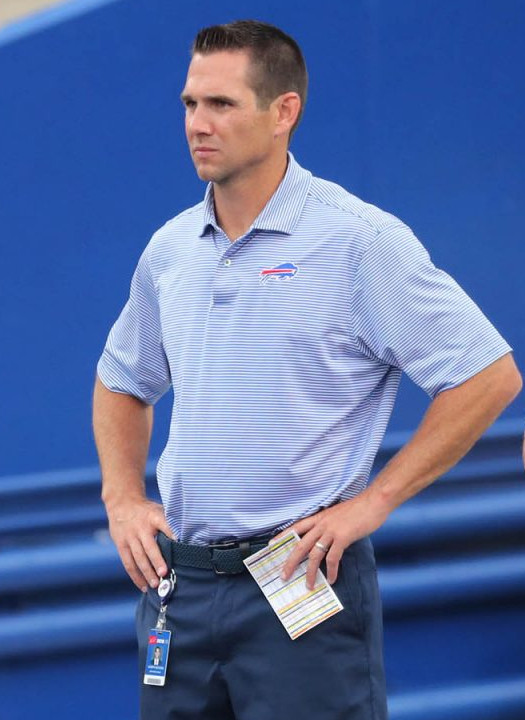 Joe Schoen, assistant general manager of the National Football League's Buffalo Bills, "played quarterback as a freshman at Indiana's DePauw University, where he majored in communications, before switching to receiver for his final three years," notes Vic Carucci of the Buffalo News. "Schoen knew he wanted to stay in sports after college. When playing professionally didn't prove to be an option, he began exploring the possibility of working for an NFL team. Through a friend of a friend, his mother helped him get his foot in the door in 2000 as an intern with the Carolina Panthers, where he met Brandon Beane, a front-office executive prepping for the GM job he eventually landed with the Bills. Schoen started off in the Panthers' ticket office before Beane had him working in football operations."
The lengthy profile coincides with the annual NFL Scouting Combine in Indianapolis, which takes place about two-and-a-half hours south of Schoen's hometown of Elkhart, Indiana.
Carucci reports, "In his final months before graduation in 2001, Schoen had an offer to work for Stryker, a medical technologies company based in Kalamazoo, Mich. It called for a base salary of $45,000 and a $4,000 signing bonus. [Brandon] Beane [now general manager of the Bills] was talking about an entry-level scouting position with the Panthers that would pay $10 an hour. 'I don't have a dollar to my name,' Schoen says. 'My buddies who are working for (Stryker) are telling me, 'After two years, if you're doing your job, you'll be making $200,000.' That afternoon, while I'm here, someone from Stryker called me to say, 'If you haven't decided you're going to accept the offer, we're going to take it off the table.' I was so torn.'"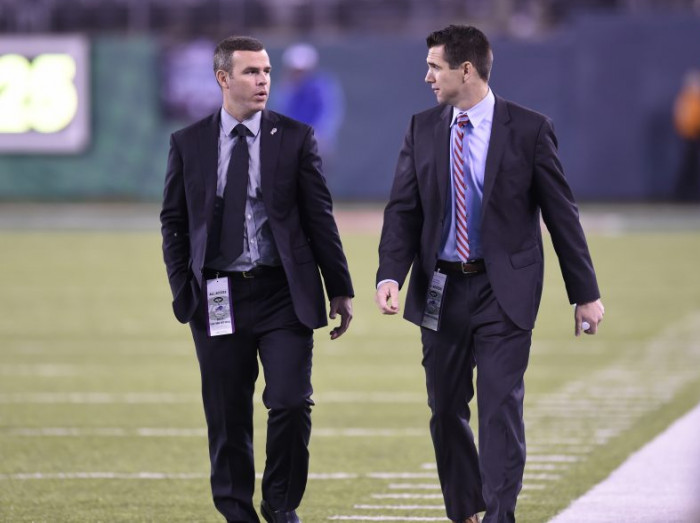 Schoen wound up following his passion and working as a scout for the Panthers for seven years before serving the Miami Dolphins as a national scout and an assistant director of college scouting, and eventually, director of player personnel. There he worked under NFL legend Bill Parcells. (at left: Beane and Schoen)
When you're around him, he's always coaching," Schoen says. "I was a national scout at the time, didn't know him from Adam, and we'd be in a meeting and he'd say, 'You know what Tom Landry used to tell me?' I'm like, 'Oh my God! Tom Landry, Bill Parcells, and he's about to tell me something that they talked about?' I was always typing stuff, writing stuff down. He gave so much information. It was just awesome to be around him. You know he's a Hall of Famer, you know he's one of the best ever, but then when you're around him, you see how genuine he is as a person. He treated us all the same, he enjoyed being around us."
In his current job, Schoen says, "I work with the analytics department, I work with our personnel department, sometimes with football operations. I work with our communications. I touch a lot of different departments throughout the building ... A lot of my background is the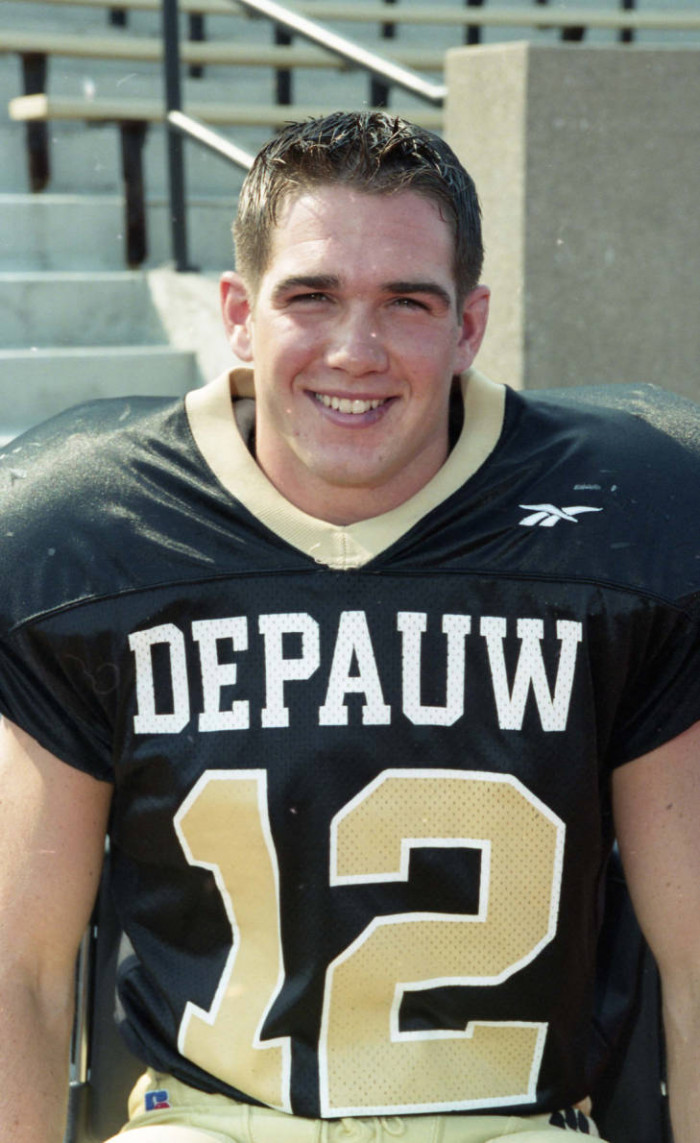 personnel, so watching film -- pro, college draft prospects, free agency, the waiver wire -- that's a majority of my day."
A communication major at DePauw, Schoen graduated in 2001. He was a three-year letterman in football (1997-2000) and quarterback as a freshman and wide receiver his final three years, serving as a captain during his senior season. (at right: Schoen as a Tiger senior)
"With the Bills, "I think Brandon and I are aligned in that we both believe in the draft and building through the draft," Schoen tells the newspaper. "It's kind of our Super Bowl, our chance to affect the roster moving forward, not just in 2019 but hopefully on into the future. We understand the task at hand and how important it is. There's not a big margin for error."
Read more here.
In a 2014 interview, Schoen stated, "Nick Mourouzis was huge at DePauw, not just football skills but how you can apply lessons that you learn in sports and football in life." That's part of this previous summary.
Source: Buffalo News
Back