"The Pre-eminent American Choral Conductor of His Generation," Joseph Flummerfelt '58, is Remembered in the New York Times
March 6, 2019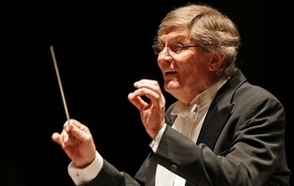 "The country is absolutely populated with people who studied with Joe," choral conductor and educator Donald Nally tells the New York Times of Joseph R. Flummerfelt. Today's edition of the newspaper includes a tribute to Flummerfelt, a 1958 DePauw University graduate who was "the pre-eminent American choral conductor of his generation and a collaborator with some of the nation's most renowned orchestras and maestros." He died of a stroke Friday in Indianapolis at age 82.
The director of choral activities for 37 years at Spoleto Festival U.S.A. until retiring in 2013, "Flummerfelt played an outsize, if not always highly visible, role in American classical music," writes Michael Cooper. "He prepared choruses for hundreds of concerts by the New York Philharmonic and a host of other famous orchestras and maestros, and he trained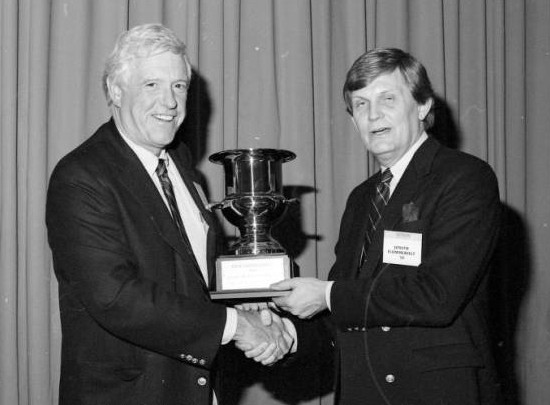 generations of singers and conductors at Westminster Choir College in Princeton, N.J. He often readied choirs behind the scenes, then handed them off to more famous conductors, who would lead them onstage for the final rehearsals and performances. He was the de facto chorus master of the New York Philharmonic for decades, preparing nearly 600 choral performances with the orchestra from 1971 through 2016. And when other top orchestras and conductors -- a pantheon that included Claudio Abbado, Leonard Bernstein, Pierre Boulez, Carlo Maria Giulini and Riccardo Muti -- needed choruses for their requiems, masses and choral symphonies, they often turned to Mr. Flummerfelt. Along the way, he became the best-known American choral conductor since Robert Shaw, the great chorus-builder and conductor, who had been a friend and mentor." (at left: Flummerfelt receiving DePauw's Old Gold Goblet from Jim Emison '52 on October 20, 1988)
The piece notes that Flummerfelt was a graduate of the DePauw University School of Music, where he studied organ and church music.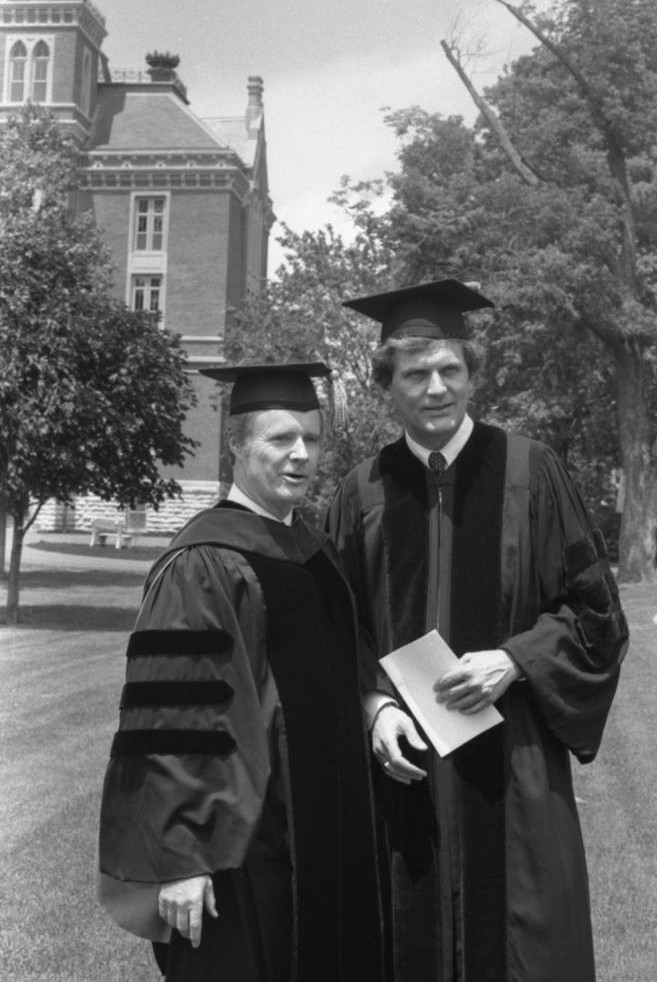 Yannick Nézet-Séguin, who went on to become the music director of the Metropolitan Opera and the Philadelphia Orchestra, was a student of Flummerfelt as a teenager. In a 2009 interview he recalled, "Flummerfelt had a such a relaxed way of approaching the sound, with relaxed gestures and breathing. Today I regard those things as my fundamentals, as much for orchestral work as for opera and choral music."
In Nally's 2010 book, Conversations With Joseph Flummerfelt: Thoughts on Conducting, Music, and Musicians, Flummerfelt -- who received an honorary doctorate from DePauw in 1982 (seen at right with President Richard F. Rosser) -- stated, "I do long for those moments where everything is in place, where everything is flowing, and then the real truth comes from the source -- whatever that is: God, the creative impulse, it doesn't matter what you call it. And suddenly, things happen, which you couldn't have planned. Real beauty is being created because all of the forces are perfectly lined up and a profound innermost connection is manifested."
Access the complete piece -- "Joseph Flummerfelt, a Force Behind Mighty Choruses, Dies at 82" -- at the website of the Times.
A 2013 podcast interview of Flummerfelt, conducted by DePauw President Mark McCoy, can be heard here.
Source: New York Times
Back