Boards Formed to Enhance Fraternity and Sorority Experience at DePauw
March 6, 2019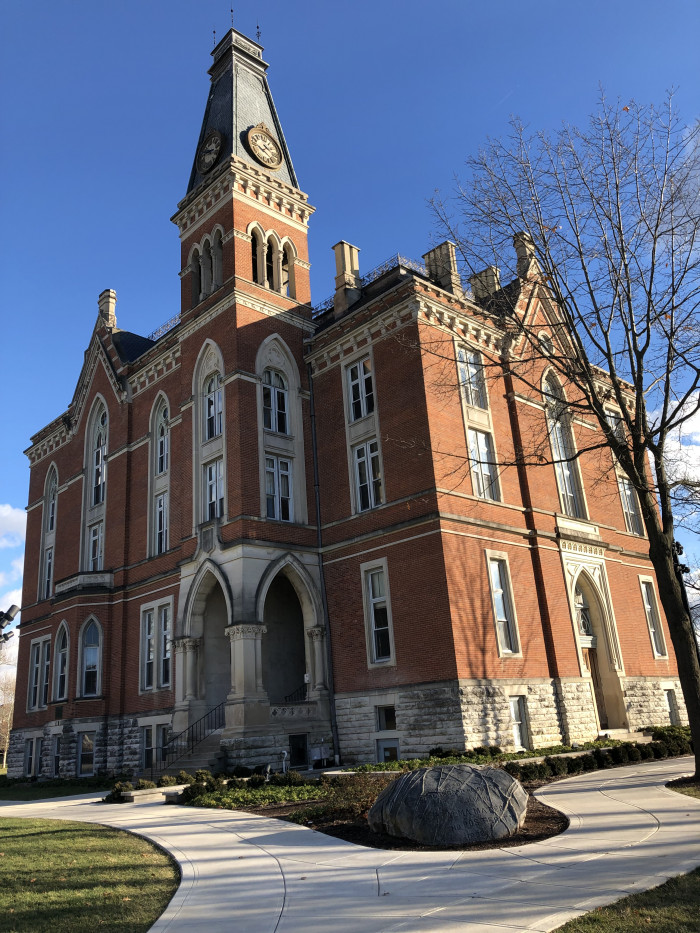 DePauw University announced today an initiative to ensure the strongest possible fraternity and sorority experience in support of the university's academic mission.
DePauw's Board of Trustees established the new Greek Strategic Initiatives Board (GSIB) for oversight of strategic matters affecting the Greek system. It also recognized an updated and expanded mission and new name for the alumni-led Greek Life Advisory Council (GLAC), now named Greek Community Board (GCB).
The GSIB was established by the Board of Trustees at its January meeting to provide oversight on strategic matters impacting the future of the Greek system at DePauw.
"The Greek system has long been an essential part of the DePauw tradition, particularly in creating leaders and cultivating lifelong friendships," said GSIB Chair Andy Rieth '80. "I'm excited to take on this role to help enhance and support DePauw's distinctive fraternity and sorority experience."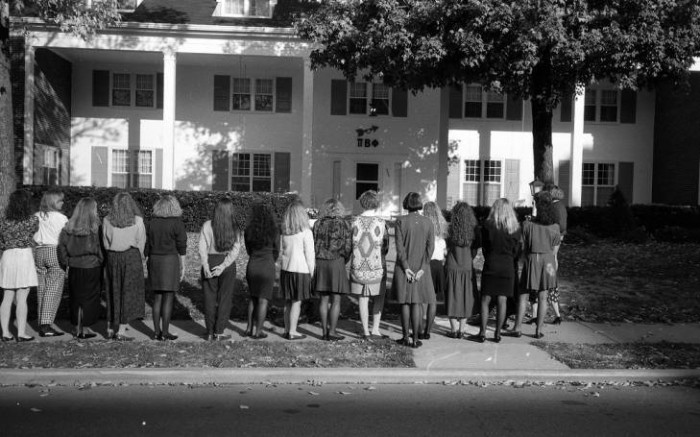 (at left: 1991 sorority rush, from the DePauw Archives)The new GSIB will work collaboratively with the GCB, which has been evolving since last fall to expand the structure and mission of GLAC to increase alumni engagement. GLAC was formed more than a decade ago to facilitate communication among fraternities, sororities and the university. The president and vice-president of the GCB will join Rieth as members of the GSIB, along with another trustee, two alumni at large yet to be named and two members of the DePauw administration.
"DePauw alumni value the camaraderie, lifelong connections and leadership opportunities they experience as members of fraternities and sororities," said DePauw President Mark McCoy. "These additional networks allow our successful alumni to further exemplify the values integral to Greek membership and benefit students in more structured ways."
The GCB (an acronym that intentionally plays off the garlic cheeseburger at Marvin's, beloved by students and alumni) hopes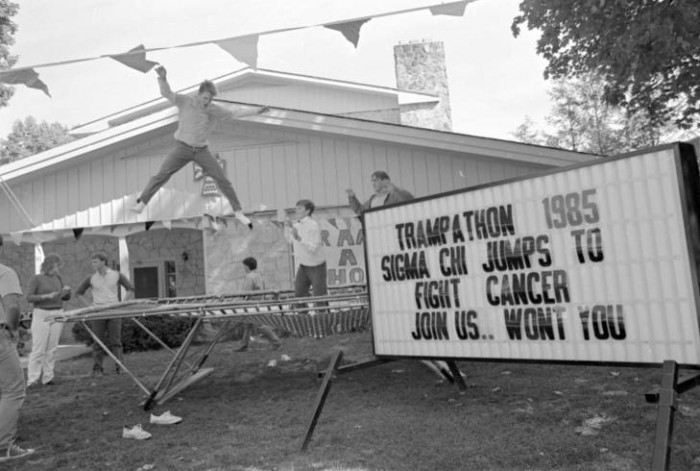 to enhance the effectiveness of DePauw's Greek-letter fraternities and sororities in complementing the academic experience and providing leadership and personal development opportunities. (at right: a 1985 DePauw fraternity fundraiser)
"Members of the GCB know first-hand how the friendships and leadership opportunities provided in fraternities and sororities helped positively shape our experience at DePauw and beyond," said Jane Brazes Funke '78, president of the GCB and member of DePauw's Alumni Association Board of Directors who also heads DePauw's Alpha Phi house corporation. "We also recognize that recent challenges on campuses nationwide have sparked a national conversation about the future of fraternity and sorority life. We want to help address those challenges and to articulate how DePauw's Greek community is distinctive in preparing students for success in their personal and professional lives after college."
Funke added that the group hopes to raise awareness of the positive impact Greek-affiliated students make as it provides an avenue for alumni to stay engaged in the community and grow and strengthen chapters in support of DePauw's academic mission.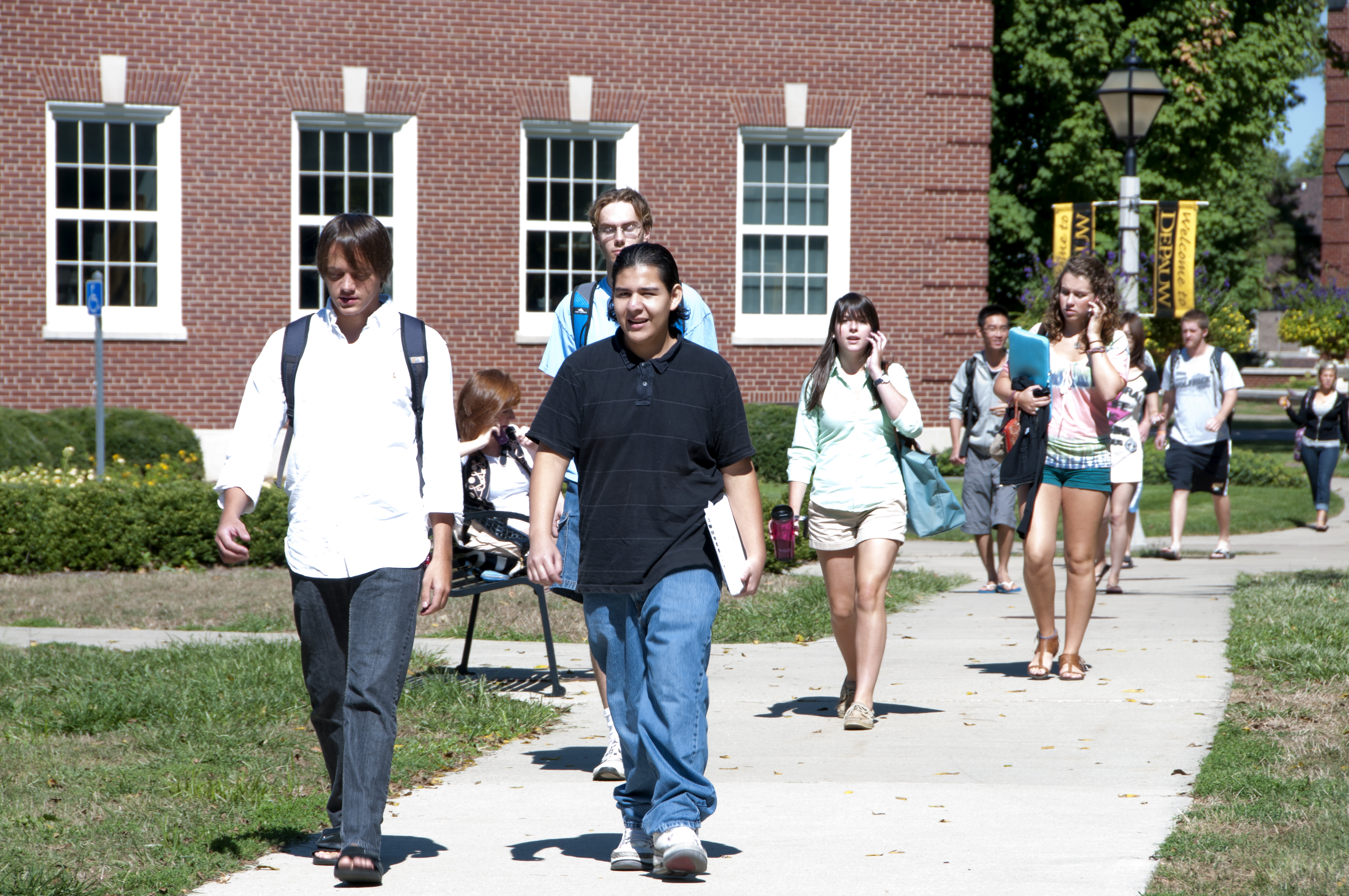 The history of DePauw, which was founded more than 180 years ago in Greencastle, Indiana, is intertwined with the history of its Greek community. Two national sororities were founded at DePauw: Kappa Alpha Theta in 1870 as the first Greek-letter "fraternity" for women, and Alpha Chi Omega in 1885. Six of the seven fraternities on DePauw's campus during that same era are still active today: Beta Theta Pi (established at DePauw in 1845, less than 10 years after the University's founding), Phi Gamma Delta, Sigma Chi, Phi Kappa Psi, Phi Delta Theta, and Delta Tau Delta. DePauw's Greek community has expanded to include historically African-American and Latina/o fraternities and sororities as well as one locally organized sorority, bringing the number of active Greek-letter chapters on campus to a total of 24 as of spring 2019.
Back