Army Surgeon Lt. Col. Richard Helfrich '53 Profiled in Newspaper
March 9, 2019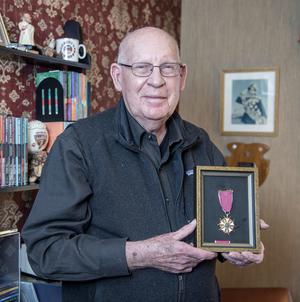 "Lt. Col. Richard Helfrich served as an Army surgeon for 12 years, saved lives and got shot at," begins a profile in the News-Gazette of Champaign, Illinois. "Upon his return, he pioneered in laparoscopic surgery in central Illinois. The Indiana native, now 87, graduated from DePauw University, then Indiana University Medical School, and immediately joined the Army, rather than face the uncertainties of the draft." (photo by Rick Danzl: Dr. Helfrich with his Legion of Merit medal)
The "Those Who Served" feature recounts the service of Helfrich: from an internship at Valley Forge General Hospital and then a surgical residency at Tripler General Hospital in Honolulu, to chief of general surgery at Ireland Army Hospital in Ft. Belvoir, Virginia, and working as a military medical doctor in Africa and the Dominican Republic, where a sniper's bullet narrowly missed him.
Paul Wood writes that Helfrich, a 1953 graduate of DePauw, where he was a Rector Scholar, "was in Cairo the week before the Arab-Israeli war began in 1967. The
commanding general of the Army Security Agency awarded him the Legion of Merit. At that time, it was the highest decoration the Department of Defense could award for meritorious service, he said. From 1968-69, he was chief of general surgery at Letterman General Hospital in San Francisco, sometimes dealing with men injured in Vietnam. After that posting, he resigned his commission in 1969."
Dr. Helfrich was recruited to work at Carle Hospital in Champaign. "In his lengthy career, Helfrich pioneered several minimally invasive procedures that have improved the lives of many in central Illinois," the newspaper notes. "There's even a hernia repair method named for him. He retired in 1996."
Access the piece by clicking here.
Back