DePauw Choirs Travel the World in Wednesday Concert
March 10, 2019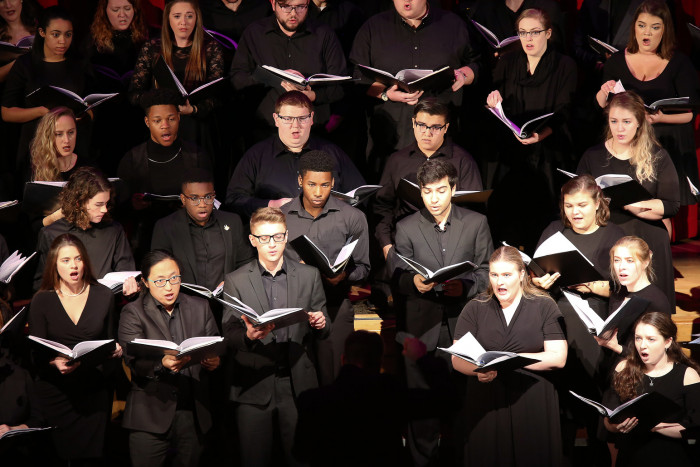 Eric Schmidt, DePauw University's director of choral activities, will conduct "Your Land, My Land," a joint concert by the University Chorus and the DePauw Chamber Singers on Wednesday, March 13. The performance will be given at 7:30 p.m. in the Green Center's Kresge Auditorium on the DePauw campus.
For this concert, the combined choirs will embark on a musical journey around the world, highlighting secular songs from different countries or regions that all share the experience of changing borders and the question of national or cultural belonging. Produced in conjunction with Schmidt's Concert Programming class, the organizing idea for the performance was to create a unique experience for the audience by exploring aspects of programming outside of the music itself.
"This event, which is a bit of an experiment, incorporates ideas from students in my Concert Programming class, so it is definitely a collaboration," says Schmidt. "We are trying to get an overall statement across through staging, lighting, and how we use the space in Kresge."
The program will begin with "Advance Democracy" by English composer Benjamin Britten. When considered within the context of the British Empire and the role it has played in world history, the question, according to Schmidt, becomes, "What does the idea of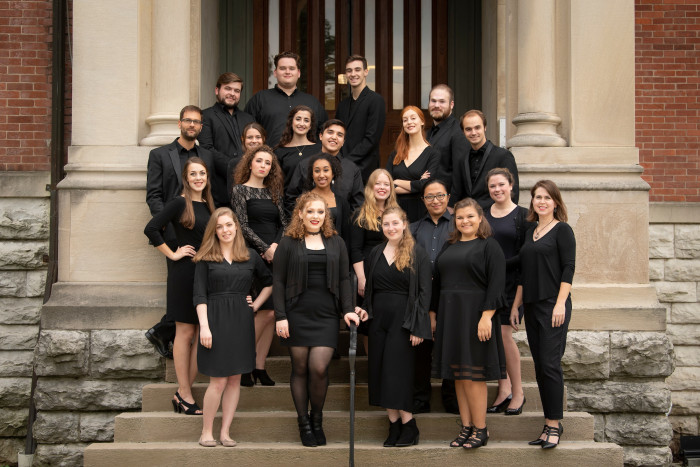 spreading one's own cultural and social ideals across the world mean, and what situation might this get us into?"
With these ideas guiding the group's selection, among the works chosen for Wednesday's concert are songs from China, Taiwan, Ireland, the United Kingdom, Spain, France, and the U.S., with "Tshotsholoza," a traditional freedom song from South Africa, closing the program.
"I'm very curious to see where this concert takes us, because this is the first program I have done so far where I did not plan everything, which is exciting but also makes me nervous," laughs Schmidt. "But I see the University as an ideal place to experiment and to learn what works and what may not have been a good idea."
Admission to the collaborative choir concert is $5; tickets for seniors, youth and all students are free. For online purchases, visit www.depauw.edu/music. The venue box office also is open Monday through Friday from noon to 4 p.m. and 90 minutes prior to each ticketed performance.
Back