Former Congressman Lee Hamilton '52 Praises the "Rock Solid Integrity" of the Late Sen. Birch Bayh
March 14, 2019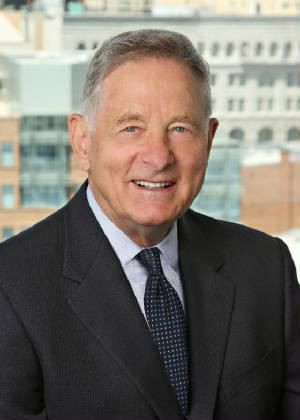 "Retired Indiana Congressman Lee Hamilton remembers Birch Bayh as a great friend and master legislator who brought a new energy and an inclusive style to political campaigns," notes the Terre Haute Tribune-Star in a story noting the death of Bayh, a longtime U.S. Senator from Indiana, at age 91. "The two Democrats' terms overlapped by 16 years, from 1965 to 1981," write Sue Loughlin and Dave Taylor. "The friendship between Bayh and Hamilton began in their college days when they were president of their respective Alpha Tau Omega fraternity chapters -- Hamilton at DePauw University and Bayh at Purdue."
Hamilton, a 1952 DePauw graduate who served 34 years in the U.S. House of Representatives, recalls, "The fraternity was all white and we wanted to break the racial barriers down. I don't know that we could claim total victory there, but we made progress."
Senator Bayh, says Hamilton, "probably wrote more of the Constitution than any legislator since James Madison."
The fellow Democrat stated, "He was very inclusive in his way of approaching people ... He was a consummate networker. He was challenged by anybody who disagreed with him. He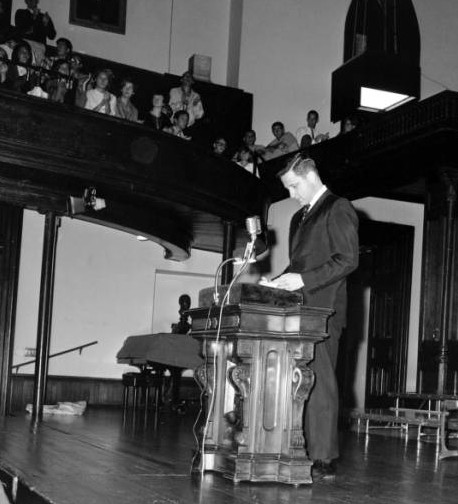 didn't attack that person, he tried to convert them."
Hamilton added, "Birch had rock solid integrity. He didn't play poltical games with people; he didn't try to pull the wool over your eyes. He was very straightforward."
Read more here.
The New York Times today notes that Bayh had "an enduring impact on American life -- in protecting women from sex discrimination in education, guaranteeing 18-year-olds the right to vote and providing for the removal of a sitting president." (at left: Sen. Bayh speaking in DePauw's Meharry Hall; October 1, 1966)
Birch Bayh visited DePauw many times over the years. In a 2005 program, he recounted his early days in public life. "I knew very little about government, except what I'd read when I was in school. And when I got to the state legislature ... you didn't get anything done unless there was some compromise. If you have 100 legislators, if we have 230-million Americans; we're living in a melting pot -- every conceivable ethnic group, every conceivable philosophy or a part thereof -- exists right in this melting pot. And the reason it's lasted all these years; the magic word is tolerance -- civility/tolerance -- being tolerant of other people's ideas."
Back