Work Begins on New First-Year Residence Hall at DePauw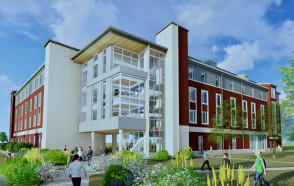 March 15, 2019
Site preparation work is scheduled to begin next week at the corner of Olive and Locust streets, where the first of four proposed residence halls for DePauw University's first-year students is set to be built.
"The new residence hall will begin transforming South Quad and the first-year living experience at DePauw," says Bob Leonard, vice president for finance and administration. "Prospective students who are attracted to DePauw for its fine academic programs will seal the deal when they visit and see how a community-oriented residence hall can enhance their experience."
Leonard added that the new residence hall is one of several investments in the campus planned to enhance the student experience and increase sustainability. The construction of a solar array to convert to renewable energy sources begins in April; the opening of the Ullem Campus Farm is planned for May; and infrastructure work for the Campus Energy Master Plan continues in June.
This first hall will provide 152 student beds, most of them in double rooms. The first floor of the four-story, 60,400-square-foot building will feature community-living space -- the entry, a lounge, a kitchen and the like -- and the top three floors will contain students' rooms. The project will cost approximately $23 million.
The University borrowed $40 million last spring to finance the first building and several other projects, including roughly $15 million of work called for in the campus's energy master plan; renovations to Bloomington Street Hall, housing for sophomores; and repairs to Hogate Hall.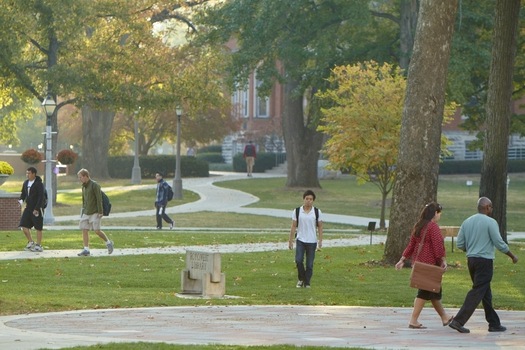 Starting next week, Messer Construction Co., the building contractor, will install a fence around the site, blocking the Humbert parking lot. Several dying trees will be removed to make way for the fence. Excavation and installation of new underground utilities specifically for the first residence hall will come next, likely during spring break.
Construction work likely will begin in June and is expected to be completed in summer 2020.
The university considered renovating existing dormitories but found that the cost to do so was nearly that of constructing new buildings and would not result in sufficiently attractive and sustainable buildings, Whitesell says.
A timeline of facilities projects and updates can be accessed at https://www.depauw.edu/offices/finance-administration/buildingdepauw/current-projects/.
Back