British Author's Research on Biography of 1894 Graduate & Poet Max Ehrmann Brings Him to DePauw
March 20, 2019
"It's debatable how the late Max Ehrmann would take the news, that a British author is writing a book about him," writes Mark Bennett in the Terre Haute Tribune-Star. Ehrmann was an 1894 DePauw University graduate who penned the famous poem, Desiderata, which was "adopted by the idealistic Baby Boom generation as its 'peace poem,' [and it] became a road map for life, spelled out on dorm room posters and permeating pop culture."
Tim Dalgleish, a British author and actor, is working on a biography of Ehrmann and "came to Terre Haute last week to research Ehrmann's life," Bennett notes. "Dalgleish's excursion to Indiana included a day at the DePauw University Library archives, where a collection of Ehrmann's papers are kept. Ehrmann graduated from DePauw in 1894 before earning a doctorate at Harvard. Those papers include poems, journalistic articles, publicity reviews, programs, photos, a play, scrapbooks, newspaper clips and letters
to and from On the Banks of the Wabash songwriter Paul Dresser, historian Charles Beard, playwright George Ade and, yes, [Eugene] Debs and [Theodore] Dreiser."
The newspaper adds, "Beyond just an 21st-century update, Dalgleish's writing will dig deep into Ehrmann's almost lifelong bachelorhood, marriage to longtime girlfriend Bertha three months before his death, his brother's acquittal of killing a striking Teamster outside the Ehrmann family's garment factory, and even his toupee."
Ehrmann died in 1945, and became famous two decades later when Desiderata, which had been attributed to an "unknown 17th century poet," in Bennett's words, "got rediscovered, largely through news reports that two-time Democratic presidential nominee Adlai Stevenson had a copy of the poem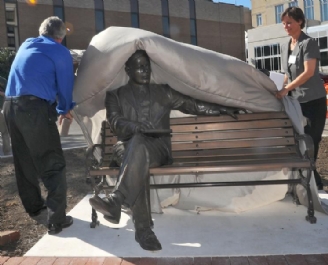 on the nightstand when he died in 1965 ... Think of it -- Leonard Nimoy recited Desiderata on a record album, Bonanza star Loren Greene read it on The Johnny Cash Show, and Johnny Depp's character Jack Sparrow wore a tattoo of the poem on his back in Pirates of the Caribbean."
Access the complete feature at the Tribune-Star's website.
A sculpture of Max Ehrmann, which was dedicated in 2010, sits in downtown Terre Haute. Learn more in this previous summary.
Source: Terre Haute Tribune-Star
Back