National College Athlete Honor Society Creates Endowment Named for its Founder, DePauw's Nick Mourouzis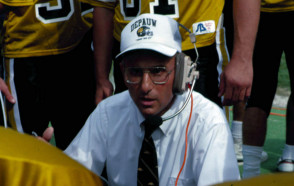 March 19, 2019
The National College Athlete Honor Society (NCAHS) today announced the creation of the Nick Mourouzis Postgraduate Scholarship endowment. The first honor society for college student-athletes, NCAHS (known as Chi Alpha Sigma) was founded by Mourouzis -- who served as DePauw University's head football coach from 1981 through 2003 -- in 1997.
The new endowment which bears the name of "Coach Nick" is being created "with the intent to award a scholarship to a previously inducted student-athlete who has exhausted all of their eligibility and will be seeking a postgraduate degree."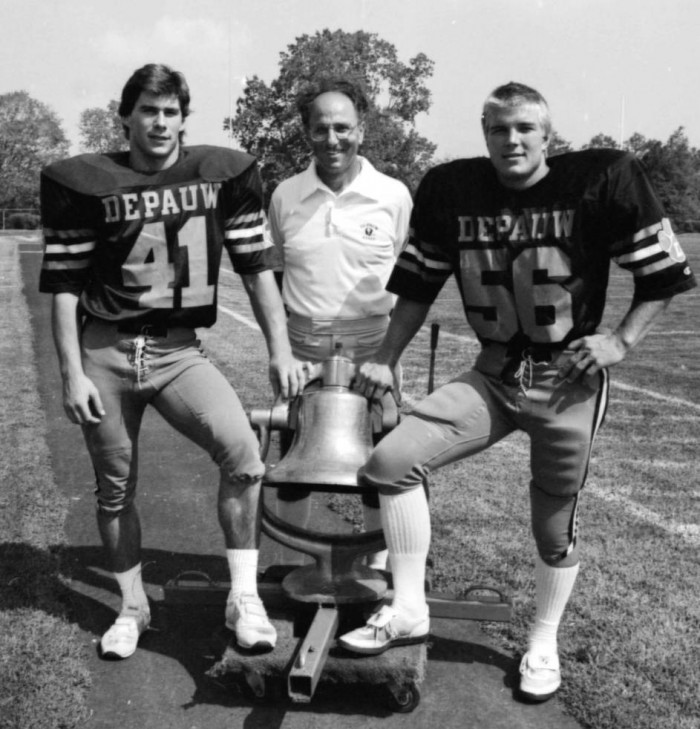 "Coach Nick had the extraordinary idea to recognize all student-athletes who excel in their chosen sport, in the classroom and in their communities," said Keri Alexander Luchowski, chair of the Chi Alpha Sigma Board of Directors. "This fund, and the resulting scholarships, are a wonderful way to extend Coach Nick's legacy and to support the academic journey of our student-athletes."
A second fund is also being established to support the long term sustainability of NCAHS. The Chi Alpha Sigma Heritage Fund will offset rising costs of operation and will ensure that chapter members will be able to continue to recognize their student-athletes long into the future.
Read more here.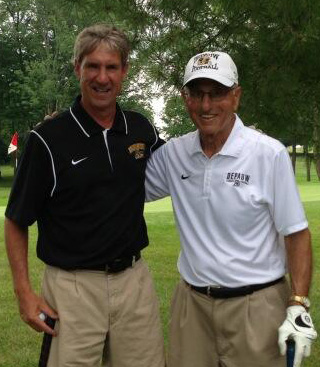 As DePauw's head football coach, Nick Mourouzis compiled a record of 133-82-4. He was named the Southern Collegiate Athletic Conference Coach of the Year in 2000 and was the Indiana Collegiate Athletic Conference Coach of the Year in 1996 and 1990.
A standout quarterback at Miami (Ohio) University, where he is a member of the "Cradle of Coaches," Mourouzis began his coaching career as a graduate assistant under Bill Hess at Ohio University from 1959-61. "Coach Nick" then spent a year at Ohio's Kettering Fairmont High School, where he was assistant football and head track coach. From there, he moved back into college coaching with assistant coaching stints at Ball State (1962-63), Ohio University (1963-65), Indiana (1965-73) and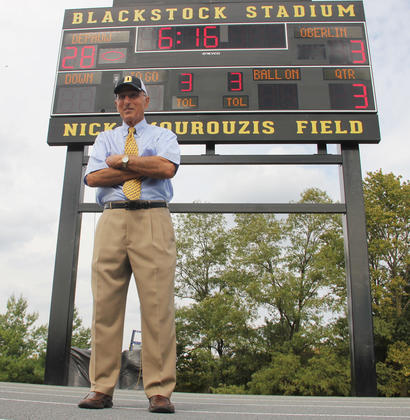 Northwestern, before coming to Greencastle, where he replaced Jerry Berndt. (above right: current Tiger head coach Bill Lynch with Mourouzis)
Professor emeritus of kinesiology at DePauw, Mourouzis is a member of the Indiana Football Hall of Fame and is as an honorary member of the Northwestern University Alumni Association's N Club.
Mourouzis was selected by DePauw students to deliver the commencement address to graduating seniors in 2004.
In October 2013, the playing surface at DePauw's Blackstock Stadium was dedicated as Nick Mourouzis Field, in ceremonies that were attended by dozens of the coach's former captains and players. A video feature of the presentation is embedded below.
Back